Review: The Diver (2019), by Jamie Helmer & Michael Leonard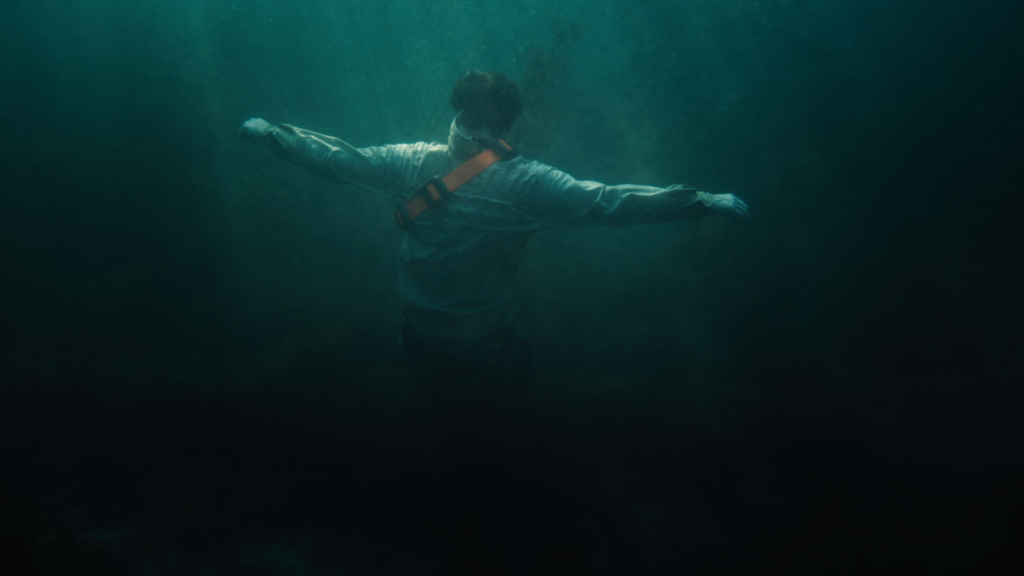 The main character of Jamie Helmer's & Michael Leonard's film The Diver, Callan (Nicholas Denton) isn't someone you'd like to befriend and even less to have as an enemy. But it's difficult to tell who he is, except from being an antisocial and obviously potentially aggressive young man in his late twenties who still lives with his parents, helping them to grow and sell vegetables. Callan is also a diver, a type of Australian Jacques Mayol* you'd expect to be a nice, nerdy dude who is besotted with water depths to such an extent, that he simply has to be odd. But Callan's oddity has nothing likeable about it. Although he is saying and doing wrong things because he doesn't understand the way the real-world functions (he probably suffers from some kind of mental illness), the fits of anger that get hold of him in completely unexpected moments are creepy. He's a proper hellraiser in making that we are lucky not to encounter in a later stage.
The person who has to cope with Callan's difficult personality is his father Malcolm (John Brumpton, alias McGoo from "Romper Stomper") who's trying to tame the young man's nature, which proves to be a 24/7 job. The supressed violence and the complete detachment from the social environment set Callan to seek revenge for petty reasons, but he's luckily prevented to do the real harm. At moments it looks like he's surprised by his own actions, like someone who has just discovered they were sleepwalking. It's interesting that Dana Miltins is almost invisible as the mother, in a silent and barely there role.
Water is obviously the only place the young man can truly relax, and the film's strongest visuals come from the underwater scenes. It is worth mentioning that during the pre-production of The Diver, a short experimental 16mm film of the same name was born from the filmmakers' wish to "immerse themselves in the essence of the idea". It came to life during the Diver's team exploration of potential shooting locations and it is much stronger attached to the title than the feature film, particularly in terms of the relationship between the diver and the water. The thing both pieces have in common is the other-worldly music by Jessie L. Warren, and the keen interest in connection between an individual and the nature.
The way Giovanni C. Lorusso's camera treats the family house, the only urban element in the very green area, turns at one point into an Edward Hopper painting by the use of light, the setting and the tableau vivant composed of three family members almost frozen in their momentum.
The Diver was screened in the Orrizzonti Shorts Competition at the Venice International Film Festival.


Original Title: The Diver
Duration:11'
Country: Australia
Language: English
Directed by: Jamie Helmer & Michael Leonard
Written by: Michael Leonard
Producers: Michael Leonard, Justin Pechberty & Damien Megherbi
Co-Producers: Gokce Sel & Steve Cooper
Cast: Nicholas Denton, John Brumpton, Kaarin Fairfax, Julie Nihill, Dana Miltins
DoP: Giovanni C. Lorusso
1st Assistant Camera: Benjamin Bryan
Grip/ Gaffer: Peter Stockley
Production Design: Sara Glaoua
Editing: Greg Cooper
Additional Editor: Jérôme Bréau
Sound Recordist: Tobi Armbruster & Caleb Miller
Sound Editor: Sean Crowley
Re-Recording Mixer: Vincent Arnardi
Sound Composition: Jessie L. Warren
Colourist: Guillaume Schmitter
Costumes: Michelle Boyde