Review: Delirium (2019), by Vahid Nami & Navid Nami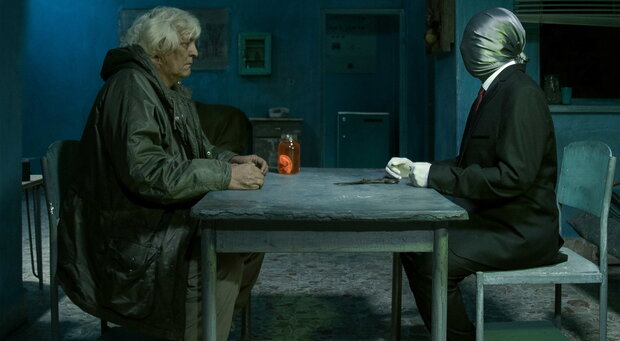 An old man (Yousef Daryadel) is working as a night guard in a large industrial complex. Apart from him and his dog, there is no living soul around.
The man spends his nights at work listening to the transistor radio in the company of his snake collection, neatly arranged in jars – the only thing, although dead – not bathed in dreary, lifeless colours, but wonderfully radiating bright red or yellow. Otherwise, the green overtone of Hamid Mehrafrouz's photography is used to show the monotonous life of an old man whose days pass in solitude of a modestly equipped apartment in the concrete architectural monstrosity.
Monotony comes to an end by a dreadful discovery of a cut off ear during the routine night inspection of the property. With the ear, the voices penetrate the guard's apartment. He can suddenly hear the political interrogations and threats to invisible prisoners. It's clear that voices come from some other place and not from nearby, but the ear belongs to a very concrete person – a woman (Mohadeseh Heyrat) thrown out of a car and left to lie on the street in the poring rain. Her destiny leaves the guard cold, but he feels relieved that the human organ he had earlier found isn't as mysterious as the voices that just won't shut up.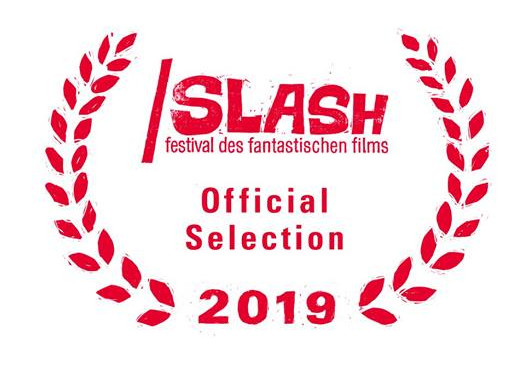 In their statement, Vahid Nami & Navid Nami claim Delirium is the story about the suffocation city in which anyone that opposes dictatorship is severely punished by, for instance, having their ears cut off. Without this specific explanation, it is challenging to draw that particular kind of parallel. The political undertones are quite clear, and yet the whole 'crime' and punishment concept remains a bit of a mystery. Despite of that, Delirium is a fine watch that delivers a couple of wonderfully creepy scenes.
Before the /slash film festival where it was screened in the Short competition, Delirium world-premiered at the Fajr International Film Festival (Iran), and it was in the official selection of Bucheon International Fantastic Film Festival (South Korea), Neuchâtel International Fantastic Film festival (Switzerland) and Batumi International Art-Film Festival (Georgia).
Country: Iran
Language: Azerbaijani 
Running Time: 15′
Written and directed by: Vahid Nami & Navid Nami
Production: Ark Film Company
Cast: Yousef Daryadel & Mohadeseh Heyrat
Director of Photography: Hamid Mehrafrouz
Editor: Vahid Nami
Sound: Hassan Salmani
Sound Editor: Mehdi Javaher Zade
Scene Designer: Navid Nami
Makeup Designer: Behnaz Nouri
Composer: Mehdi Naderi (Original Music)
Electronic Guitar: Ali Bahrami
Piano: Golchehreh Irani
Cello: Maedeh Akbari
Violin: Bahram Fathi
Music Studio: Hoormand Ava
VFX: Amir Shirvani
Color Correction: Arash Kazempour
First Assistant Director: Samira Hazrati
Second Assistant Director: Yasin Panahpour
Artificial Ear Making: Saeed Bani Hosseinian
Production Manager: Alireza Milani
Executive Producer: Ali Imani Raad & Saeed Arghavani