Zeus Machine: The Invincible (2019)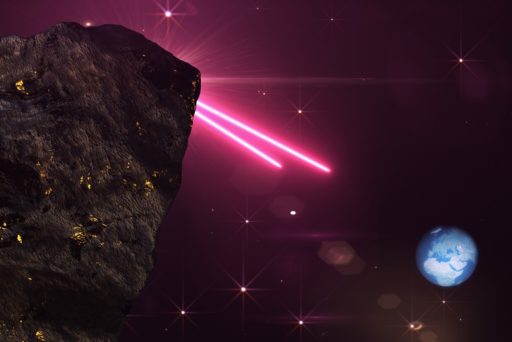 An arty, mischievous remix of ancient Greco-Roman mythology from the Italian directing duo David Zamagni and Nadia Ranocchi, Zeus Machine: The Invincible world premiered in February in the Forum section of the Berlin film festival. This playfully experimental essay film re-imagines the 12 labours of the legendary Roman superhero Hercules (Heracles in the Greek version) through a loosely linked series of staged vignettes.
Each chapter features an anonymous cast of extras and takes place in the banal urban spaces of modern-day Italy: gyms, garages, shops, museums, city streets. Dialogue is sparse and fragmentary, with music and sound design doing much of the narrative work. In places this offbeat hybrid feature almost feels like a filmed dance piece, or even a work of kinetic human sculpture.
Zamagno and Ranochhi belong to the Zapruder collective, whose work blurs the line between documentary and drama, visual art and live performance. Indeed, one key section of Zeus Machine grew out of a 2016 musical theatre piece that later became a video installation at Rome's MAXXI gallery. The duo's sole previous feature, All Inclusive (2010), was a unorthodox murder mystery mainly conceived to explore the reality-warping spatial dynamics of its 3D format. This project is a more ambitious affair blending deadpan humour, literary allusion and kitsch cinematic in-jokes, including an opening voice-over by the cult Italian screen star Sergio Fantoni, a veteran of numerous historical epics.
Zamagni and Ranocchi have described Zeus Machine as "a film with twelve different beginnings" whose loose, episodic structure tells a "cumulative" story. They also explain that film's central theme is mythology in general, rather than Hercules himself, an elusive everyman figure who they have chosen to represent all of humanity.
The directors certainly approach their antique literary source material with an irreverent attitude, rewriting and reinventing it to suit their often opaque intentions. An uncompromising exercise in revisionist myth-making, Zeus Machine will have little value as an educational aid to students of ancient history. But it will should appeal to art galleries, adventurous cinematheques and more cerebral film festivals like Berlin, where lightly avant-garde ideas still enjoy cultural kudos.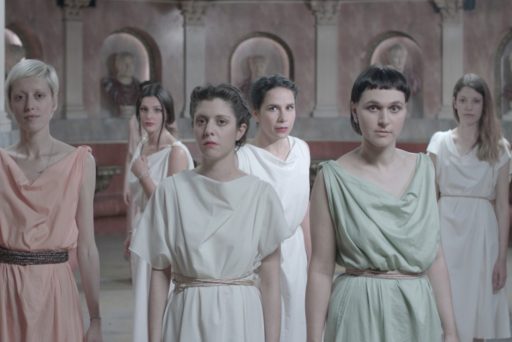 Some of the film's 12 short chapters have a clear connection to the Hercules story. For example, the capture of the Cretan Bull becomes a comically banal showdown between a young amateur matador and a motorised go-kart adorned with cow horns.
Other episodes are more fuzzy in origin, but sometimes more powerful in impact. In one of the most striking sequences, a team of mechanics disguised behind James Dean masks attach a small Fiat car to a heavy iron skip, then rev up the car into high gear in a fruitless attempt to move this massive heavy metal anchor. Before long, the scene becomes a nerve-jangling riot of screaming engine noise, burning rubber and choking smoke. This auto-destructive work of art has an oddly sinister aura, with its macabre allusions to motorised death and mechanised violence.
Shot first chronologically, but placed at the end of the film, the final chapter in Zeus Machine is the most memorable. Staged in front of a live audience at the annual Santarcangelo Festival in northwestern Italy, it features a team of hooded acrobats climbing up a towering wooden pole while a two-man garage-rock band provide a punchy, punky, rowdy soundtrack. Intended as a loose allegory of Hercules' posthumous ascent to join the gods on Mount Olympus, this ritualistic performance builds into a compelling spectacle, especially when Zamagni and Ranocchi pull back their cameras to reveal the large crowd, their coolly detached eye lingering as the applause fades, the stage darkens and the credits rolls.
Like most experimental collage films, Zeus Machine is an uneven patchwork. Some sections feel too slight and open-ended, others overly cryptic and wilfully obscure. But at its best, this charmingly odd cine-essay contains pleasing echoes of Roy Andersson's gloomy absurdism, Matthew Barney's uncanny beauty and Agnes Varda's sly visual wit. These surreal, dreamlike tableaux will stay with you.
---
Original Title: Zeus Machine. L'Invicibile
Country: Italy
Language: Italian
Runtime: 74'
Written and directed by: David Zamagni, Nadia Ranocchi
Cinematography: Monaldo Moretti
Editing: David Zamagni, Nadia Ranocchi
Music:Francesco Fuzz / ZEUS! Brasini
Sound Design: Mattia Dallara
Sound: Gilles Barberis
Production Design: David Zamagni, Nadia Ranocchi
Costumes: David Zamagni, Nadia Ranocchi
Make–up: Ginevra Mei
Assistant Director: Monica Comandini
Production Manager: Nadia Ranocchi
Producers: David Zamagni, Nadia Ranocchi
Co-producer: Beatrice Bulgari
Co-production: In Between Art Film, Rom, Italien
Cast: Sergio Fantoni (Ercole Farnese), Paolo Zanfanti (Sosia / Gas station attendant), Mirco Zanfanti (Mercurio / Mugger), Francesca Ricci (Snake handler), Marco Mazzoni (Drunk guy at supermarket), Enrico Zoffoli (James Dean scrapyard), Nicola Menghetti (Wrestler), Bastien Meunier (Ecarteur), Elenora Amadori (Time Player), Luca Cavina (ZEUS!), Paolo Mongardi (ZEUS!)