Review: Snowflakes (2019)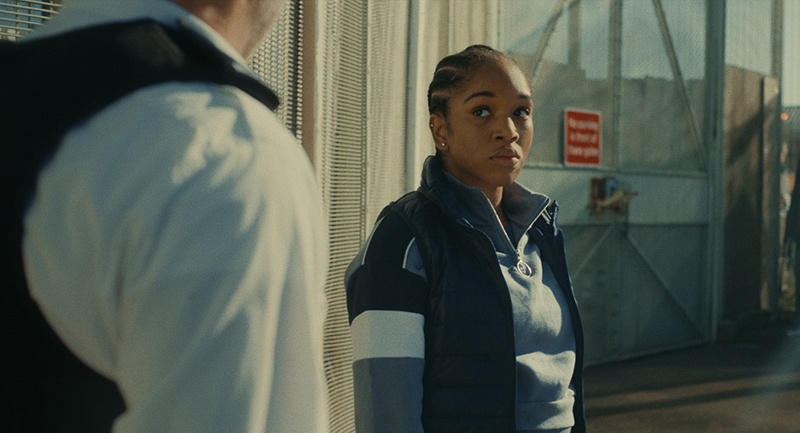 Peppering her pandemic fantasy with elements of biblical scope and modern asylum system critic, U.K. director Faye Jackson has created a fascinating gem of a genre mix. Screened in the Méliès D'Argent Short Film Competition of the Haapsalu Horror and Fantasy Film Festival, her short film poses the question if humankind still hasn't learned their lesson to not play God and rule over other people at will.
A Jamaican woman, Miriam (Cherrelle Skeete), and a Jamaican born – U.K. raised woman, Esther (Sharon Duncan-Brewster) provide the key to answering this question. Both are meant to be deported back to the Caribbean island in a deployment by immigration officers that seems shady at best. There is a mistake, Esther insists. "I have an indefinite lease to remain", followed by a reference to one of the more familiar problems of day-to-day deportation. "I don't know anyone in Jamaica, I haven't been here since I was a kid".
Infringing on people's rights, making them unjust subjects – these are not only the tunes of modern-day immigration law, but they also wind their way repeatedly through the scriptures of the old testament. God's children being done wrong, God's children doing wrong, and God punishing those who oppose his rules. "Thou shalt have no other gods before me", he once thundering conveyed, but yet again, the people seem to have forgotten.

With a bit of a Brexit aftertaste lingering in the bleak Immigration Removal Center that Esther and Miriam are taken to, an aggregation of mostly white soldiers tries to maintain the to be deported. Esther resists, so the top commandeering officers decide to try a new drug on her. The name is befitting – asylponal. It is meant to make the injected compliant and calm. A fake narrative and Zombie-like state that the state would love to find within those poor souls.
Unlike Esther, who simply finds joy in her high, the nurse turns from happy to literal dust. An explosion, followed by a chain reaction around the institution, affecting those in power and sparing those in handcuffs. It is a bizarre and yet oddly calming sequence, as white dust flies through the room in slow motion and the carefully staged dialogues between the characters have an air of timelessness and ancient validity. "Those that plow iniquity ad sow wickedness reap the same", Miriam predicted in the opening of the movie. Like her biblical namesake, who helped lead the Jews from Egypt to Israel, she charges the abuse of power. "It burned up the soldiers that the king had put there".
Paralleling her biblical counterpart Esther, a queen who saved the Jews in her kingdom from a murderous plot, as well, Removal Center based Esther feels she caused the reversal of their doomed situation. These people were trying to play God, Miriam muses, and he taught them a lesson. Now it is up to them to do better.
Jackson pointedly puts her finger on a moral question not too often asked in the debate on immigration and asylum. At the end of it all, who do we answer to when we claim superiority and rulership over other human beings.
---
Original Title: Snowflakes
Country: United Kingdom
Language: English
Year: 2019
Runtime: 15 min
Written/ directed/produced by: Faye Jackson
Cinematographer: Shaun Harley Lee
Editor: Faye Jackson
Costume Design: Kathryn Poon
Makeup Department: Clare Gregory
Re–recording Mixer: David Drake
Sound Mixer: Paul Fairey
Sound Designer: Jack Gillies