Review: Antiotpad (2020)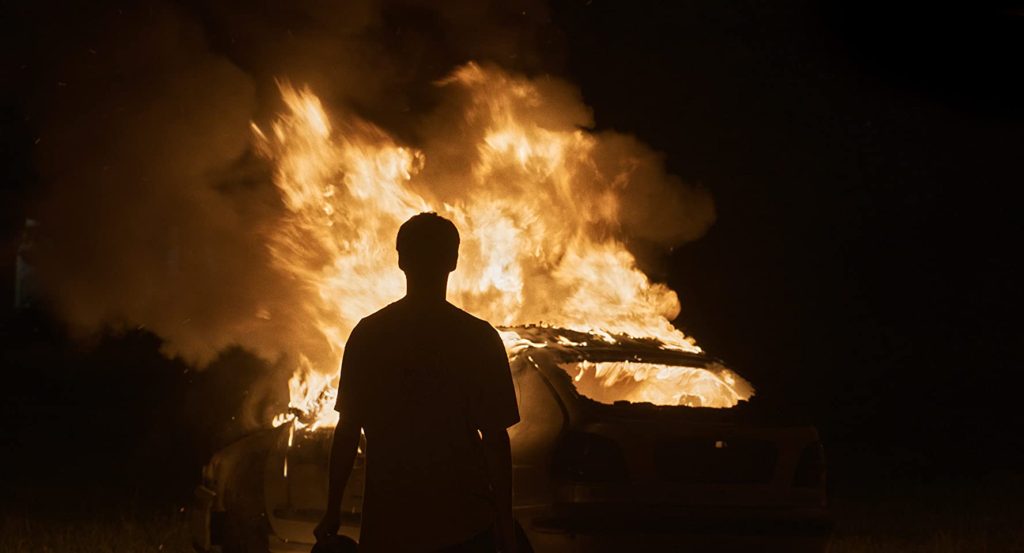 Antiotpad, meaning literally "anti-junkyard", seems like one of those festival-friendly shorts that scores easy points on the "sensation" the viewers are exposed to while reinforcing the bottom line which should be common knowledge. In this case, everything revolves around the fact that violence causes more violence. Antiotpad premieres at the shorts competition of Sarajevo.
For the teenage Robi (Bernard Tomić), one thing is certain: his life is controlled by strong impulses and his behaviour is often aggressive and violent. We meet him as he films the burning car he had probably set on fire himself. Later on, he gets stunned and jumped by a couple of guys on a motorcycle and gets beaten up. He is eager to get some revenge and for that, he needs someone else's cell phone and some help. The slightly younger boy Miha (Roman Sem-Tuskar) has no idea what he got himself involved to…
By the description and by the design of the opening credits, one might assume that Antiotpad is a piece of genre filmmaking, perhaps a kind of youth thriller. However, it acts and plays out like more like a take on violence, or a version of Mathieu Kassovitz' La haine compressed to an 18-minute format. The visual clues for such comparison are quite evident: it's summer in the periphery of the city marked by rough concrete and unkempt public places like skate parks and parking lots.
The trouble is, however, that those visual clues serve as the only possible motivator for Robi's behaviour. The script written by the director Tin Žanić and his associates, the DoP Filip Romac and the editor Jan Klemsche suffers from dialogues that are either completely functional or elliptic without the sense of balance between the two. Acting-wise, the sheer presence by Bernard Tomić is strong enough, while he also shows his ability for micro-acting through his posture and discreet facial expressions. Also, the alternation between the regular camerawork and the vertical cell phone videos is smooth, with the confirmation in the film's dramaturgy, and Klemsche's editing creates the sense of tension that is enough to bridge the generic foundation of Antiotpad.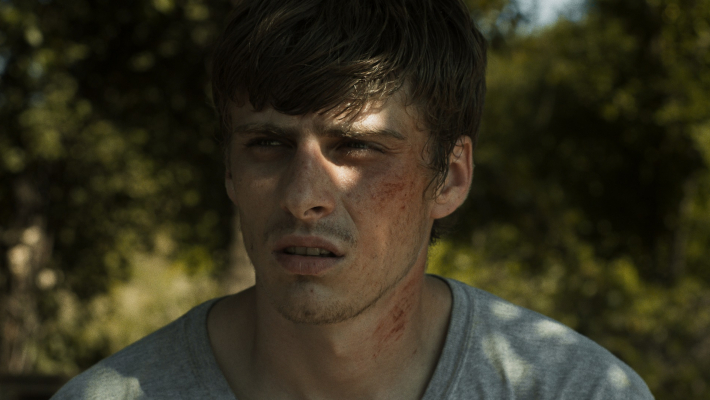 ---
Runtime: 18' 06''
Country: Croatia
Language: Croatian
Directed by: Tin Žanić
Written by: Tin Žanić, Filip Romac, Jan Klemsche
Cast: Bernard Tomić, Roman Sem-Tuskar
Cinematography by: Filip Romac
Editing by: Jan Klemsche Sound design by: Martin Semenčić
Production design by: Jana Plećaš
Costume design by: Irena Stola
Make-up by: Iva Kurobasa, Tamara Radinger
Colourist: Tomislav Stojanović
Assistant directors: Dalija Dozet, Mario Macedo
Produced by: Tena Gojić, Dora Prpić
Production company: Dinaridi Film