Review: Microcassette – The Smallest Cassette I've Ever Seen (2020)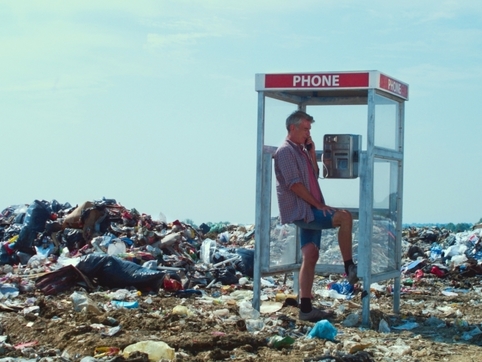 Someone's trash can be someone else's treasure. But dumping grounds are much more than just a moderately lucrative business. They can also serve as laboratories for social archaeology, since every object thrown away might have its own story to tell. One of those objects found on a junkyard near the tourist town on the Adriatic coastline, a microcassette, puts different stories in motion in the hybrid. partially animated short Microcassette – The Smallest Cassette I've Ever Seen directed by Igor Bezinović and Ivana Pipal that just premiered at Sarajevo Shorts Competition.
The tourist from Serbia, Zoki (Đorđe Branković) has heard that the best view of the town and the coast can be seen from the dumping ground, where he accidentally finds a Sony microcassette. The label on it says: "Home is where the heart is. Love, Petra. Washington, 1995". It propels him to take an attempt in reconstructing the circumstances about the place, the time, the person, the object itself and the content saved on its magnetic tape in form of the free-flowing stream of conscious thoughts with lots of funny digressions.
Microcassette is a film hard to label in any way, which is clear right from the disclaimer at the very beginning stating that some parts of the story are not true, so we can take it as a work of fiction more than a documentary. The same goes for the execution: live action and stop motion / collage animation techniques are blended in an interesting, yet logical and therefore fitting way. Thought-provokingly written, well acted in a peculiar way (the acting tasks involves striking different poses and narrating), perfectly animated by Pipal and rapidly edited, Microcassette – The Smallest Cassette I've Ever Seen is a pure fun and joy to watch.
---
Original title: Mikrokazeta – Najmanja kazeta koju sam ikad vidio
Year: 2020
Runtime: 19' 17''
Countries: Croatia, Serbia
Languages: Croatian, Serbian, Japanese
Directed by: Igor Bezinović, Ivana Pipal
Written by: Igor Bezinović, Ivana Pipal
Voice-over narrations written by: Igor Beznović, Ivana Pipal, Đorđe Branković
Animated by: Ivana Pipal
Cast: Đorđe Branković, Petra Zlonoga, Edo Ivče
Cinematography by: Ivan Slipčević
Editing by: Maida Srabović
Music by: Hrvoje Nikšić
Sound design by: Martin Semenčić
Sound recording by: Matija Santro
Costume design by: Katarina Pilić
Visual effects by: Ivan Pribićević
Colourist: Nikola Marinković
Assistant director: Luana Lojić
Produced by: Vanja Andrijević
Co-produced by: Dragana Jovović, Marta Popivoda
Associate producers: Ognjen Glavonić, Stefan Ivančić
Production companies: Bonobo Studio, Theory at Work