Review: Mamaville (2020)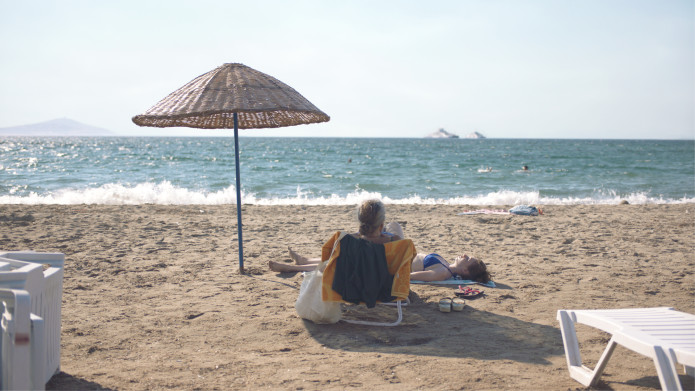 The only sound penetrating the house of Ferah's grandmother in the Turkish coastal town Geyikli comes from cowbells and chirping of birds and crickets. It's a place of comfort and self-chosen solitude in which two women can be themselves, protected from the blazing summer heat and unwanted company. While grandmother (Gönül Ürer) tries to come to terms with ageing, granddaughter (Ece Yüksel) is becoming aware of her true sexual identity.
Mamaville is a tender story about self-acceptance, vulnerability and preservation systems against uncalled intrusions from the outside world. Female body is explored by women, and exploited by men. When Ferah decides to seek the company of youth she knows since her childhood, she suddenly becomes a target of ugly verbal harassment. Body-shaming is not the central topic of the film, but it stands in strong contrast with a young woman's path of self-exploration.
The story penned and directed by Irmak Karasu benefits from its completely female perspective, driving over a couple of taboos such as nudity of aged, imperfect bodies, facial hair and the natural curiosity about one's own naked image.
In her experimental dance short Edifice (2014), Irmak Karas questioned trauma inflicted upon the body's memory, and here the process of revolt is brought a step further by the individual acceptance of changes.
Mamaville currently streams in the digital edition of Sarajevo International Film festival .
---
Original title: Mamaville
Country: Germany
Language: Turkish
Runtime: 20 minutes
Year: 2020
Produced by: Su Baloglu
Written/ Directed by: Irmak Karasu
Cinematographer: Meryem Yavuz
Editor: Tamer Hassan, Irmak Karasu
Production Design: Ceyda Yuceer
Art Direction: Görkem Canbolat
Hair stylist / Makeup artist: Esma Keskin
Colorist: Engin Cebiroglu
Sound design: Fatih Ragbet
Sound designer/Supervising sound editor/Re-recording mixer: Eli Haligua
Sound Recordist: Ismail Karadas