Review: The Vibrant Village (2019)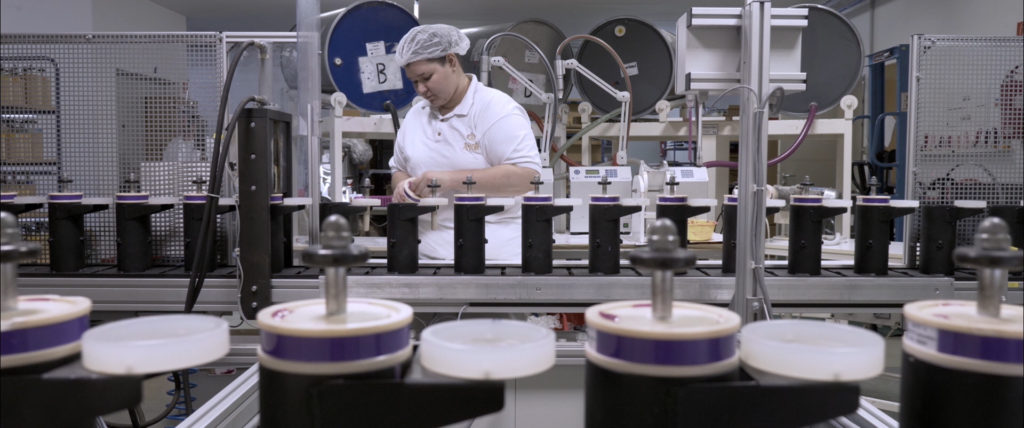 The Hungarian village of Börcs doesn't look vibrant at all. One floor single family homes are lined along almost completely deserted narrow streets. A village square, a church and a small pub count among Börcs' few sights, one empty, one filled with a quire song, and the latter – (at first) hosting a couple of quiet, beer-drinking men. Communication is scarce, and the voice of a local radio moderator takes over the talking.
Vibrant is maybe only the sound of pub's refrigerator and the majestic presence of a mysterious, chunky retro-futuristic machine. The rest of the place is stuck in different decades of the 20th century, resistant to modernity. Albeit other-worldly odd and charmingly uninviting, the setting emanates hypnotizing energy.
Melancholia feels the air until more men show up to wash down the bitter taste of their mundane jobs. And when the beer-induced murmur finally overtones the radio, there is a switch in dynamics, boosting false expectation that the movie's title will explain itself right there, propelling some unexpected action.
Crisp photography and wide angles shot by the cinematographer André Cruz, speak louder than the actual dialogues would. And when the angle along with the setting changes, the literal buzzing takes place.
In this new environment, the talking also doesn't matter so much, and it is pushed in the background. Something is being made by many busy hands belonging to women dressed in white coats. And that something, turns out, makes Börcs a vibrant village.
The Polish director Veronika Jurkiewicz who is also responsible for the script, pulls of the story with a great sense of humor without the intention to turn the film into a comedy, or the topic per se into a joke. The film compresses so much into its seven minutes, that it's a pure joy to watch it. Gender roles, social issues and the mighty discrepancy between the small catholic community and its biggest source of income, it all comes together in a skillfully rounded short documentary.
The Vibrant Village screens in the European short film competition of the 26th Sarajevo Film Festival.
---
Country: Poland
Year: 2019
no dialogues
Runtime: 7 minutes
Directed by: Veronika Jurkiewicz
Cinematographer: André Cruz
Editing: Veronika Jurkiewicz
Editing assistant: Khaled Almasri
Colour Grading: Adré Cruz
Sound design/ Sound mixing: Adam Wojtas