Review: Mizaru (2019)
Dokufest: International Shorts Selects Series 1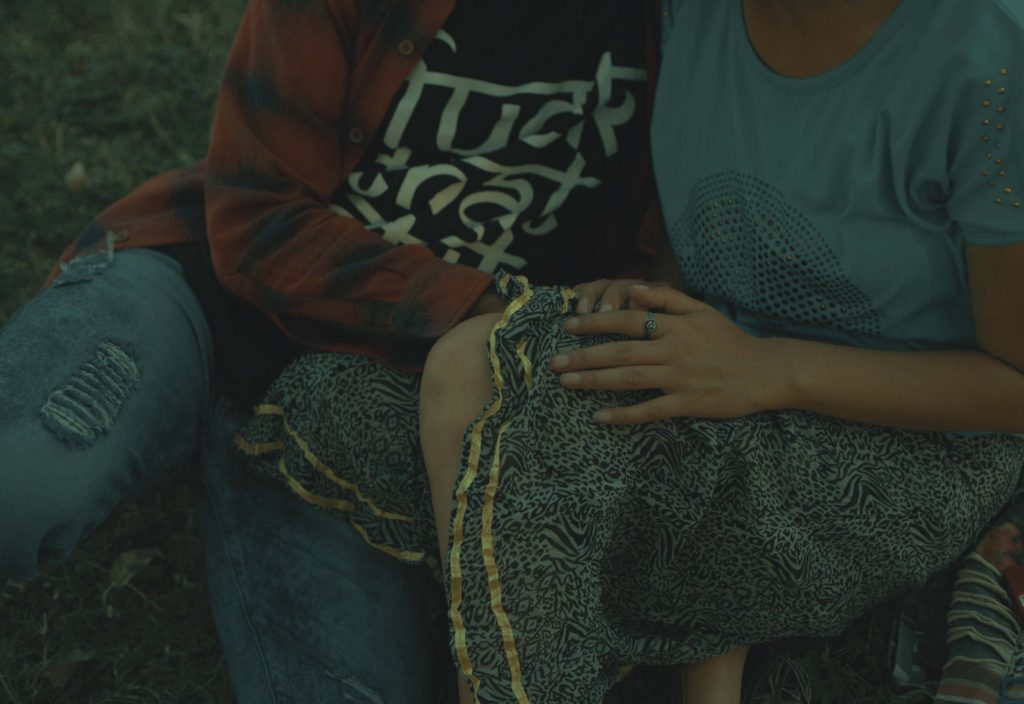 Shot in just one take, the story of Sudarshan Suresh's Mizaru unfolds on Valentine's day in Aksa park in Mumbai. Tabrez (Sumeet Thakur) and Payal (Trimala Adhikari) are a young couple doing what young couples do – canoodling as descretly as they can in a public space. When two kids approach them to sell heart-shaped baloons, one of them won't settle with the purchase of just one. Insulted for being sent away by Tabrez in a bit of a harsh manner, he runs of to a group of men to complain.
Not relatives of the kids or their bosses as one is led to believe at the beginning, a group of middle-aged bullies is in Aksa park for completely different reasons – to take the law in their own hands, with the only criminals being couples showing affection for each other. It's "of course a foreigner" (Tabrez) who's capable of performing an indecent lustful act, a line we recognize just from anywhere at the moment, with xenophobia exploding around the globe like nuclear mushrooms. In plain day, the terror grows as the gang targets yet another couple who doesn't even have to be exactly that. They are caught while passing by, and brought into the spot where harassment takes place.
The "keepers of chastity" happen to have their own torture methods and they are members of the Youth Culture Party's North Mumbai Office led by a highly unlikeable and arrogant man (Sandesh Kulkarni). Doing those awful things to already emotionally crushed youth, they know the police will be on their side, which lately proves to be true. Viewers will find themselves in disbelif, with a mixture of anger and sadness rising as the story progresses.
Mizaru was the thesis film by Sudarshan Suresh, awarded Best Film at Columbia University School of the Arts' last year, and this film happens to be one of the strongest contenders in Dokufest' s International Short Film Competition. It's finely woven story speaks of the abuse of power and hypocrisy in a society in which is shameful to show affection in public, but it's normal to humiliate and punish young people for nothing at a public space. Suresh's script is unsettling, but brilliant, as it manages to tackle so many issues in the films fast-pacing 18 minutes. Cinematographer Nikhil Arolkar contributes largely to the quality of the film, with camera operated by Nitin Rao breathing with the story and its protagonists, while staying stable despite of the frenzy. Also noteable is the work of the costume designer Nithi Gala, whose choice of garments for the actors in the film
The film also presents a wonderful closing scene, accopanied by Édith Piaf's classic "Je ne regrette rien" and a cameo role of a wonderful four-legged creature grasing in its peaceful corner of the park.
---
Country: India, United States
Language: Marathi
Runtime: 18′
Producer: Ankur Singh
Written/ Directed by: Sudarshan Suresh
Cinematography: Nikhil Arolkar
Editor: Sudarshan Suresh
Sound mixer: Anish John
Camera: Nitin Rao
Costume design: Nithi Gala