Review: Anita (2020)
Orizzonti Corti Competition, 77th Venice Film festival
In her short drama Anita, the young aspiring Indian-born, New York based filmmaker Sushma Khadepaun-Parmar paints a bold story of a woman (Aditi Vasudev) who travells from the US to India to marry her boyfriend Vikram (Mitra Gadhvi) in a traditional ceremony, surrounded by family and friends. Clearly a foreign production by the depiction of the love relationship of two young people, not only addressing burning questions regarding conservative views on gender roles but giving the emotional and sexual desires a free flow, Anita is the film that will raise many eyebrows in India, at the same time inspiring local filmmmakers to approach the taboo topics in a different fashion.
Ground-breaking is the mildly graphic representation of intimacy between partners, with Vasudev showing more flesh than the local audience is used seeing. Without any explicit nudity, it's a bit of a shocker for an Indian viewer to have a glimpse at a woman's behind clad in a slip only while being totally immersed in a sexual act. Even more shocking is placing the woman in a position of a rebel going against family's expectations, especially such coming from the patriarch. Not shutting the trap, and speaking out one's mind as a daughter will be a bitter pill to swallow for many.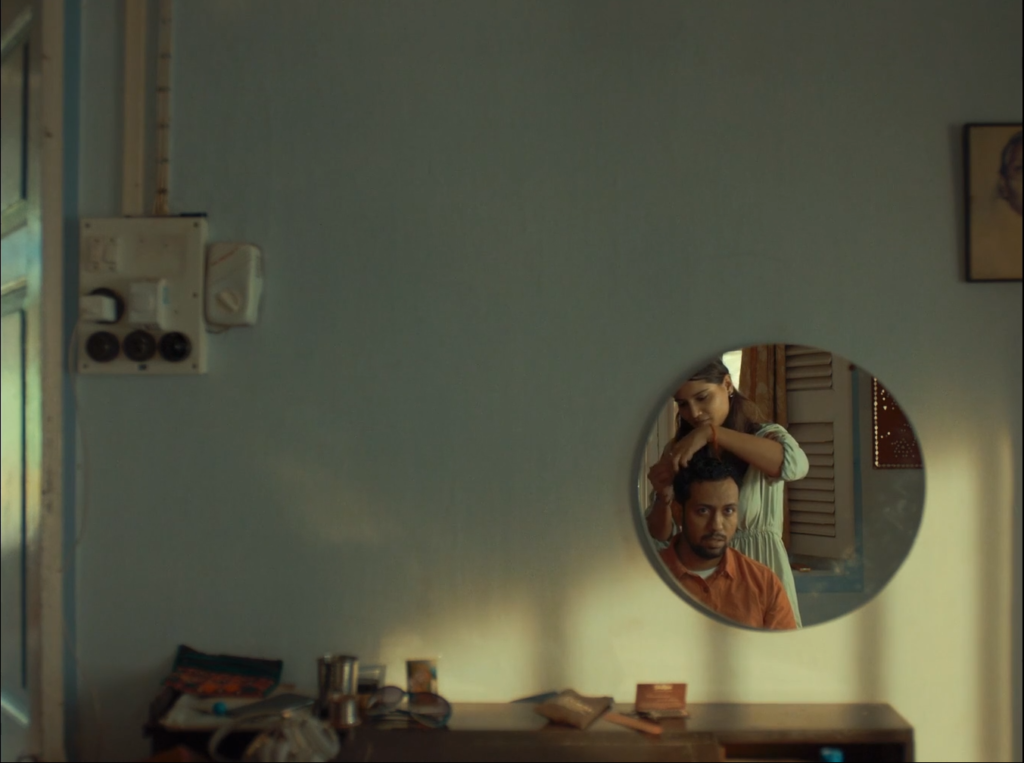 Anita goes to places we wish more Indian directors went to. Sushma Khadepaun-Parmar opens the Pandora's box of unpleasant issues, and she does it with a subtlety of someone unburdened by the societal preassures. With the welcome geographical distance, and suported by a wonderful cast, she minces the cultural obstacles on her way to exploring the gender biased mechanisms in India.
One of them is women's financial independancy. Not supposed to work as soon they get married because that would mean emasculating their spouses, women make compromises by turning into obeying housewives. That the world outside of India, more concretely in this case in the United States doesn't work that way, is out of anyone's comprehension. Such prospects enhance fear of losing control, turning men rabid.
"Do you have financial problems?" is the first thing the bride's father will ask Vikram, after he had told him about Anita's new job prospects. That she is excited about the potentioal career nobody seems to care about. Instead, the questions of manhood and 'face' are being raised. The conservative thinking of the man providing for the household is pushed forward, and preserving the dominating position in the marriage is achieved by violent, assaulting force.
Anita is an eye-openingy study of male-femele relationships crushed under the burden of patriarchal norms. The film competes in Orizzonti Short programme of the 77the edition of Venice Film Festival.
Currently working on her feature film Salt about a woman called Anita that more or less fits the profile of the main protagonist in her short, Sushma Khadepaun-Parmar has probably developed the story further to see behind the coulisses of the woman's life, post-Indian wedding, and back again in the US.
---
Country: USA
Language: Gujarati
Runtime: 17 minutes
Producer: Ankur Singh
Co-produced by: Sasha John
Written/ Directed by: Sushma Khadepaun-Parmar
Director of Photography: Nikhil Arolkar
Editor: Will Mayo
Sound mixer: Pranav Kothi
Wardrobe: Vidhi Gala
Hair & Makeup: Aashyia Bhatnagar
Colourist: Sudarshan Suresh