Review: Entre Tu Y Milagros (2020)
Orizzonti Corti Competition, 77th Venice Film festival
I am not a fan of personal film reviews. When I see a text written in the first person, I either start chuckling or my eyes roll until I have to collect them from the back of my head to put them back into the eye sockets. And sometimes, I am caught doing precisely that – reacting and reminiscing, not without a pang of guilty conscience. At least I somehow abstain from dusting off my Napoleon rhetoric and seize for the "She" form.
It took me the second viewing of Mariana Saffon's short drama Entre Tu Y Milagros, contender in the Orizzonti Corti competition of the 77th Venice Film festival to fathom why I reacted so strong to it. A single mother and a teenage daughter. I've been there. Mother so pretty that every gaze is turned to her. Yes, that was me. An insecure 15-year-old who tries to find her own place in the confusing world of flirts and recognition gets overshined by her mother's dazzling appearance. Again me. Actually, take the wealth and servants away from the story, and you've got my young adult life described.
And just to kill me off, the film is set in the past freed of the internet and mobile phones, beautifully shot on 16mm by the cinematographer Alfonso Herrera Salcedo. Damn his gaze. Every single take of Loren Paz Jara playing Milagros is a profound character study. All those little pangs of jealousy, insecurities and anger in her are exposed, like the pages of diary stolen and read out aloud without her consent.
It's time to part from the subjective before this review turns into an ultimate eye-roll.
In her script written for the film, Saffon is very peculiar about showing many faces of the environment she had placed her protagonists in. Another mother-daughter relationship stands in the shadow of the main one and it is set in a different type of reality – that of the underprivileged. One woman's motherhood is stolen by the needs of her care-free, wealthy employer Lorenza (Marcela Mar). Basilia (Olga Lucia Taborda) has little to no time to watch over her daughter Laurita (Maria Fernanda Giraldo). Her reward for the sacrifice is the kick in emotional guts by a girl who can't hit anywhere else. All of it is triggered by a tragic accident that Milagros experiences on a trip with Laurita.
The question of guilt is raised by witnessing a religious procession in the village. Who is guilty of what, if at all?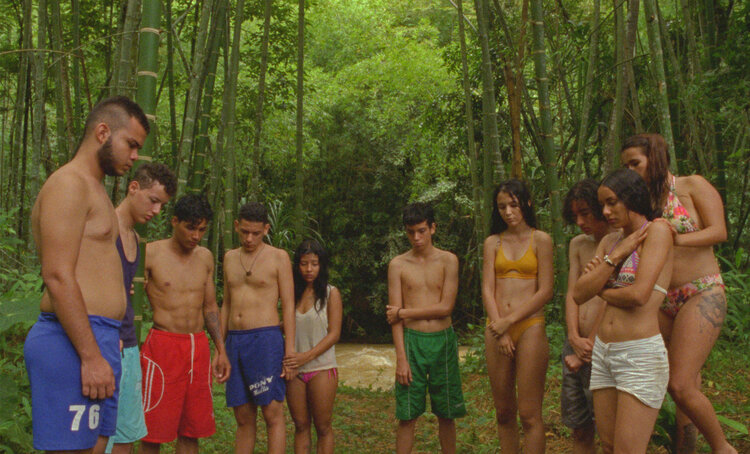 ---
Country: Colombia, USA
Language: Spanish
Runtime: 20′
Written & Directed by: Mariana Saffon
Producer: Mariana Saffon
Co-produced by: Jorge Granados Ross
Associated Producer: Saim Sadiq
Script co-written by: Nathalie Álvarez Mésen
Cinematographer: Alfonso Herrera Salcedo
Production design: Diego García
Editing: Andrew Stephen Lee
Music by: James Kinney
Sound Editor/ Sound Mix: Ryan Billia
Colourist: Patrick Devine
Costume Design: Juliana Giraldo
Makeup: Catalina Uribe