Review: Adam (2019)
Ca'Foscari Short Film Festival
International Competition 2020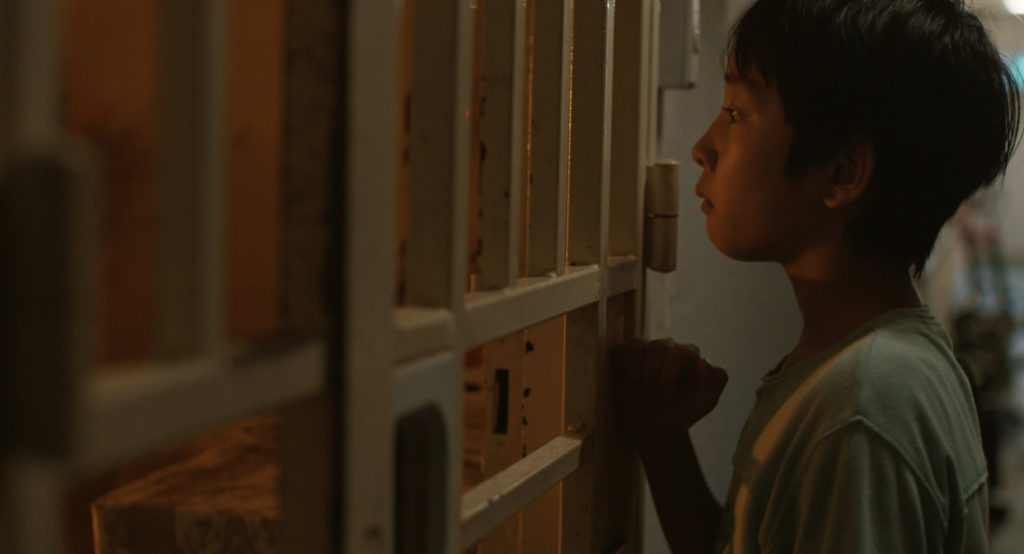 Growing up is a long and painful process, usually corresponding with the syntagm "the loss of innocence". The struggle of the titular character, a nine-year-old boy, is the principal topic of Shoki Lin's tender short film Adam. It premiered last year at Cannes as the part of Cinéfondation competition before heading to a prolonged festival tour. We had the chance to see it at Ca'Foscari Short Film Festival, where it was selected for the international competition.
We meet our titular boy played by Ayden Liow playing alone in the hallway of the apartment building where he lives. He operates a plastic car toy with a remote control and the game is to drive it slowly down the staircase. Adam repeats the action until the toy breaks. The reason he plays in the hallway rather than in the apartment becomes obvious in the next scene: all the attention of his family is aimed at his baby brother. When Adam tries to contribute to the situation tending to little Kai-Feng's needs, he gets punished for a mishap before he is given a task to make up for it. While he is on the "mission", his family leaves the place without even noticing that he might come back before they do.
There is an additional, and also quite big, piece of puzzle in this situation. Apart from being the older and therefore "neglected" child in this family arrangement, he also comes from a broken home: he has to live with his father, but actually wants to live with his mother. The trouble is he cannot communicate his wishes to either of them, while they are unable or unwilling to express themselves to him, making his life even harder.
The writer/director Shoki Lin aims, rightfully so, at contrasts between the worlds of the children and the adults. The feeling is amplified by characterizing Adam as a quiet boy in a busy, loud city like Singapore, which is highlighted by a sound scheme full of city murmur. The camera of the cinematographer Ibrahim Zubir usually stays close to Adam, putting him in the centre of the audience's attention, but those shots are alternated with the situational ones that also have a bit of Adam's subjective perspective. The end result is a quite a measured, non-intrusive, but still quite emotional viewing experience.
---
Runtime: 19' 33''
Country: Singapore
Languages: Mandarin, Malay, English
Directed by: Shoki Lin
Written by: Shoki Lin
Cast: Ayden Liow, Wan Sharmila, Elvis Chin, Serina Sng
Cinematography by: Ibrahim Zubir
Editing by: Al-Azmir Ibrahim
Music by: Sulwyn Lok
Sound recording by: Natasha Jumari
Production design by: Beaunice Toh
Make-up by: Lim Ziyu
Special effects make-up by: Audrey Ng
Colourist: Shoki Lin
Assistant director: Queenie Loh
Produced by: Wan Murni
Co-produced by: Queenie Loh
Production company: Nanyang Technological University, School of Art, Design and Media
Supported by: Singapore Film Commision
Distributed by: Lights On