Berlinale review: A Present Light (2021)
Berlinale Shorts Competition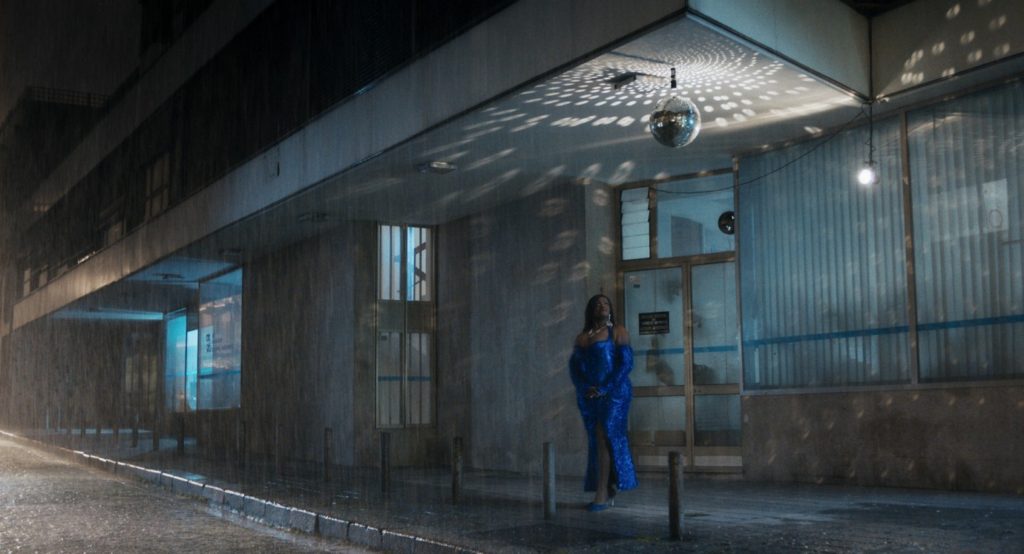 The streets should be full of disco balls to give a touch of glamour to the big city gloom. I vote we install one in front of every single entrance of the colourless housing projects to shine a glittery light on their secret stars, just like in Diogo Costa Amarante's Berlin Shorts contender A Present Light, starring the exceptional Diana Neves Silva.
In Amarante's love story, or a story of loneliness and longing, one disco ball gets out-glittered by a woman who stands right below it. She owns the space. She is the uncrowned queen of the area who has just came out of her castle to greet the subservients personally, dressed in her best attire. That picture of glamour and grace becomes even more impressive when the queen shows that she actually is the queen of hearts.
Goncalo (João Castro) is determined to deliver a letter to his lost love during a late, rainy night in Porto. His mind occupied with the outcome of his venture, he loses control over his scooter and ends up in an accident his neighbor Diana pre-warned him about. Her worries come true, and Goncalo ends up spread-eagled and injured on the street.
Amarante penned the script for his short drama A Present Light inspired by his real-life neighbor Diana who plays a version of herself in the film. The scooter is also part of the story, or the actual reason why the two of them met in the first place. During the Berlinale Shorts talk, the director spoke about their first encounter and the reason why Diana became a central part of his script which is as much about the pain of broken hearts, as it is about strong friendships that can be born out of challenging times. It is a filmmaker-subject bond on- and off-screen which partly can be felt in the way the film characters were built, with more than just an ink-on-paper fabricated understanding of inter-human connections. The film is in a way a mirror of collective behavioral patterns in exceptional emotional situations which can glue people together.
Behind the dream-like photography is the experienced cinematographer Jorge Quintela who's been dancing between documentaries and shorts since the beginning of his career. His feeling for finding the right connection between the unfeigned nature of the protagonists and the lense is intriguing.
A Present Light had its national premiere already in 2019 at Curtas Vila do Conde, but it took another year for the film to continue travelling to other festivals before it finally reached the Berlinale Shorts competition in March. Its
---
Original Title: Luz de Presenca
Country: Portugal
Language: Portuguese
Year: 2021
Runtime: 19′
Written/ Directed/ Produced/ Edited by: Diogo Costa Amarante
Cinematographer: Jorge Quintela
Production Director: Manuel Barbosa
Assistant Director: Frederico Mesquita
Sound: Luis Silveira
Art Director: Susana Azevedo
Costumes: Mafalda Moura
Make Up: Mariana Mattos
Gaffer: José Manuel Silva
Grip: António João Oliveira
Colour Correction: Paulo Inês (Light Film)
Music: Filiae maestae Jerusalem, RV 638: II. "Sileant Zephyri" Vivaldi
Interpreted by Philippe Jaroussky
With: Diana Neves Silva, João Castro, Gustavo Sumpta, Luís Miguel Cintra