Review: Your Street (2020)
Berlinale Shorts Competition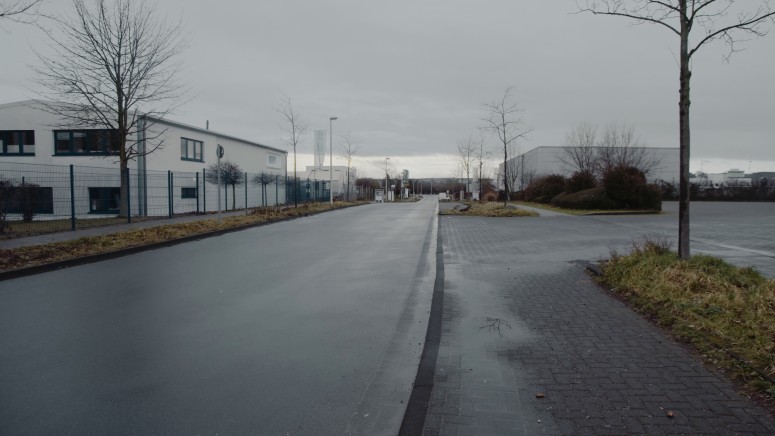 Cold rainy day falls heavy on an already grey street with look-alike boxy, white industrial buildings. Few young, leafless trees disturb the perfectly linear setting cut to host a car-wash center, a scrap yard, a large bakery, a garden center and an insurance company. "Whatever you need for life", as the voice-over by the Swiss author and playwright Sibylle Berg explains in Güzin Kar 's short documentary essay Your Street.
Deserted, with no movement on its perfectly paved surface, the long street in the industrial part of Bonn could serve as a setting for a dystopian movie. A world erased of people, a deserted town after a nuclear catastrophe, a place where a deadly virus broke out and the last survivors hide deep inside their houses. But this is not fiction, and the street, secluded enough form the buzzing city life to be anything else than a temporary sheltered stage of employees swallowed by the belly of mass productivity, also serves as a memorial of an atrocious crime. It bares a foreign name, the one German speakers have trouble pronouncing – Saime-Genc-Ring. In Bonn, this name is probably never pronounced. It is more likely that it gets entered into the gps to get to one of those industrial destinations. Or, in the meanwhile, to some of the families brought to live there to be closer to their work-places. We don't see them, but we witness a backyard of a house with an empty swing, and a parent holding his kid's hand walking on the narrow side road. This kid still has a name someone's calling and pronouncing correctly. A parent, a playmate. He is slightly older than a girl whose life was erased at the age of 4, and whose only memory was turned into a name of the street that barely anyone walks on. Maybe just a boy with his father. Or a worker on his way to the car. A mailman.
Saime Genc was the youngest victim of the racist arson attack in the German town Solingen that took place on May 29, 1993, killing five people, and injuring fourteen other family members. Saime got her own memorial far away from Solingen, and she didn't join the urban pantheon of dead poets, philosophers and statesmen in a city center, but was given a "556 meter long, 6.6 meters wide street with the speed limit of 50 km/h" in the industrial part of Bonn, far enough from the place of crime to be causing "unease".
Güzin Kar calls her short a filmic requiem consisting of wide shots and narration only, but it is far more than that. Your Street is a reminder of the segregation both in life and death, about the seemingly well-meant decisions made out of wish to change something that only halt or reverse the process of recognizing all lives as equally valuable.
The film had its world premiere in Winterhur before hitting the Berlinale, and is nominated for the Swiss Film Award.
---
Original Title: Deine Strasse
Country: Germany
Language: German
Year: 2020
Runtime: 7′ 22"
Written /Directed/ Produced by: Güzin Kar
Narrator: Sibylle Berg
Cinematographer: Felix von Muralt
Sound Design: Felix Bussmann
Editor: Simon Gutknecht
Colour Grading: Ramón Königshausen