Review: Les Enfants Terribles (2021)
Visions du Réel
The Special Jury Award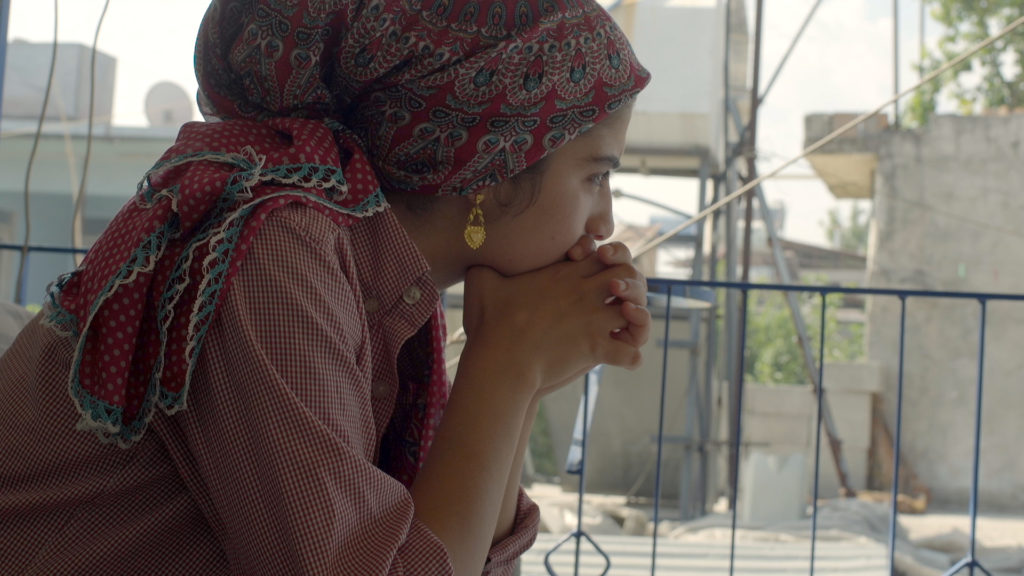 Generational conflict stands in focus of the wonderfully accomplished debut feature length documentary Les Enfants Terribles directed by the Turkish-born, Paris-based filmmaker Ahmet Necdet Cupur, which brought him Special Jury Award offered by Région de Nyon at the 52nd edition of Visions du Réel festival, in the international competition. The award came with the money prize of 10.000 CHF, divided between Cupur and Tomasz Wolski for his political drama 1970.
"If you don't respect us, there's the door" is probably the mildest verbal explosion heard in the house of Ahmet Necdet Cupur's parents who live in the village of Keskincik, in the Turkish province Hatay that borders with Syria. The air in Cupur's home is filled with tension; feeling more and more betrayed by his children, the patriarch Rifat is displaying aggression at any sign of disobedience. Life, according to his opinion, should be led as tradition requires – when the head of the house says something, that mustn't be questioned but listened to and wordlessly accepted. But as the film progresses, the viewer becomes aware that only one person who doesn't question anything he says or does, happens to be his wife Nadire.
Cupur considers himself as someone who is both an insider and outsider to his native village that he left at the age of 13 to get a middle school education. In his case, leaving wasn't a question of choice – back in the 90s, there wasn't any middle school in the area. But getting out wasn't easy, as it took a long struggle to convince his family to let him go. Now, some twenty years later, his younger siblings Zeynep and Mahmut are each going through their own difficult times trying to break off from Keskincik, and the filmmaker returns to offer his support. Once he's back in his parent's house he uses his invisibility to catch every single angle of the family drama that is heating up to the boiling point.
Occasionally, he isn't as invisible as he wishes to be (not counting such moments when he decides to be in front, and not behind the lens), and it's at specific moments that family members suddenly become aware of his presence behind the camera, such as when they need a "second opinion" during hefty arguments. Many whys and wherefores are flying around, othen replied to with accusations and insults, but none of them appear scary unless the father is involved. Short-temperedand and easily insulted (particularly due to his interpretation of everything said as an insinuation to his lack of education, or being "a peasant", but also at the slightest resistance to his will), he doesn't shy of threatening with violence.
The siblings' will to leave Keskincik is strong, but the financial dependence and fear of the patriarch is even stronger. Although she's beeen working a 12-hour shift for two years in a factory job reserved only for minor girls (and studying at night), Zeynep's salary doesn't belong to her. Rifat is in charge of her account, but despite of being practically penniless, she is determined to lead a different life. Her plan is to go to the Hatay capital Antakya to study socioeconomies.
Emotinally ladden and universal in its depiction of the consequences of raising children to accept a one-dimensional future, Les Enfants Terribles has an atmosphere of a thriller in which "who dunnit" gets replaced by "how" the damage was done – aided by the atmospheric music composed by John Gürtler & Jan Miserre (The Space Dogs).
Tribes and tribulations of the Cupur children in their wish to break free are shown in intimate, touching scenes of them questioning the ways the were brought up. Loveless, as Mahmut describes it at one point, justifying his heavy-weight decision of divorcing his 17-year-old wife Nezahat. There is another woman in the picture, not visually presented to the audience, but the one who showed him what love is, unlike his parents. Her existence is a shadow hovering over the family, but not only over them: such case in unheard of in the village, and the preassure from literally everyone in the community (except the siblings) to change Mahmut's mind is growing with every day. Nezahat's parents require compensation for the shame, but the one who suffers much bigger consequences is the young woman herself who as an underaged divorcee can only "be given to an old man".
Conservative, religious and very patriarchal, Cupur's parents stick to traditional believes and different rules applied for their sons and the only daughter. What boys are allowed to do, it's a no-go for Zeynep, inculding the possibility to leave home to get a higher education. Actually, none of the children feels comfortable under their parents' roof. All the bad tempered outbursts, the commanding tone and outmoded rules became too much over the years, not just for Zeynep, but for the others too.
They all are, after all, Les Enfants Terribles, ungrateful offspring who plot behind their father's back, although they ultimately find a way to change his mind. Despite all depicted events, the film is as much about making peace with the past, as about finding ways to build another kind of future. The filmmaker is looking back at his life-changing decision, which has in many ways also impacted his siblings' lives, and at the same time he is observing a long process of bulding new bridges in the family – those built on honesty and mutual comprehension.
Les Enfants Terribles is a documentary which will find its audience easily by the universality of its topic. The film is co-produced by French firm TS Productions and Germany's Jyoti Films and Turkey's Liman Film, and is sold worldwide by Deckert Distribution.
---
Original Title: Les Enfants Terrible
Country: France, Turkey, Germany,
Year: 2021
Runtime: 92'
Director: Ahmet Necdet Cupur
Producers: Delphine Morel, Anke Petersen, Nadir Öperli
Director of Photography: Ahmet Necdet Cupur
Additional Photography: Lucie Baudinaud
Editor: Mathilde Van de Moortel, Elif Uluengin, Nicolas Sburlati
Music: John Gürtler & Jan Miserre
Music Recording: Paradox Paradise Berlin
Sound: Gürkan Özkaya, Johannes Grehl
Sound Editing: Hervé Guyader
Sound Mixer: Valentin Finke