Review: Zinder (2021)
Visions du Réel
International Competition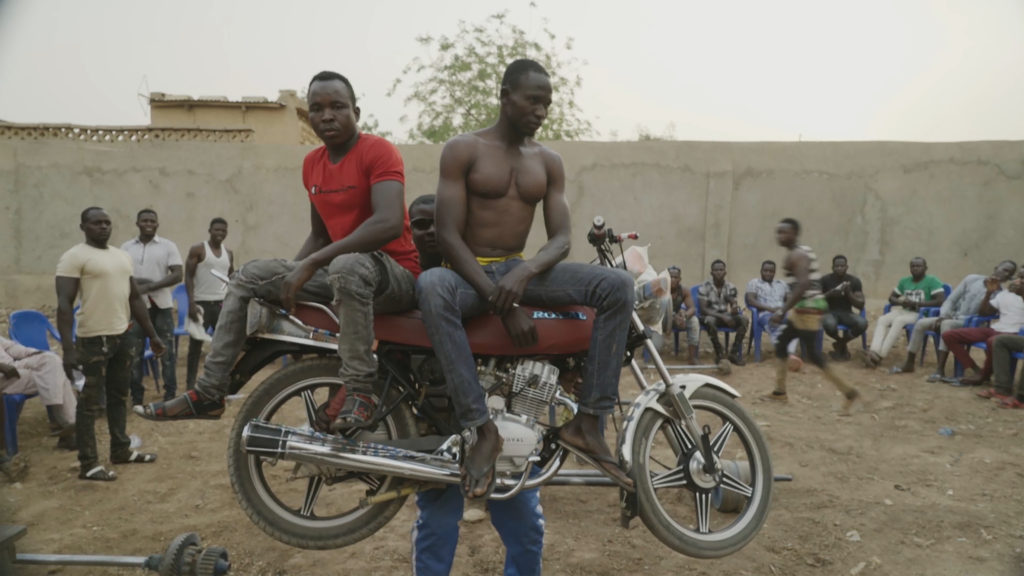 Back in December 2020, media was hit by the news of a Namibian politician named after Adolf Hitler winning the local elections as councillor for the Ompundja constituency. Western reactions were immediate. How was it possible that a black African could be named after someone whose racial doctrine asserted the superiority of Arian race, calling for racial hygiene, systematically and brutaly destroying millions of lives of those who didn't correspond that ideal? According to BBC, Mr. Adolf Hitler Uunona – when asked for a comment by the German newspaper Bild about the origin of his name, claimed that his father didn't know the first thing about the man he named his son after, and that he personally only realised the burden he was carrying on his shoulders when he grew up. As a child, he saw it just like any other name.
Anyone who knows a thing about the 20th century's darkest chapter will go through the same kind of disbelief while watching Aïcha Macky's sophomore documentary Zinder that has just had its world premiere at Visions du Réel's International Feature Competition. As we dive into the disturbing, dark world of one of the so called "palais" – Zinder's gangs of desperate and violent youth who set the city's district of Kara-Kara in terror, one of the first things we learn about them is that their headquarters is called "Hitler". On top of it, they proudly wave with the banner adorned with swastikas and pictures of muscular men, while driving through the area on their motorbikes. Asked about it by the filmmaker, the leader of this palais organisation Siniya Boy gives an answer that will amuse those who can not fathom what they are watching nor what kind of environment the film is set in, and at the same time it will make the rest of the viewers ponder about the true consequences of class-inflicted educational gaps: "It's the name of a guy in America, an invicible warrior." Hitler, as it turns out, is somewhat of a Rambo figure.
Kara Kara, Zinder's paria district was never prioritized by the state when it meant educating young people or generally giving oportunities to new generations. Why would it be, when traditionally, only the sick (mostly the lepers), the criminals and the outcasts were sent to live there? Not exactly in those words, but very close, one of Macky's interviewees shoots as a remark to the documentarian, making her understand that the city they grew up in didn't give them equal oportunities: "It's about the education", he observes dryly.
Sinya is one of the three people from "palais" who let Aïcha Macky into their lives. Aware of the undiscribable crimes he has committed so far, he belongs to a small group of young men who are determined to change their life-ways and get out of criminal activities. Likewise, a former criminal organization leader, and now a cabby Bawo, recounts his past activities in a disturbingly frank manner. Today committed to the establishment of law and order, he was once upon a time participating in gang rapes (that he describes as "men emptying themselves"), and other awful acts of violence. Just like a child, when he speaks about those attrocious acts his face bares a grin of someone plagued by the feeling of guilt and regret. Nevertheless, one feels compelled to wipe it out from his face.
Unemployment, poverty and lack of education are the common denominators of Zinder's Kala Kala district. Getting away from it is more of a concept than the possibility, as no one living there has the means of escaping. On the trail of her confidantes, Aïcha Macky tries to explore the reasons why her former neighborhood turned into a place of unthinkable violence and dread, by establishing a strong relationship based on trust, and the willingness to listen instead of judging.
Straight after Visions du Réel, Zinder will be screened at CPH:DOX. This is a documentary that deserves to travel and be shown, for its mighty representation of an environment unknown to anyone otuside of Zinder, which at the same time also is a universal story of our rapidly, mercilessly globalized world that deepens social gaps to such an extent, that it doesn't leave one single safe corner to the underpriviledged.
---
Original Title: Zinder
Country: Niger/ France/ Germany
Language: Haoussa
Year: 2021
Runtime: 82′
Produced by: Clara Vuillermoz (Point du Jour-Les films du balibari) Ousmane Samassekou
(Tabous production), Erik Winker (Corso Film)
Co-production: Arte France –Al Jazeera Documentary
In association with: STEPS (SouthAfrica) – GENERATION AFRICA
Written/ Directed by: Aïcha Macky
Cinematographer: Julien Bossé
Sound Recording: Abdoulaye Adamou mato
Sound Design: Andreas Hildebrandt
Sound Mix: Matthias Lempert
Re-Recording Mixer: Matthias Lempert, Studio Sehohrkester
Foley Artist: Carsten Richter
Foley Mixer: Hanse Warns, Daniel Weis
Foley Editor: Kuen Il Song
Editing: Karen Benainous
Colour Correction: Axelle Gonay
International Sales: Andana Films (Stephan Riguet – Grégory Bétend)