Mothers and Others (2020)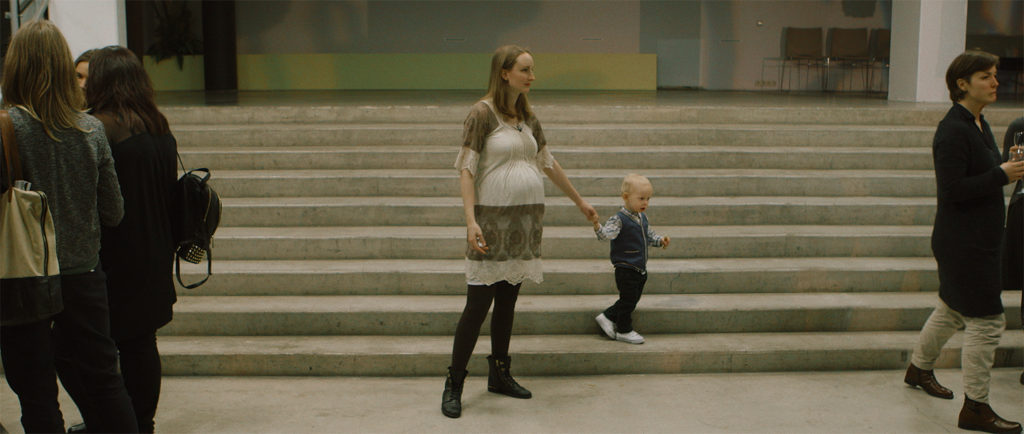 What is expected of a woman who is expecting? Right on the top of a very long list is putting oneself on the second place by replacing former dreams with new ones, 'selflessly' concentring on the baby only. In the (delivery) waiting process, women are supposed to be joyful about the forthcoming motherhood, attending courses for a parent to be, and showing interest in other people's experiences. And while they are doing it, all baby-unrelated topics wickedly slip away from their conversations with friends and family as if nothing else than nappies, pacifiers and prams mattered in life. There is no escaping. Somehow, it is expected of an expecting woman to be filled with bliss about such a wonderful thing as bringing a child to this world, and to forget about world politics, career, and self-doubts.
Despite of burgeoning love for the unborn, pregnancy is a long, hormonal, nerve-wrecking time that puts women in a bottomless pit of existential questions. After the waiting process is finally over, the shape of those questions shifts. So, what does it really mean for a woman to take up a role of mother, and to which extent, if all, the new circumstances change the person she is?
Four young woman at different stages of pregnancy and of different backgrounds and professions, are in focus of Liene Linde & Armands Začs' debut feature Mothers and The Others which world- premiered at Latvian National Film Festival back in November, where it won two prizes: the Best Director – Documentary (Labakais rezisors – dokumentala filma) and the FIPRESCI award. The film was recently screened at Visions du Réel, where we finally caught up with it. Considering the universality of its topic, Mothers and The Others will probably be around for a while.
In the film's opening scene, we see dancer/ choreographer Rūta rehearsing with her colleague Anna for their performance Twoness about "a woman who is also somethings else, and not just a mother". They have to interrupt due to Rūta's heavy nose-bleed. "It happens often lately", Rūta simply remarks before we can see that seh is pregnant. This is one of many "between-the-lines" in the film, which is partly filmed by the protagonists themselves, letting the viewer come closer to their emotional suits.
Rūta's ambition is to get fit after the baby is born and to continue working. The piece helps her to express the complexity of keeping both "personalities" in balance, addressing constant fear of 'doing something wrong'.
"One child is already one more than I expected to have", openly admits Beāte, whose plan wasn't necessarily to get pregnant and leave her big circle of friends in Riga to settle in the countryside with her now husband. With each passing month she struggles more and more to come to terms with the soon-to-be parenthood, but talking about it with her family proves challenging. They simply don't understand the nature of her problem. She is supposed to be happy, which makes Beāte wonder if she is the only one going through dejection.
Beāte's portrait is the most rounded and succintly edited by Armands Zač; we are given the opportunity to meet her pre-pregnancy and observe her rapid change from an active partygoer to a wife/ future mother who's facing the stillness of the family house that's been built in the lush greenery.
What connects all four women is their feeling of being alone in what they are going through, although the manifestation of that feeling differs. Vija, a housewife and a mother of one, knows pretty well what depression is. Pregnant with her second child, she is worried of going through the same hell of post-partum again, while Valērija – a young entrepeneur with traumatic past hopes to bring up her child in a happy family environment she never had.
Mothers and Others is a film that shows the complexity of feelings that emerge during pregnancy, and which are not contradictory to motherly love. This is the first directorial collaboration of Liene Linde & Armands Začs, both experienced filmmakers. Linde has previously directed three short films, and is currently working on two fiction features, both in development. Začs is an editor with a significant number of projects, and he has so far directed two short documentaries. This is his feature debut.
---
Original Title: Klātbūtne
Country: Latvia
Language: Latvian, Russian
Running time: 58′
Producer: Guntis Trekteris
Production Company: Ego Media
Written/ Directed by: Liene Linde & Armands Začs
Cinematographer: Reinis Aristovs
Editor: Armands Začs
Sound Design: Artis Dukaļskis
Composer: Jānis Ruņģis
The film is supported by: State Culture Capital Foundation