Review: Look at Me (2020)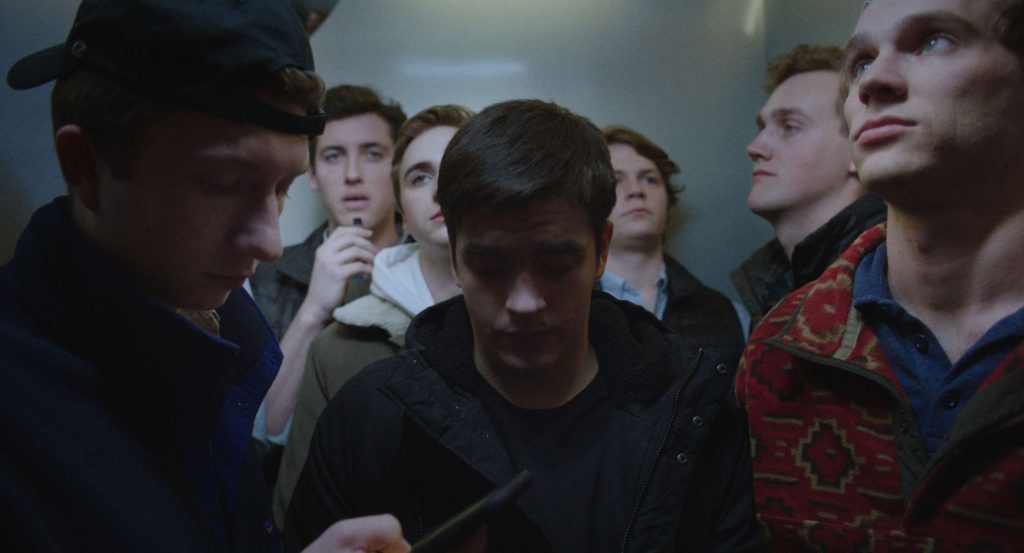 Nika Fehmiu is a young and coming American filmmaker, but also a third-generation member of the Yugoslav acting royalty. Both her parents, Uliks Fehmiu and Snežana Bogdanović, are renowned film, TV and theatre actors, and her paternal grandfather Bekim Fehmiu was one of the most appreciated actors of his generation globally. Nika's latest short film Look at Me, in which she voices the concerns of her generation about where the humanity is going to, premiered at last year's edition of Tribeca and was recently screened at Belgrade International Film Festival, in the newly-founded slot Intro FEST.
Look at Me is a hyperlinked triptych of short film stories revolving around the same characters and their brief connection at a subway station in New York. First we meet an unnamed teen girl (Hadley Robinson) who rushes to catch the train. On the steps she sees a young man (Connor Vasile) in a baseball cap, sitting on the stairs, spitting and not responding to the outside world. She assumes he might be homeless, so she calls 911 requesting a paramedics intervention. One informed that the emergency services are on their way, she jumps onto her train, instead of staying for the follow-up of the situation.
The second part takes us back to the past. The same young man visits his Bosnian parents (Uliks Fehmiu and Snežana Bogdanović) at their small restaurant, before heading to a party that means a lot to him. There he starts drinking in order to fit in with the crowd. But because of his Muslim background, he is lacking the experience with the alcohol, so he gets pretty drunk pretty quickly. Instead of calling Uber for him, his buddy (John Gargan) drops him off near the subway station. The third and final part follows the aftermath in which the girl with red hair (Juliette Alice Gobin) plays the key role because of her actions or the lack of them.
Fehmiu's approach in Look at Me could be described as a bit didactic and explanatory, both regarding her writing and visual storytelling that occasionally state something obvious right from the title. On the other hand, no one could miss her passion for the topic of the lack of attention and patience in the modern world that makes us lose the human touch.
Technically, Look at Me is an apt, yet not overly flashy piece of cinematic work, with three crucial achievements attached to it. The filmmaker manages to make us feel for her unfortunate protagonist and to pull off the tricky mosaic structure in a compact 15-minute format, while keeping us in the dark about the shock ending she has envisioned. Look at Me is a note-worthy short.
---
Runtime: 15'
Country: USA
Languages: English, Bosnian
Directed by: Nika Fehmiu
Written by: Nika Fehmiu
Cast: Connor Vasile, Hadley Robinson, Juliette Alice Gobin, Snežana Bogdanović, Uliks Fehmiu, John Gargan
Cinematography by: Wayland Bell
Editing by: Nika Fehmiu
Music by: Curtis Colton Green
Sound by: Dylan Hurley
Produced by: Anton Vicente-Kilot, Hannah Vicente-Kilot, Harry Klein, Nika Fehmiu
Production company: AH Production