Review: Her Mothers (2020)
Crossing Europe Film Festival
Best Documentary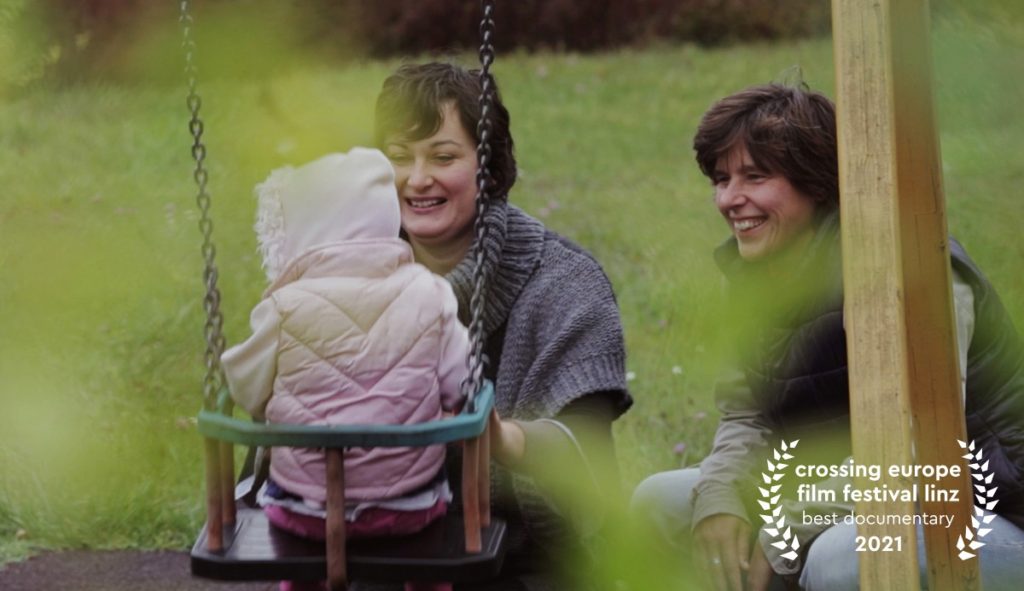 The Hungarian LGTBQ community lives in a system of all shades of discrimination that targets minority groups in Victor Orban's right-wing, paranoia driven, xenophobe society. Facing a palette of conspiration theories, intolerance, and the progressive rise of populism, people who don't comply to the heteronormative/ Christian phantasies of a "healthy state" have to go through the Sisyphus work of cutting through a thick wall of bureaucratic obstacles to achieve basic rights, rolling the bolder over and over again.
Albeit gay marriages are outlawed, for a reason that probably comes from Fidesz' obsessive war against much bigger enemies like George Soros, NGOs and immigrants, a tiny loophoole in the Hungarian law still allows child adoption by a single parent, enabling lesbian women to seize for the oportunity. This would be perfectly fine if there wasn't one small, but significant detail. Two women living together can each adopt a child, but without the possibility of officially sharing the parenthood. Those who yearn for the family expansion have to dance to the tunes of laws and state agencies in charge of adoption, swallowing their pride and risking discrimination not only by the official institutions (should they become aware of their sexual orientation), but also by local communities who are taught to accept the concept of a man and a woman expanding their family in the 'biblical' way only.
Virag and Nora know this all too well. Ever since they met during one of the rallies against Orban's government in 2011, they have been living with the notion that their love will never be accepted for what it is, even less their desire to have a legally recognized shared parenthood. Despite of it all, their wish to have children is something they do not want to ignore.
Virag is the first one to apply for adoption. A little girl they long to welcome in their family had suffered terrible neglect, and being a Roma child, she would probably never be adopted by anyone who doesn't already know what it means to be different in a discriminatory society. Excited about soon-to-be motherhood, they are busy getting things done before their daughter arrives.
Traumatized and not used to a caring environment, Melissza – once she joins her parents – needs time to adapt. As time passes by, Virag and Nora have to acknowledge that their original idea of adopting another child isn't realistic, not because this would be legally impossible (Nora is okeyed to adopt as well), but for other reasons both of practical- and sobering nature; under current circumstances in Hungary, a normal life for a child raised by two mothers is unthinkable. Rather than proceeding with plans of further family expansions, the couple concentrates on efforts to immigrate to a country that would offer them a much needed normality. Another thing that further burdens the family is Melissza's strong attachment to one parent, and a persistent rejection of the other.
Asia Dér & Sári Haragonics' documentary Her Mothers is an intimate, raw portrait of a couple who goes great lengths to fullfil their dream of having a family. Shot with a hand-held camera, with a strong focus on body language and facial expressions, the film establishes the immediate connection with its subjects. This is a film that concentrates on mechanisms of a well-functioning relationship that resists all kinds of heavy-weight temptations.
Excursions into the world outside of the two women's household are very brief, but the reversed situations – those of the outside world intruding the peace and quite of a small family multiply. Orban's promise to "protect and strengthen Christian values" by filling loopholes in the legal system reach us over the radio, and the voice of one of Hungarian Ministers warns about the danger coming from immigrants and homosexuals: "Morally, there is no difference between the behavior of a pedophile and the behavior of someone who wants to adopt. In both cases children are objects, luxury goods." Those words are not just terribly stupid and stripped of every logic and decency, they scream hatred. Slowly but surely, Nora and Virag's fear of right-wingers reaches its peak. They get haunted by nightmarish images of an extremist finding out where they live and coming "to visit", and they take a decision of leaving the country.
Since its world premiere at HotDocs in 2020, Her Mother had a substantial presence at the international film festivals, recently winning Best Documentary award at Crossing Europe. This coproduction between Campfilm and HBO Europe is realized in association with Match Frame Productions.
---
Original Title: Anyáim története
Country: Hungary
Language: Hungarian
Year: 2020
Runtime: 75′
Produced by: Campfilm, HBO Europe
in association with Match Frame Productions
Directed by: Asia Dér, Sári Haragonics
Director of Photography: Asia Dér
Additional Camera: Sári Haragonics, László Halász
Producers: Sára László, Marcell Gerő
Co-producer: Noémi Veronika Szakonyi
Executive Producers: Hanka Kastelicová, Anna Závorszky
Editor: Flóra Erdélyi
Sound: Sári Haragonics
Additional Sound: Dér Asia, Mark Zask
Sound design: Tamás Bohács, Rudolf Várhegyi, Márk Puszta
Line Producer: Erdos Melinda
Home Video: Hórvath Nóra
Post-production Manager: Mátis Inez