Cannes review: Absence (2021)
Festival de Cannes
Short Film Official Selection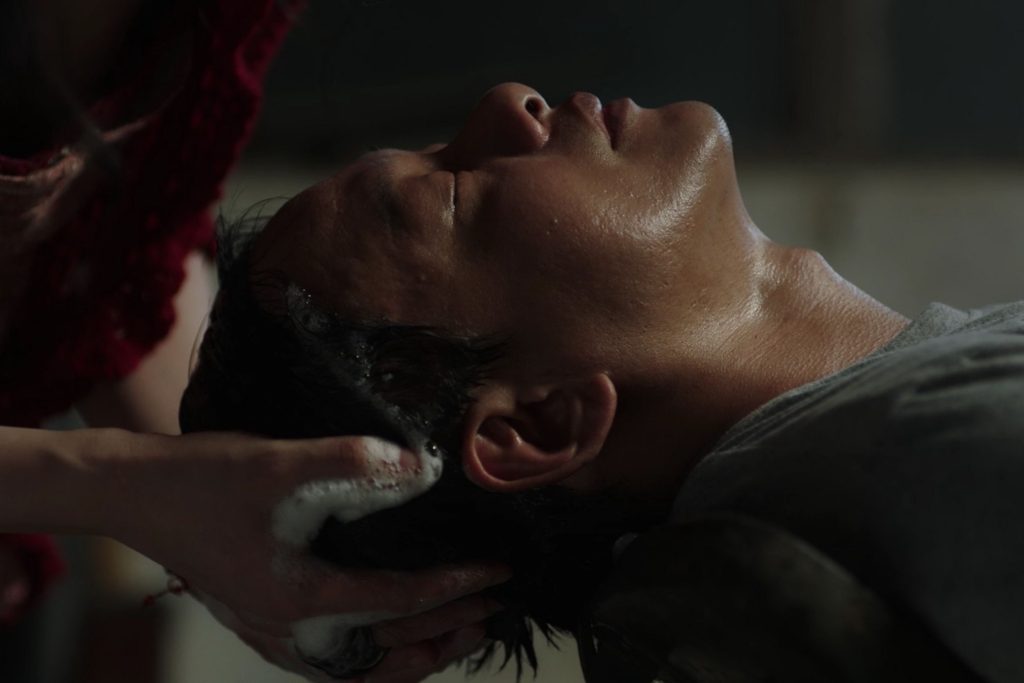 Two years ago, one particular scene in Noah Baumbach's Marriage Story penetrated the collective memory of viewers who at one point in their lives went through the painful process of breaking up, despite love and deep bonds that connected them to their former partners. It was the one in which Scarlett Johansson cuts Adam Driver's hair, post-separation, that signals the moment he realises that the future will deprive him of something very special.
It's usually the small things we are missing after falling out with that significant other: falling into slumber while watching some crappy film on telly, silly eating rituals, sharing trivial knowledge over a glass of wine, confidently leaving the bathroom door open during the most intimate moments, going around the house talking 'over' multiple rooms with each other…
Ex-partner washing the man's hair and massaging his scalp is the only of his memories we get to see in Wu Lang's sophomore short drama Absence, the Short Film Competition contender at Cannes film festival. It's a scene that occurs in his dream shortly before he (Lee Kang-sheng, Tsai Ming-liang's regular cast) reunites with the woman (Li Meng from Jia Zhangke's A Touch of Sin and Cathy Yan's Dead Pigs) he loved, on a joyless ride from Haikou to Yinggehai, to help her move house.
Before the man meets the woman again, we got to see his projection in the car's wing-mirror through the brilliant lensing by Wang Jiehong who's framing every scene like his recording a visual diary in which no detail should be left out.
Wu Lang calls his vision of reunion of former lovers 'un unspeakable farewell'* which is the most accurate description of what is going on in the film. Those words couldn't be possibly topped by any professional scribbler. Instead of connection, what we observe is a void between the two built up by a decade of alienation, and at the same time, we sense a form of intimacy that was kept in their subconscience.
Although the long trip doesn't re-connect the former lovers, we can catch the bits of their previous closeness, given in short moments of shared silent rituals: a wet cigarette (no, not that kind of smoke, just a cigarette wet from the pouring rain) passed from hers to his mouth on the beach during a break, and a hug that surpasses erotic desire.
Silence can be louder than bombs, and Wu Lang brings that effect to the maximum, putting more attention to the body language than anything else. The cramped, the confused, the melancholic, all of it is present in the moving car; a woman at guard, a little boy who doesn't know who the 'uncle' is, and a man who's trying to catch a hidden sign showing him that he somehow still 'belongs' in the picture.
The sound that dominates the road trip comes from the outside. Loud city traffic and the music from the car radio get replaced by the stridulation of insects and high-pitched chirping of birds. They signal what is about to come – a final adieu.
Absence is a type of film that will click with the audience regardless of their geographical background. It is a timless story told in an impecable visual language.
Copyright: Shanghai Turan Movie Co., Ltd; WULANG FLIM STUDIO
---
Original title: 雪云 (Xue Yun)
Country: China
Language: Mandarin Chinese
Runtime: 15′
Year: 2021
Produced by: Shanghai Turan Movie Co., Ltd, Wulang Film Studio, Yilisoo Films
Producers: Dun He / Zhao Ziming
Co-producer: Ke Ma
Written/ Directed by: Wu Lang
Cinematographer: Wang Jiehong
Cast: Lee Kang-sheng & Li Meng
Art Design: Wu Lang
Editor: Liu Xinzhu
Sound Design: Liang Kai / Li Danfeng
Presenters: Dun He, Zhu Weijie, Wu Lang
Presented by: Shanghai Turan Movie Co., Ltd, Wishart Media Co., Ltd., Hai Kou Qing Lan Vision / Art Development Co., Ltd
International Sales: Yilisoo Films
---