Interview with Samir Karahoda: "I use photography as a tool to complete the script and express my inner self"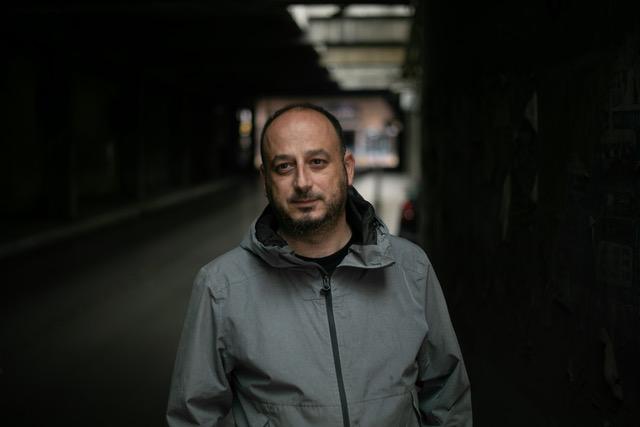 The Kosovar filmmaker Samir Karahoda doesn't like to call himself a director. He is, and stays a photographer, he says. It's a humble statement by an artist who has already acheieved so much with only two short films he signs as a director.
Karahoda's short documentary debut In Between (2019) was the first Kosovar film that competed at the Berlinale, and it has brought him a number of awards at international film festivals. The film has bagged the RheinMain Short Film Award at Wiesbaden GoEast, it was the winner of the Short Film Competition at Vilnius IFF and it won Grand Prix for the Best Short at FeKK Ljubljana.
With his second short Pa Vend (Displaced), Samir Karahoda makes history again. The film which tells the story of a post-war ping pong club 'League of Prizren' and its journey to present day by focusing on its two main protagonists and the coach, will be the first Kosovar film to be competing in the Official Shorts Competition of Cannes Film Festival. The film takes the form of a doku-fiction, for which the actual events with real characters were recreated and combined with real footage from the present.
What was the reason you seized for the 1:1 aspect ratio?
Since all the master scenes were shot in close-ups, I found this format ideal. I thought it would fit much better, and I also used it as a kind of metaphor for the story: the lack of space the club members face everywhere they go. These are the two main reasons, but also when I was testing at the beginning, I though that in this way I could feel the characters better, and have them close by. If we shot it wider, we would have bigger spaces, but in this way we stay faithful to the way they have to deal with the absence of space.
There are indeed some extremely narrow spaces shown in the film which can only mean that positioning the camera wasn't an easy job.
We had an issue with small spaces, and even If I used a wider lens I would have to cut off a huge chunk from the frame. This was really another challenge, composing frames in tight places, but I am happy with the result. I have managed to do what I wanted to do, because photography is part of my script in general. I always think as a photographer. In most cases I plan the script on the base of pictures before I even start writing the text.
As an experienced photographer, I personally think that nowadays it is no longer as important as what lens we shoot with, more important I think is the concept of cinematography and style we apply in storytelling. Being a cinematographer, in my personal movies I use photography as a tool to complete the script and express my inner self, so photography is one of the main components of my films. I cannot imagine anyone else shooting my films, in this case I would not be able to continue as a filmmaker. In Pa Vend, I used Zeiss Standard Primes, looking for a lower contrast image and closer to the film look.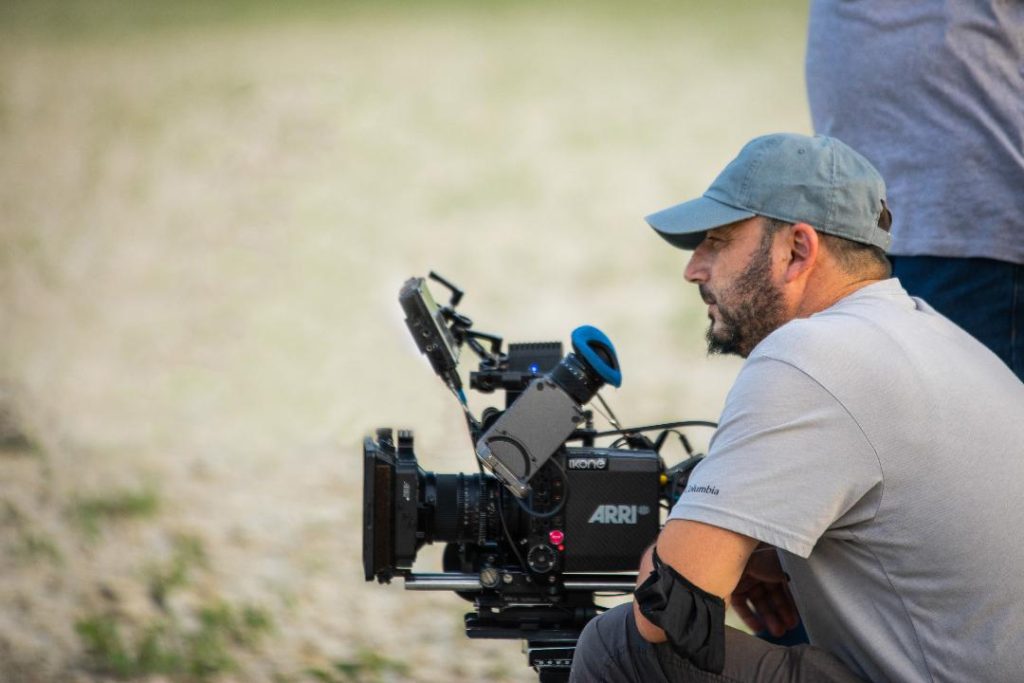 Why did you opt for a mix of fiction and documentary?
That is quite a long story. In Pa Vend, you have 15 years told in 15 minutes. The history of the club merged with the written part because otherwise it would have been impossible to tell that story. Unfortunately there are lot of other things that I couldn't include in the film. I have spent a lot of time with Jeton and Ermegan – one of them is actually my best friend. I have heard a lot of stories from them, and in the process I have even experienced some, especially between 2003-2010. We were hanging around together, and I often heard my friend telling me that he had to go to move the ping pong table somewhere else from where it was. For instance, at one point they had troubles with the director of one school who even changed the locks to prevent them from getting in and continue training. At some other places they were asked for money, but what is interesting is that they never gave up. Having all of such long material and making a short film out of it was another challenge. Mainly for this reason I decided to go for a mix of documentary and fiction.
Regarding the script, it was completely based on their talks. Once we were drinking beer, and one of them confessed that his biggest dream was to go to the championship in Japan one day, because it's the biggest annual worldwide event for table tennis. They unfortunately never managed to get there.
When I shot the scene in the storage room I thought that that was the only place where I could tell something that I couldn't some other place, because it was the ideal setting to make the audience understand what this guys have to go through. For some reasons still unclear, people from Balkans can understand why such things are happening. We know how much money is misused on daily basis in our countries, and instead of investing in the youth, that money goes to crime and corruption, or on some wild building constructions – and god knows where, actually.
Could you tell us something about 'League of Prizren'?
Their story is that they still don't have their place. Even 15 years after they started training, they still have no facilities. At the end of the film we see the scene shot in the sports hall. I had lots of comments about it coming from my colleagues when I sent them my film to hear if they had some suggestions or opinions. Most of the comments were about removing that part. Everyone was telling me – you should end the film with the tractor scene when we see Jeton and Ermegan sitting with sulken faces, holding the ping pong table. Well, the reason to make this film was to show their actual situation, and If I didn't include that bit in the film we would not know what is happening right now with the team. You can also see the face of the trainer who is probably the only one who didn't give up yet. We see the two leads giving up in the mid of the journey because they were not playing since 2011 just because of such inconveniences; they were spending more time moving the tables than playing. They were so to say more involved in the transportation and finding places than training.
For example, we see some scenes in which the kids are sitting and not playing. And very often when I went to visit them, I saw that they had a 2 hour training for 20 kids with only 2 tables. Within those two hours they were more sitting than playing because they were waiting for their turn, which is a thing that makes them dissapointed. So are the parents who believe that the trainer doesn't spend enough time with the kids. That is of course not his fault as he does everything with heart. He doesn't even get the compensation. During the day he is working in a company, and every day from six to eight he goes to train these kids. What is interesting is that this is the most succesful team in the conutry at the moment. They have three players playing in the national team, the bigger kids that we can see in the garage scene. They are the top three in the ranking in Kosova. Also the girl with the blond hair, she is the champion in her generation, and she holds the third place in ranking in the category two generations above her.
The films also delivers a strong social commentary.
The reason why I included different topics, is that pingpong alone would maybe be too dry, and there are so many factors that influence the story of the club which in the film is 99% true. Jeton who came back from Germany is full of enthusiasm – he still believes that Kosova will be like Switzerland in a very short time because theer is a huge diaspora who will help and give their support. He was optimistic for a long time. Ermegan is the oposite – he is pessimistic, and he represents people who live in the country. Even I share his feelings. We are going through the social depression with high unemployment rates and with discrimination in lots of aspects. So, I wanted to put the two with their different perceptions of the situation together. Let's face it, the only optimists are the diaspora because they can keep the idealism alive living in stable economies and giving their contribution from afar. They are the only ones keeping us standing. But the optimist in the film also encounters situations, like in the scene when he goes to fix the roof of his car, which is an important moment, because everywhere you go, the youth is talking about leaving to the west. The mechanic asks him is he was deported, because he simply can't fathom why someone would come back of their free will. We don't hear so much of it due to Covid 19, but before the epidemic broke out, young people were always looking to go abroad to get some work and have a better life. Right now, things look sinister because of the political negotiations with Serbia, and we are certainly going to lose more things. I don't know how much time it is going to take, but it will probably be a long process.
Your editor Enis Saraçi did an amazing thing creating a dynamic, easy flowing story.
Enis is actually one of the most interesting filmmakers that I know. He was quite responsible and creative especially. He also helped me a lot with my previous film Ne Mes.
In Pa Vend, the main issue I had from the beginning was how we were going to connect the scenes because we were jumping from location to location. But he was quite confident and assured me that I shouldn't worry. He simply said: "Make me a nice shot, and I will make it happen." Enis is not only creative, but he invests his time in editing. He would work on something and then send it immediately to me. He actually studies editing in FAMU in Prague, but he was constantly sending me new versions because he wanted my opinion on the spot. We had a quite interesting and beautiful cooperation regarding the editing, and I have a huge trust in him. He is possibly the only person in my life that I can trust hundred percent in the professional way. As I said before, he is responsible, he works a lot on details, and he likes to try new things. In the scene at the wedding hall with strange illumination, I was thinking of doing some kind of transition, but Enis told me he would check if a jump cut would work better. I immediately realized how beautiful that idea was, he even added the sound of the light to make the scene more effective.
In the church scene he was proposing to include the sound of the bell. He was quite supportive in every aspect, and he was working like it was his own fim without complaining about anythig. I like such type of professionals, because I can give them space. An editor is an artist, and if you don't give them a needed space, nothing good will come out of it.
Was the club really training in the church and the wedding hall?
The scene in the wedding hall is based on true events, but the venue is not the same. I wanted to make it more abstract and more absurd, because they used to play for months in a similar place. I couldn't resist the urge to exaggerate a bit and to bring more colour to the story. When I saw that place for the first time, I immediately wanted to shoot there. For me, that was the venue that could illustrate the club's way of finding compromises. For instance, the floor there is in cheramic tiles, and you are forbidden to play pingpong in such places. They facility don't even have the proper light for ping pong. You can see the chandelier and the blue light coming from the side wall, and they need the soft light to play.
A week ago when I went to see them, it was even crazier. Imagine Prizren nder 40°C heat, downstairs they were doing the vaccination. Doctors were complaining about the sound of tabletennis training, saying they were disturbed by it all. So, the film is still going on!
Regarding the church, they used to play for three years in its basement. The priest was a fan of tabletennis, so he gave them the space for as long the basement wasn't used for other things.
Is there anything you would like to add about the film?
The lack of conditions is seen in every sport, and I wanted to tackle this sensitive issue to bring attention to the future of the kids. Living under these conditions is difficult. I have the same condition with my son who plays tennis. During winters, they have their trainings in a basketball hall. Sport and culture are little to no supported by the country although they represent it. I think that we are going to sensibilize this issue a bit. We already started to lobby for it, and I hope that when the politicians see this movie, they will start to feel bad.
During the shooting with these guys, I made a joke: "You failed as sportists, but you will shine as actors!" And indeed, they are going to come to Cannes, and they are very excited, especially Ermegan, the depressed one.