Cannes review: Inherent (2021)
Festival de Cannes
Semaine de la Critique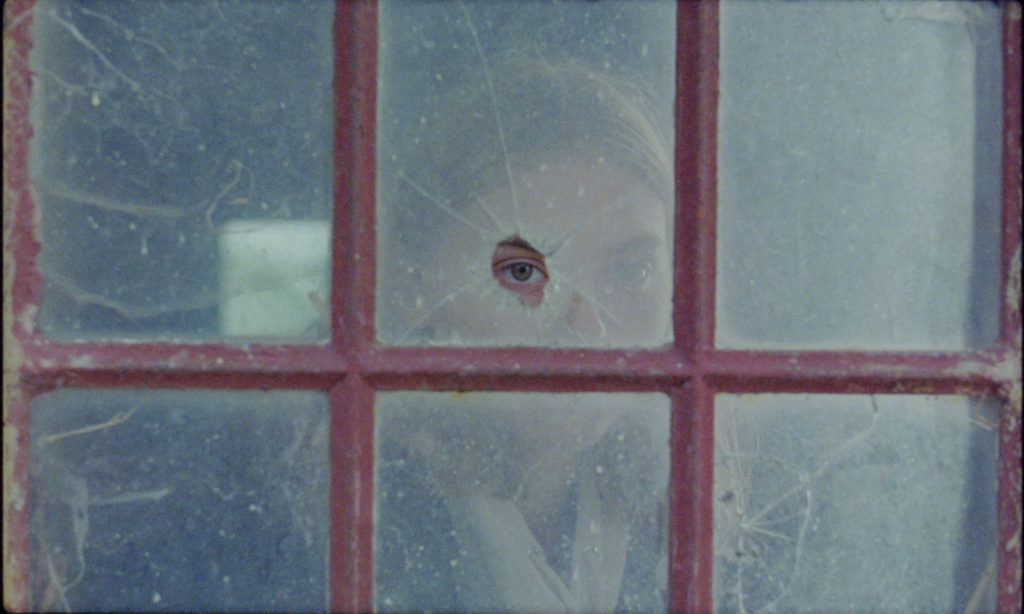 The inhabitants of a small Danish village are oblivious of their new neighbors' special diet needs. They are even less aware of who those neighbors actually are, or how many of them live in the farmhouse on the other side of the road. The only member of the household they've ever seen is a young girl, but there is nothing strange about a sulking teenager roaming around the area.
In this place of general indifference towards unknown folks (and since teenagers are clearly an undomesticated kind, it is adviseable to avoid asking them questions, just in case), an 18 +/- girl played by Sandra Guldberg Kampp can move free to pry on her next victim. It makes sense that she's nameless in the world of verbal silence, and so is her love interest (Noah Skovgaard Skands) whom we could simply call – a boy on the scooter. As a love story of sorts between them starts developing, a strange feeling of increasing loneliness ocurrs, different from the standard build-up of a budding romance.
The wide-lensing by the cinematographer Sebastian Bjerregaard who previously stood behind the camera in Johansen's 'Vægge af beton' (2019) and Nøcken (2018), accentuates this sensation; the girl traipses through the ghastly empty house or vast green fields that swallow her in their self-sufficient solitude. Hers is the oneness of the kind that doesn't make her unified with the environment she occupies. Sunken in this hermetic isolation, she is alert at every sound, and the incredible work by the sound designer Asger Midjord Rasmussen plays a crucial role in the film with the unease caused by creacking wooden stairs that lead to the attic, creepy growls coming from above, strong wind blowing through the flatland into the house, brassy buzzing of insects, and caterwauls. Owing to the eerie original score by Toke Brorson Odin, the film gets its rounded claustophobic setting.
The whos, the whys, and for that matter – hows, don't seem to be playing any particular role in Nicolai G.H Johansen's vampire coming-of-age drama Inherent that competes in the short film section of Semaine de la Critique: almost everything surrounding the plot remains a mystery, except for few little details. We are clueless about how the victims get dodoed (no, it's not that kind of a straight-forward vampire story with fangs, bites and super-natural powers) but we know where humain remains are being disposed off.
Guldberg Kampp had her breakthrough with a memorable part in Jeanette Nordahl's 'Wildland' (Berlinale 2020), where she played a young woman who soon after her mother's death moves in with her troublesome aunt and criminal cousins. This year, she appears in two Danish genre short films in Cannes – besides the lead role in Johansen's 'Inherent', she also delivers a strong perfomance in Casper Rudolf's Short Film Palme D'Or contender 'In the Soil'.
'Inherence' is an unusual example of a film that wants a lot and almost suceeds in it. Beautifully shot on 16mm, and technically well done, its only real weakness lies in the unclear connection between the girl and that other – never visible, but obviously completely different kind of a blood-sucking creature.
---
Country: Denmark
Language: no dialogue
Year: 2021
Runtime: 16′
Written/ Directed by: Nicolai G. J. Johansen
Production: Snowglobe
Produced by: Anna Dammegaard Søllested
Executive Producers: Eva Jakobsen, Katrin Pors, Mikkel Jersin
Cinematographer: Sebastian Bjerregaard
Editor: Yifan Zhou
Sound Designer: Asger Midjord Rasmussen
Original Score by: Toke Brorson Odin
Additional Music: 'One Inch Shrugs the Other Shoulder', composed by Astrid Sonne
Gaffer: Alfred Rubin
SFX Makeup: Christine Kvint
Production Assistants: Maria Bondeskov, Frida Grant
Sound Recordist: Simon Pedersen
Foley Artist: Otto Valentin Pedersen
Colourist: Olesya Kireeva
DI Conform & Finishing: Steffen Benger
Post Producer: Annette Averhoff
VFX Artist: Lucas Lindvig