Locarno review: Making Babies (2023)
Locarno Film Festival
Pardi di Domani competition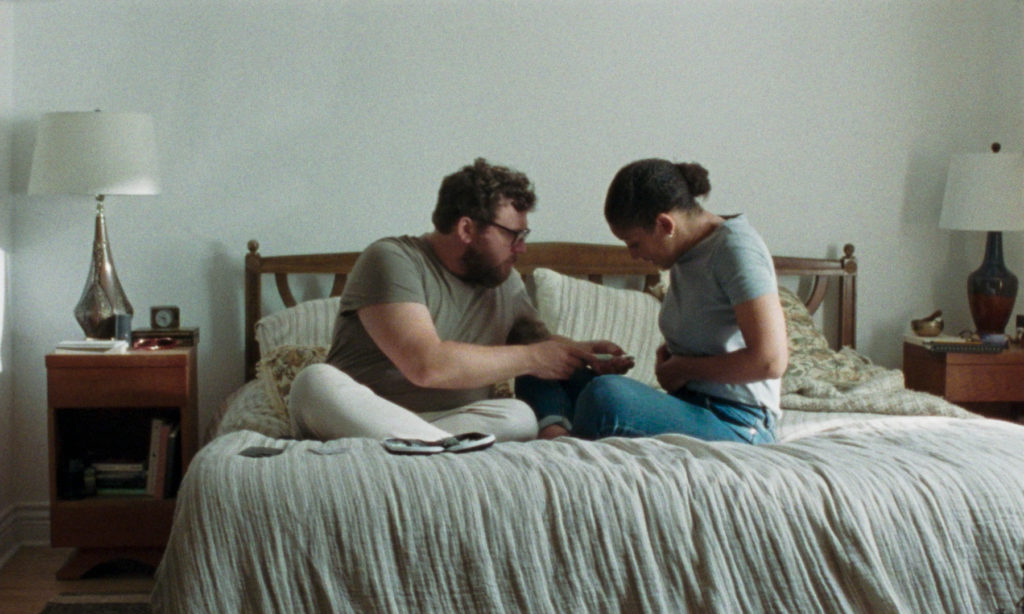 When a loving couple after many years spent together decides to procreate, their healthy sexual life gets progressively burdened by the preassure to conceive. After numerous attempts, at first fuelled by passion for each other, they fall victims to a mechanical routine which begins impacting their relationship.
It's difficult to supress giggles during the opening scene when amidst moaning, grunting and whimpering against the black screen, the logo of the production house "Sport" appears right before the first actual visual which is all too familiar for many, as it is hilarious to others. A man is giving instructions to his partner to keep her legs stretched out in the air 'until she gets pregnant'. She briefly obeys, before declaring that it doesn't work, and the attempt #1 of 67 is thus officially over. Their mood is still great and hopes of getting pregnant high, with their future kid ideally being 'a mix between Lea Seydoux and Idris Elba', a wish jokingly vocalized by the man who is hinting at the couple's interracial union.
With his directorial debut Making Babies, Eric K Boulianne doesn't only seal the verdict of being one of the most interesting Canadian scriptwriters of his generation, but he proves equally talented behind and in front of the camera. Slipping in the role of a man whose libido suffers from fear of not delivering the task, he is brilliant in exposing the fragile masculinity without succumbing to temptation of overdoing it. The story puts an equal dose of preassure on both characters, and each has to deal with it in their own way. Pepped with humour, Boulianne's script is overall articulate and smart, built on strong dialogues and real life situations.
Genuine intimacy is the driving force of the narrative that puts its main protagonists in a challenging make or break situation, pointing out at the harm we do to ourselves when there is something we wish for so much, that we gradually kill off our own happiness. Laughter, optimism and joyful moments of togetherness mark the beginning of our couple's mission to fulfil their dream of offspring, but with every failed attempt a bit of it gets lost and the ugly germ of pettiness appears. In each scene a new element of estrangement gets introduced; a sudden awarness of partner's odour or twiching of the body when touched. Jokes that used to work before become a source of conflicts, and finally – a paralizing fear and the loss of sexual drive set in. A balanced emotional build up gets its support in yellow-orange analogous colours and the precise camera work by François Messier-Rheault who collaborated with Denis Côte on A Skin So Soft (2017) and Ghost Town Anthology (2019).
In Boulianne's dramedy which competes in Pardi di Domani section of Locarno Film Festival, we are looking at a normal couple underoging a crisis. Naked skin isn't shown to please the eye of the viewer as we are not served the normative beauty standards, but an access to a couple's private sphere in which the bodies play a secondary role. A very welcome directorial decision is to resist the temptation of showing the full- frontal nudity of Florence Blain Mbaye, and expose the male instead (himself).
Behind the film's original score is the Canadian enfent terrible Peter Venne who caught my attention through his contribution to Matthew Rankin's offbeat debut feature Twentieth Century (2019). One particular quote from that movie – "Canada is just one failed orgasm after another" can be re-arranged to fit he spirit of Making Babies – "Procreating under preassure is just one failed orgasm after another".
Giving its universal topic and the undisputable quality, the film's chances of conquering further festivals will be additonally boosted by the fact that it world-premiered in Locarno.
---
Country: Canada
Language: Quebecois French
Year: 2023
Runtime: 19′
Written/ Directed by: Eric K. Boulianne
Camera: Francois Messier-Rheault
Edited by: Myriam Magassouba
Art Director: Arige Mahmoud
Sound Design: Samuel G. Thibodeau
Music: Peter Venne
Production: Johannie Deschambault, Jean-Sebastien, Beaudoin Gagnon