Locarno review: A Tortoise's Year Of Fate (2023)
Locarno Film Festival
Pardi di Domani Competition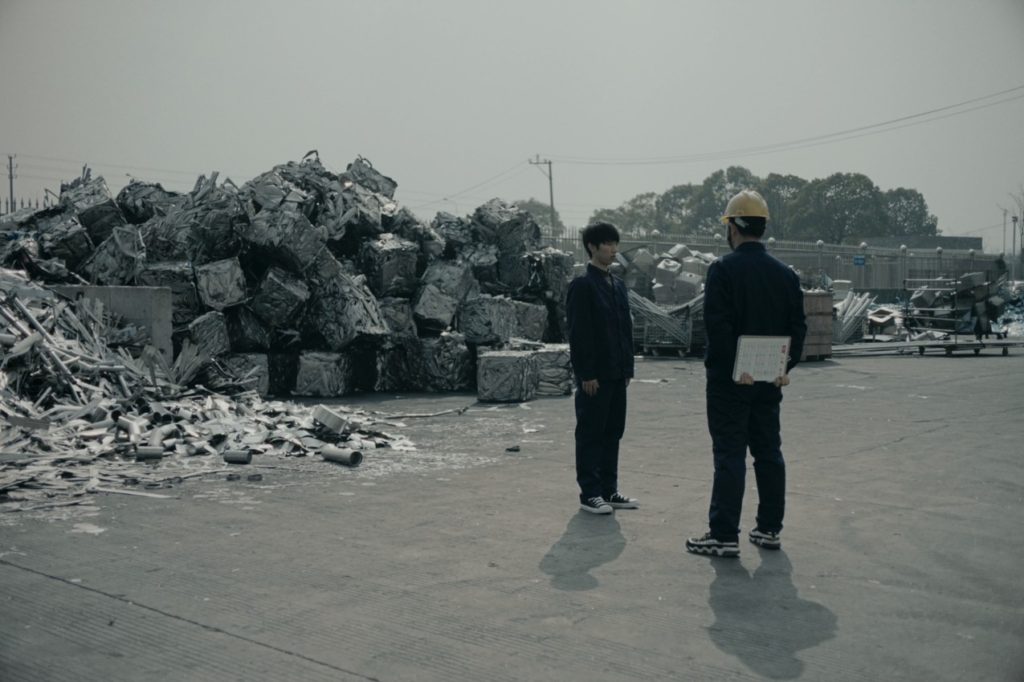 For a shy, introverted person some environments come with an extra challenge which is the case with a twenty-three-years-old factory worker Binbin (played by Ziyun Xiong), a native of Yuyao who realizes that he needs to jump over his own shadow to fit in the new workplace.
In Yi Xiong's drama A Tortoise's Year Of Fate our newcomer is welcomed with mud, smoke, grayness, and an unfriendly exploitative boss in a place that ran out of joie de vivre. Already on day one, dressed in trademark blue factory garments very Zhongshan suit-alike, Binbin is introduced to strict procedures including the military style of commencing a workday. Not even properly settled in, the silent by nature loner needs to prove worthy of this place full of loud young men who date women they meet online, and who can afford to go out. So, when he gets approached by a female co-worker Nana (Zifeng Lin) Binbin interprets too much into it.
Somewhere between the lines we understand that the main protagonists longs to be somewhere else, and it is apparent that he can't cope well with loneliness. Likewise, it seems that the factory job serves another purpose, and that every penny needs to be saved. "How much does a night out in a karaoke bar cost?", he asks a colleague, trying to make his question sound as casual as possible. For the newbie, additionally to his financial stress all the sudden hustle and bustle of the factory that comes together with a complete lack of privacy is more than he can handle. At the same time, he knows that some compromises need to be made to survive this temporary phase that will provide him with means to do something else in life.
Stingy with dialogues and rich in visuals, Yi Xiong's drama offers an insight into the kitchen sink factory and its dorms through long takes and static shots. Large industrial spaces are used to increase the sense of allienation and 'nothingness' of an individual who gets devoured by it in the same way that huge temples eat up their believers. Dominated by monochromatic gray colour, the photography ocasionally livens up with soft yellow, warm shades to briefly give a sense of hope.
To bridge the story's loose ends Yi Xiong introduces an external element. When Binbin gets stood up by Nana in the city, his attention is caught by a man who claims that his 500-year-old tortoise can help people twist their fate, but also that his palm-reading skills will straighten anyone's doubts. It is a universal rule that healers, shamans, fortune-tellers and all kinds of charlatans profit from the poorest who seek help of higher powers to change their lives to better. A Tortoise's Yaer Of Fate captures this phenomena with uncynical eye, and lends the film both its title and the fine tuned ending.
This beautiful, slow pacing drama about loneliness and longing is premiering in Pardi di Domani International Competition in Locarno, with high chances of travelling the world.
---
Original Title: Yi zhi gui de ben ming nian
Runtime: 18′
Year of production: 2023
Director/Screenwriter: Yi Xiong
Producer: Zhenyi Li, Yi Xiong
Associate Producer: Huihui Lou
1st Assistant Director: Ziye Huang
Cinematographer: Qi Wu
Production Designer: Xiaoxiao Zhu
Costume & Makeup: Yuanjiao Zhang
Production Sound Designer: Guozhen Li
Editor: Sylvia Cong
Music Composer: Chamberlain Zhang
Graphic Design: Frey Su
Distribution/ Sales: Lights On