Curatorial Residency at studios das weisse haus and TBA21-Academy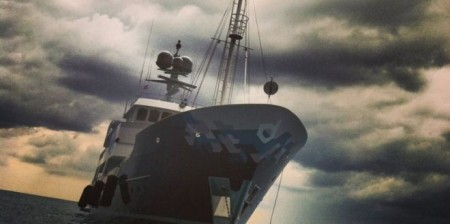 Deadline 11th July!
Studios das weisse haus and TBA21-Academy are offering a Curatorial Residency in the context of the TBA21-Academy Program from September 2013 – March 2014!
Main Activities/Responsibilities for the Curatorial Residency at TBA21-Academy:
Art and Research Expeditions and Events:
Within the framework of the TBA21-Academy program, you will
– Assist in the curatorial process in preparing the Academy expeditions and events on and off board of the research vessel "Dardanella" along the Pacific Ocean from Costa Rica to Alaska.
– Support the preparation of a research symposium on a new pavilion commission that will focus on an iconic barometer of the changing environment, the world's threatened coral reefs. The seminar will bring together leading architects, sound artists, marine biologists, climate specialists, conservationists and engineers to the consider challenges and solutions required to realise this project.
– Write informative and scholarly texts for Academy presentations.
– Work with the PR department in the preparation of facebook entries and other social media postings.
– Work on a concept for a publication series.
– Weekly time scope: 30-40 hours.
Within the framework of studios das weisse haus program, you will
– present a project (related to your curatorial work at TBA21-Academy, former shows, etc.) at the end of the residency in form of a screening, lecture or symposium.
Person Specification:
Essential
– A relevant degree in the history of art, curatorial praxis, ethnography, philosophy, or a related field.
– Some work experience in an art institution, art gallery, museum, or with a collection.
– Demonstrable knowledge of and practical involvement in contemporary international art, in particular of the intersection of art, science and environment.
– Demonstrable excellence in verbal communication and presentation in English and excellent writing skills in English, including the capacity to write texts for a specialist readership as well as accessible texts for a general public.
– Well-developed interpersonal skills and a collaborative approach to team working; the ability to work on many related issues at the same time.
– Excellent organization, planning and administrative skills, with ability to prioritize and coordinate multiple activities to meet deadlines on time and to budget.
– Computer literacy – able to use IT applications to support own workload.
– Awareness of issues of equality and cultural diversity as they affect the work of a very diversified foundation.
Desirable
– Knowledge of TBA21 Collection and the TBA21-Academy.
– Some track record of publications.
– Good Spanish language skills.
Accommodation, Payment and Service:
– A monthly allowance of 1000,- Euros.
– A cover of traveling expenses with 200,- Euros for residents coming from a country within Europe, and with 400,- Euros for residents coming from any country outside of Europe.
– A private room in a shared apartment.
– A program of events and activities of both institutions that links the resident to the local art community (Open Studio Days, Studio Visits, admittance to various events, exhibitions, etc).

Please include following documents in your application if you are interested in the Curatorial Residency at studios das weisse haus and the TBA21-Academy:
– A document providing the following information: full name, date and place of birth, citizenship, address, phone and email.
– A full resume.
– A short description (min. 2000 characters) of how you would envisage the curation of an expedition focusing on any of our topics as listed on the TBA21-Academy webpage (such as coral reefs etc.) with artists, scientists and conservations on board.
– A brief declaration why this topic is of interest to you.
– A description of a project you would realize autonomously within this field would be desirable.
– Samples of your work: articles, exhibition catalogues, videos, photos, books (please do not include any originals and note that we do not return any application material).
All applications will be reviewed by a board of experts. Members of the board: Francesca Habsburg (founder and chairman), Prof.Tony Myatt (director of research and sound curator), Katiana Orluc (director of development/strategic affairs), Alexandra Grausam (director of das weisse haus and studios das weisse haus), Sheyda Malek (project coordinator studios das weisse haus) and Ralo Mayer (artist).
Applications deadline: 11 July 2013 (postmark).
Please send your application per mail to:
das weisse haus
Application for Curatorial Residency
Argentinierstraße 11
1040 Vienna, Austria
For questions regarding studios das weisse haus please contact:    
Sheyda Malek
mail: studios@dasweissehaus.at
For questions regarding TBA21-Academy please contact:
Dr. Katiana Orluc
mail: katiana@tba21.org
Find here and read carefully our APPLICATIONS FACT SHEET for detailed information on the Curatorial Residency:
More studiodwh updates and news:
Thyssen-Bornemisza Art Contemporary (TBA21) update and news: