Peter Kogler at the Mezzanine gallery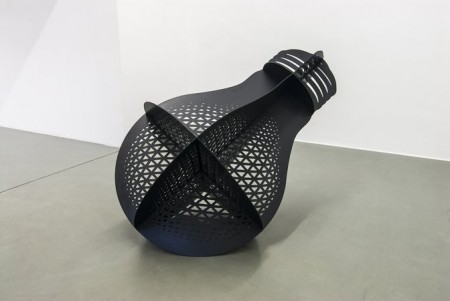 If you are not from around here, your first encounter with Peter Kogler will probably happen at the intermediate level of the Karlsplatz subway station in Vienna, where his installation consisting of computer-generated intertwining tubes covers the walls of otherwise architectonically dull space. This grey network of pipes with its subtle symbolism is a critique, but at the same time a statement and a clear reference to the global technologization and our digital reality heavily dependent on the fast exchange of information. A similar pattern endorses the staircase space of the Kunsthalle in Krems, adding to its powerful impact on the beholders by optically squeezing them in a relatively narrow space. Kogler is a wizard of symbol interpretation – his ever occurring motives of ants, human brains, mice, lightbulbs and tubes are never used in a nonsensical manner, their "scenery" being carefully picked and developed to the last detail.
Peter Kogler makes his art easily accessible by giving its motives different meanings. A lightbulb can evoke many associations – a new idea, energy, recent global dedication to environmental issues or simply an invention that has changed our lives forever. And right there at the entrance of his forth solo exhibition at the Mezzanine gallery in Vienna, Kogler is giving us another interpretation of this object, an untitled aluminium sculpture from 2011, its heavy black belly leaning against the floor.
The exhibition consists of seven sculptures and a series of collages important for comprehension of his working process. It's Kogler's most recent work "which pursue his ongoing exploration of concept through form, using the theme of ornament as a cypher for the position of the individual within modern society" (quoted from Mezzanine's press release)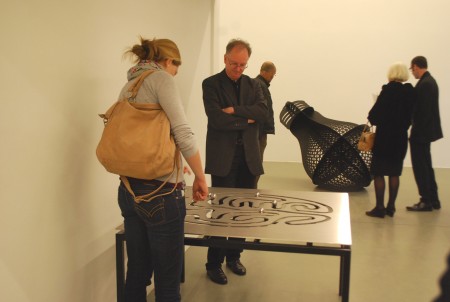 In his many interventions in public spaces, but also in artworks of smaller scale which are exhibited in galleries and museums, Kogler consciously addresses the loss of individuality through the global computerisation. They are pieces of a larger, never ending picture, a kind of visual perpetuum mobile which keeps the story of the beginning and the end a secret, making you craving for more information. This is exactly what the artist wants you to do – to think, be curious and find your own interpretations, even if the answers are there right in front of your eyes. It is not wonder that the improvisation is not a card peter Kogler would put his bet on.
Peter Kogler, who was a couple of days ago awarded The Tyrolian State Prize for Art 2013, is one of the most prominent Austrian artists. His works have been on show, among other places, in the Centre Pompidou, in the MUDAM Luxembourg, the MUMOK in Vienna, MoMa, Kunsthalle Bregenz, at the documenta in Kassel (1992 and 1997) and in the Austrian Pavillion at the Biennale in Venice (1995). Large aluminium sculpture from 2011 representing a bulb is the first thing that the visitor
The exhibition runs through July 31st.
Galerie Mezzanin GmbH
Karin Handlbauer
Getreidemarkt 14/Eschenbachgasse
A-1010 Vienna
T +43 1 526 43 56  F +43 1 526 91 87
office@galeriemezzanin.com