Review: Plasmid (2019), by Roshni Bhatia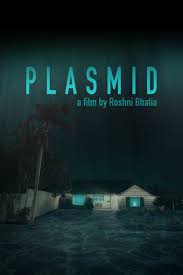 The least desirable text message you want to receive and read after a stressful night as the hospital surgery scrub is "Don't go in the house. It's inside". Likewise, a compulsively-sweating neighbour (Rob Moore) who's waiting outside of your house with an offer to "protect you" wouldn't be on your top 5 list. On the other hand, if you are a horror fan, you'd probably get an immediate urge to run for your life. The main protagonist of Plasmid Jessica (Paula Alves) does exactly the opposite by ignoring all the warnings and as she enters her house, the hell breaks loose.
Slimy creatures and slimy fluids are an inherent part of the horror genre history, and Plasmid leans on this tradition, with clear parallels to "Blobs"* and the alien fluid forms. In the core of the narrative is a mysterious gen-manipulated substance that materializes in Jessica's swimming-pool and that obviously – considering all messages delivered by the neighbours – had already made a round in the street.
The script is inconsistent and trips over illogicality or two. For instance, when Jessica – amidst the budding danger – seizes for her handbag, she pulls out a tape-player the world hasn't seen since the 1970's, and she plays a recording of a male voice that talks about the discovery of a species that is capable of replicating itself and permeating the cells of other organisms through liquids. The voice appears to belong to a scientist who suggests that the substance should be tested on humans, as it can be used as biological weapon. Although that thing came from one of the neighbours who were trying to warn her, why would a local housewife have something like that in her possession remains a mystery. Likewise, why the substance doesn't use a much easier way to access the human body (for instance – tap water) but chooses to "go for a swim" instead, seems a bit on the lazy side.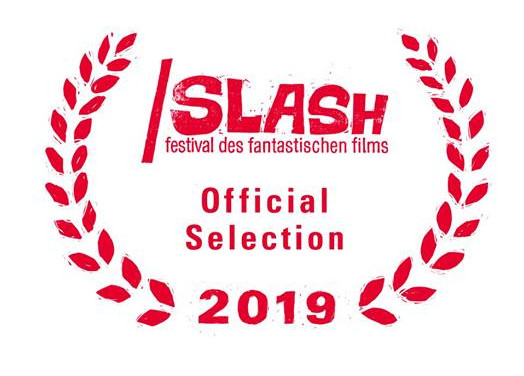 All the generously applied blue cast and hard shadows with saturated black won't scare you in Plasmid. Although it is pleasant to the eye and technically well executed, it would do much better with a more defined narrative structure that doesn't leave that many gaps open. This is the graduation film by the Indian filmmaker Roshni Bhatia, who had previously directed three other horror shorts.
Plasmid was in the Shorts Competition of the /slash film festival.
Country: USA
Language: English
Running time: 13′
Written/ directed/ edited/ coloured by: Roshni Bhatia
Production: Roshni Bahtia Production
Executive Producer: Andrew Mayne
Produced by: Virginia Blatter & Alessandra Turco
Director of Photography: Horacio Martinez
Production Designer: Jared Carlson
Hair/ Make-up: Shaina Paulson
Sound Design: Jeffrey J Byron, Roshni Bhatia
Composer: Karl Casey
* Irwin Yeaworth's The Blob (1958) starring Steve McQueen, Chuck Russel's Blob (1988), and even Larry Cohen's The Stuff (1985)