Program Overview: Musicals (Uppsala International Short Film Festival), Part 2
Twelve films were shown in the programme dedicated to short musicals at the Uppsala International Film festival, curated by Christoffer Olofsson. Since our first chapter about this programme ended with a review of a musical biopic specific for one country (Norway), we begin this one with a take on another geo-specific film.
As a music connoisseur living in a German-speaking country and having a kid that either attends a kindergarten or a primary school, you might end up dying thousand deaths being perpetually confronted by the music of the Schlager star Helene Fischer. Or, you could be one of her millions of fans in case you like the singing version of telenovelas, or the German counterpart of Celine Dion with a slightly less flexible voice range. Anyhow, she happens to be, alongside the late Austrian music legend Udo Jürgens, one of the indirect inspirations of Bye Bye Deutschland (2017), a 2K video installation by Bárbara Wagner & Benjamin de Burca, starring Markus Sparfeldt and Stefani Teumner, who in real life make a living by impersonating the aforementioned monoliths of German music industry.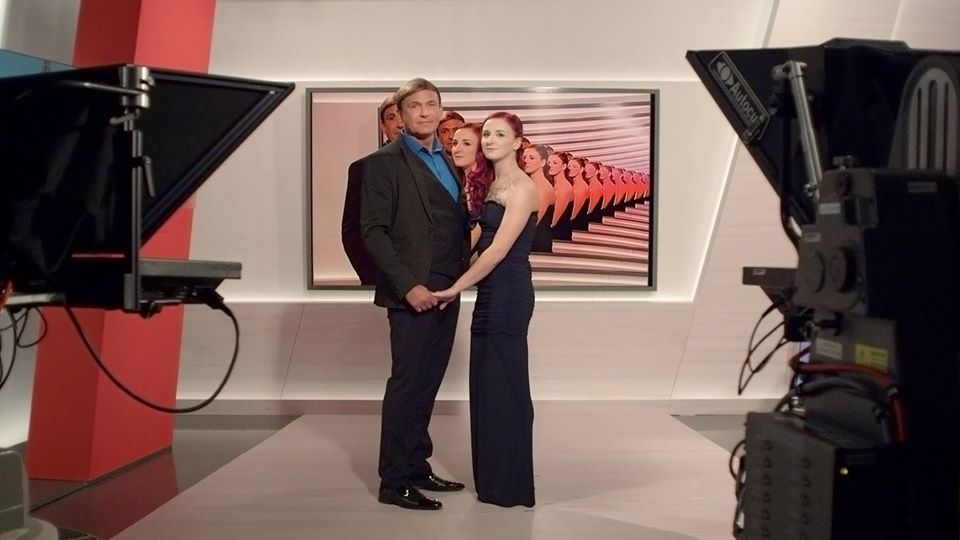 The 20' long film was created exclusively for the Skulptur Projekte Münster, an exhibition public space across the city that takes place every ten years. Right there, in Münster where "it either rains or the church bells toll" the video installation was screened in the Elephant Lounge, the oldest town nightclub, where it attracted as many art lovers as fans of both Fischer and Jürgens.
Knowing the previous works by the director duo who is based in Recife, Brazil, helps to understand the concept of Bye Bye Deutschland. Dance and music have been occupying their minds since the beginning, be it frevo – a very specific form of capoeira rooted in the Brazilian north state of Pernambuco, the Brega music subculture, or the gospel as a very interesting recruiting strategy of the Protestant church in Brazil.
Last year Stedelijk Museum in Amsterdam showed Wagner & de Burca's triptych of videos Set to Go (2015), You are Seeing Things (2016) and Holy Tremor (2017), in an exhibition that had a focus on their work related to Brazilian culture. In Bye Bye Deutschland, their attention is fully diverted to the phenomena of German Schlager and its two major stars – Fisher ad Jürgens, and their cult-following. This is just hinted and not served directly, requiring from the non-German speaking viewers to immerse deep in the subtitles to understand the relationship between the song lyrics and the picture.
Beethoven's Ode to Joy played by the Münster church bells opens the film showing the busy pedestrian street. A woman (Stefani Teumner) pushing the baby pram comes into focus, and the camera follows her as she strolls through the city, brushing past historic places, until she reaches the town park. Suddenly in a rainforest like greenery, she begins singing Fischer's hit from 2008 "In the Middle of Paradise". A church with its chubby cherubs, gilded altar and baroque paintings becomes the setting for "From Here to Eeternity", another famous song by Fischer.
When Markus Sparfeldt appears, he is presented as the editor of Münster's daily. For his performance of Udo Jürgen's melancholic ballad "What I Wanted to Tell You" the film turns for a moment black & white, before the scenery changes to show him on the concert stage, with Jürgens' trademark concert piano.
Bye Bye Deutschland is as much of an odd postcard of Münster, as a curious venture into the world of Schlager, its popularity and theatricality.
Original Title: Bye Bye Deutschland; Eine Lebensmelodie
Country: Germany
Year: 2017
Running time: 21′
Directed by: Bárbara Wagner and Benjamin de Burca
Script: Bárbara Wagner, Benjamin de Burca & Pedro Sotero
Art assistant/ make-up/ wardrobe: Jana-Kerima Stolzer
Art assistant/ lighting/ grip: Alexander Rütten
Starring: Stefani Teumner, Markus Sparfeldt, Makiko Tanaka, Dorothée Degehardt, Mike Förster, Stephanie Heinrich

---

We all know them. Prejudice surrounding dating people whose looks don't meet the beauty norms. Too short, too "ordinary", too plump or too skinny. Try other race, same sex or – bald, and the bar lifts an inch. We are in Norway (Tromsø) meeting a teenager Jonas (Frank Kjosås) who breaks the news to his parent of having met, and having fallen for a bald guy. This also happen to be the title of this wonderful short musical directed by Maria Bock: Bald Guy.

When Jonas' mother (Marit Adeleide Andreassen), visibly shocked about her son's infatuation shouts at him: "Couldn't you just pick up someone with hair?", it's this wonderful exaggeration that nails it. Dating a bald guy becomes a sinful thing to do, something like smoking in the schoolyard.
The script written by Maria Bock and Lars Jacobsen mocks people's urge to justify themselves by the amorous choices they make, but it also points out at the stereotypical reactions on such choices. Jonas' defense is to sing his enthusiastic bald-men praising song from the top of his lungs, and as he storms out of the family home to announce his adoration to the world, he adds other socially rejected physical attributes to his love interest – small and fat, until we finally get to see the man (Ole Giæver). He turns to be everything else than that.

The music composed by Lars Jacobsen and performed by the Czech National Symphony Orchestra, in all its pompous glory reminds of the melodies from popular Disney classics. It's catchy and it makes your feet dance on their own.
Enjoy watching the complete film on YouTube:
Original Title: Skalamann
Country: Norway
Runing Time: 11′
Directed by: Maria Bock
Written by: Maria Bock and Lars Jacobsen
(Based on an idea by Monica Hjelle and Lars Jacobsen)
Producer: Tomas Evjen
Music: Lars Jacobsen
Music Producer: Bjørn Erik K. Pedersen/ Whiteroom
Orchestral arrangement: Eirik Berge
Orchestra: Czech National Symphoy Orchestra
Cast: Frank Kjosås, Marit Adeleide Andreassen, Randolf Walderhaug, Ole Giæver,
---