Film Review: I'll End Up In Jail (2019), by Alexandre Dostie
Martine Francke as Maureen

Émile Schneider as Jelly
You might think to know what an igloo is until you've seen the short psycho-thriller I'll End Up In Jail by the Canadian director Alexandre Dostie, freshly screened at the Sundance Film Festival and currently showing in Clermont-Ferrand. And when you find it out, you better chose carefully with whom you wish to experience it. If at all. Well, most probably not.
The film opens with a closeup of a middle-aged woman by the name of Maureen (Martine Francke) in distress, repeating Émle Coué's famous mantra-like conscious autosuggestion exercise: "Every day, in every way, I'm getting better and better". This brief venture into self-help department proves futile and she gives up on the shanti-shanti after a phone call that will push her to take a radical step of leaving home. The prison she calls it, and the prison it is. Married to a mullet sporting mechanic Daniel (Stéphane F. Jacques) with the sensibility of a frozen yoghurt, Maureen is trapped in a relationship without love, further burdened by the "whatever" attitude of her bratty 18-year-old son Kevin (Joseph Delorey), who's using her to deal with his problems.
I'll End Up in Jail is a Quebecois film, so even though it's filled with dry humour, don't expect a happy end and enjoy the ride including – literally speaking, a lethal crash. Expect blood, sweat and tears, and immediately eliminate the urge to sing along the cheerful classics of the band that happens to be called just that. You'll end up singing to the tunes of the Quebecois chanson classic I'll End Up in Jail by André Guitar (1977) instead, although the film's titular song could easily be Alanis Morrisette's Ironic; whatever comes Maureen's way, has popped straight out of the Murphy's Law book of disasters.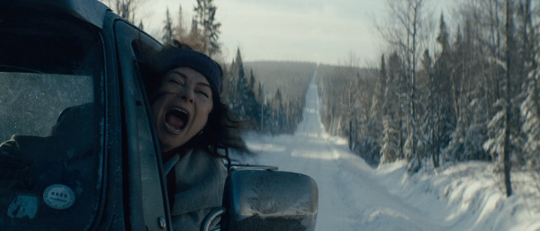 By escaping from one jail, Maureen is steering direction other jail, with barbwire and solid, thick walls. At first, not by her own fault. Convinced to have committed a crime, she helps cover it until the truth slaps her in the face.
The scenes shot in the Quebecois wilderness covered in snow look surreal. Maureen and her temporary partner in crime Jelly (Émile Schneider) look like they are levitating on the completely white screen, pushed by an invisible hand to move forward.
The film has an incredibly well picked cast ensemble that was blessed with a good script to work with. I'll End Up In Jail is a genre piece and a drama with a pinch of comedy, but moreover it's a reminder that it takes only one second to turn the life on an individual upside down and push them in the deepest pit.
Alexandre Dostie has a very interesting biography. Together with his work partner Marie-Pier Lacroix Couture, he runs Travelling Festival Distribution & Sales, which makes him one of the few filmmakers to also be a sales agent. The company is handling the distribution and international sales of almost hundred hand-picked short films, many of which are showcased in best of international festivals – Berlin, Cannes, Sundance, Tribeca, TIFF, Locarno, Venice, Clermont-Ferrand, among others.
I'll End Up In Jail had its world premiere at the Guanajuato International Film Festival in July 2019, and it was shown at TIFF. It is at TIFF that he won the Award for the Best Canadian Film in 2016 with his short Mutants.
---
Original Title: Je Finirai en Prison
Country: Canada
Year: 2020
Runtime: 23'
Language: French
Written/ directed by: Alexandre Dostie
Producer: Hany Ouichou
Executive Producer: Jeanne-Marie Poulain
Cinematographer: Vincent Biron
Sound recording: Jean-Sébastien Beaudoin-Gagnon
Make up/ hair: Janick Sabourin Poirier
FX Make up: Mathieu Baptista
Gaffer: Éric D'Autel
Cast: Martine Francke, Émile Schneider, Joseph Delorey, Stéphane F. Jacques, Marine Johnson