Review: Running on Empty (2020)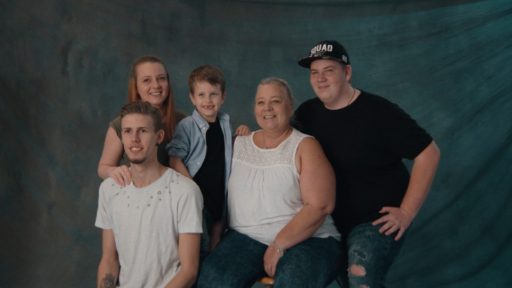 Claudia had her son Daniel when she was only 15, which serves her as an excuse for not changing anything in life, including returning to school to complete her compulsory education. Now aged 19, she still lives with her brother and mother in a municipal housing complex in Vienna's 11th district. There, in the family nest, all adults are idly passing their days.
In her second feature length documentary Running on Empty, the Austrian film director Lisa Weber is managing to turn the state of inertia into a fertile ground for an engrossing story that evolves around the art of idleness. The core character of the film – Claudia, a young woman who previously appeared in Weber's shorts, gets deliberately decentralized through a series of silent, static scenes where she gets observed as a curious museum object while doing literally nothing. Her calm, introverted presence stands in strong contrast to the rest of the household that lives, so to speak, for noisy discussions and small family celebrations.
During the three and a half years of shooting, Lisa Weber and her cinematographer Carolina Steinbrecher have seen quite a number of candles being lit on birthday cakes and Daniel growing into the first grader, but they also witnessed hefty arguments and racket. Steinbrecher's framing results in a couple of unforgettable scenes such as a look through a partition wall that shows the son playing Nintendo, and his mother playing another shoot and kill game on the computer. Squeezed between the apartment's four walls, unemployed and aimless, the three adults (actually four, counting Daniel's father) are immersed in time-killing practices. Daniel grows up in en environment in which nothing changes for the benefit of a small child. Cigarettes are lit around, brutal games are played, and the conversation topics are not always fit for his ears. Not neglected or abused, his very young parents who grew up under same or similar circumstances, give him the kind of love they know about.
Although they live of the state benefits, none of the four grown-ups shows an effort of taking the necessary steps to improve their financial situation. The days pass by, and only the conversation topics change.
Running on Empty is an intelligent and non-judgmental observational documentary, swiftly edited by Roland Stöttinger to a (figuratively speaking) circular narrative. The film doesn't only show what's happening within one family, it eavesdrops important conversations about the Public Employment Service, immigration and social services, and represents a larger group of people in similar situations.
The film world-premiered in the Panorama Dokumente section of the Berlinale on February 25th.
---
Original Title: Jetzt oder Morgen
Year: 2020
Country: Austria
Language: German
Runtime: 89 min.
Directed by: Lisa Weber
Written by: Roland Stöttinger & Lisa Weber
Producer: Rudi Takacs
Co-Producer: Ulrich Seidl
Editor: Roland Stöttinger
Director of Photography: Carolina Steinbrecher
Sound Design: Lenja Gathmann
Sound recording: Theda Schifferdecker
Sound Mix: Alexander Koller
Colour Grading: Dimitri Aschwanden
Script cosulting: Severin Fiala