Review: Saudi Runaway (2020)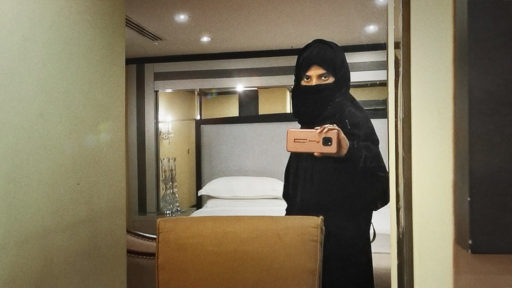 All is hunky dory for women in Saudi Arabia according to Haifaa al Mansour, the director of The Perfect Candidate a film that world-premiered in the competition of the 76th Venice Film Festival. When asked about the position of women in Saudi Arabia in a round table after the premiere, al Mansour described the situation "being equally difficult everywhere in the world".
And while femicide in the western countries remains one of the most scary consequences of the deep rooted patriarchal culture, women in Saudi Arabia not only face the same problem, but they are regarded as the lesser part of the humankind.
Susanne Regina Meures' Saudi Runway opens with similar thoughts expressed by a young Saudi woman Muna who's asking herself if Allah really wanted women to live like second-degree humans who should have no opinion. As she elaborates about her life in a country in which she can't even go to a supermarket without a male family companion, she speaks straight into the camera of one of her two mobile phones that filmed the complete footage the film is built on.
Filming had to be kept a secret even from the closest friends and siblings, and consequently a great deal of shots are shaky or taken from bizarre angles. When they turn well it's because they are "officialized" and taken under the pretense of being a nice family memory. But, what the family doesn't know is that Muna is secretly planning her escape from Saudi Arabia, despite or exactly because of her family and their plans for her future. The videos she's taking are getting more and more emotional as her unwanted wedding to a man she's never met before approaches. Her biggest worry is not the wedding per se, but that she'll have to listen to a man's orders without the liberty of making her own decision.
It is difficult to suppress the anger and disbelief by observing a multitude of obstacles women are exposed to on daily basis in the kingdom. Muna and her family have to put up with an extremely violent father/ husband who is beating up the youngest boy without any reason almost on daily basis. It's a prison to which no woman has a key, just boys and men. And since women are lower beings, they can't expect compassion or help.
Not only Muna's father, but also her future husband refuse to grant her a new passport when the old one expires, and driving lessons (a recently won "liberty" for women in Saudi Arabia) is also something she's laughed at for. The plan to leave has to work, and that is almost an impossible mission.
Saudi Runaway is a video diary of a young woman that is about to take the most dramatic step in her life. It is raw, emotional and brave, and by its nature full of suspense. Fear of being detected and punished is not just Muna's, it gets owned by the audience as well through her intimate confessions and the exposure to the immediate danger. And even if her father is a blurred shadow, he becomes an evil spirit form a genre movie that could appear from nowhere.
The complete footage was filmed between April and June 2019 with two mobile phones.
---
Written/ Directed by: Susanne Regina Meures
Producer: Christian Frei
Executive Producers: matthias Ery, Philip Delaquis
Co-Producers: Susanne Regina Meures, Urs Augstburger
Co-Production: Kiosk International (Zürich), Schweizer radio und Fernseher SRF (Basel)
Cinematography: Muna
Editing: Christian Frei
Music: Karim Sebastian Elias, Max Richter
Sound Design/ Sound Mix: Jacques Kieffer
Colour Grading: Ueli Nüesch