Review: Exit (2020)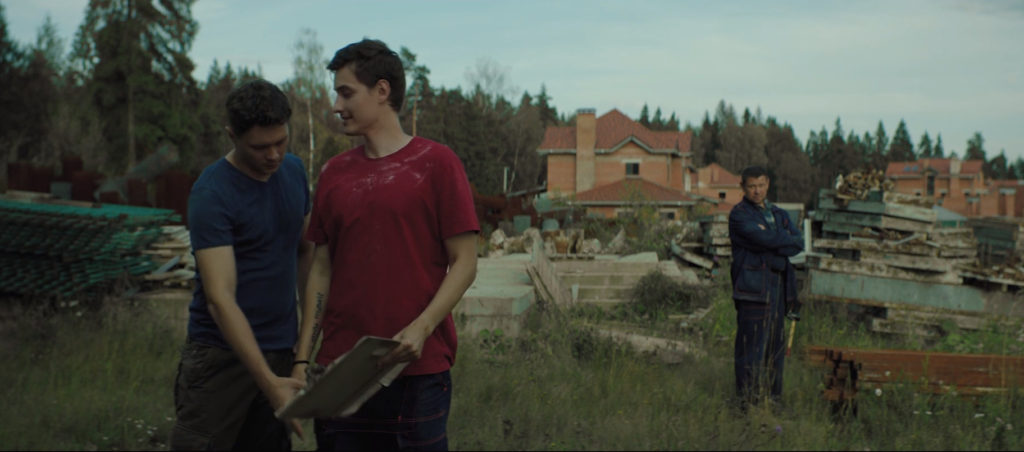 A makeshift working crew consisting of a wannabe boss Yegor (Maxim Demchenko), a middle-aged boozer Kolya (Anatoly Gushin) and a rookie Roma (Vitt Ray) is tasked with the finishing touches on a luxurious villa. The deadline is approaching, the pressure from the boss from above is piling, but one of the rooms in the house keeps shrinking overnight. As it is usually the case with the science fiction-infused horror movies, there is not a simple explanation (like the un-solid foundations). It must be something from out of this world, something that appears either with flashing lights and creaking sounds, or with complete darkness and silence.
Exit, written and directed by Ivan Basov, is a science fiction / horror short film which is being shown at HÖFF (usually taking place in Haapsalu, Estonia, but moved online for the obvious reasons this year) in Little Nightmares sidebar for fantastic shorts. Although the development of the idea and the execution is not perfect, the idea itself about a room that offers the chance of a reset in life is strong enough to justify its place in the selection.

Basov had a large in numbers, proper filming crew at his disposal (the film was realized with the help of Moscow Film School), but apparently the special effects that would be beneficial for the storytelling economy were not calculated in the budget. Usually there are two ways to go around it, by making the film's dialogues more explanatory, or by using as much of the craft as possible to convince the viewers that suggesting something is as good as showing it. The director goes for the latter approach as much as possible, employing some deft solutions in the process. For instance, there is one series of jump cuts creating an illusion of zooming out that particularly stands out. But, on the other hand, the characters are sometimes forced to explain their actions to one another and to the viewers, while some of the subplots are quite unnecessary, bloating the runtime over the edge of 20 minutes, which is a tad too long and it pretty much waters down the essential idea of Exit.
---
Original title: Exit
Year: 2020
Runtime: 20′ 51"
Country: Russia
Language: Russian
Directed by: Ivan Basov
Written by: Ivan Basov
Cast: Maxim Demchenko, Anatoly Gushin, Vitt Ray
Cinematography by: Nikolay Pavlov
Editing by: Daria Funtikova, Ivan Basov
Production design by: Elizaveta Amelina
Sound design by: Hasan Hagverdiev
Music by: Hassan Ali
Makeup artist: Maria Lyalina
Colourist: Evgeniya Makhovikova
Assistant director: Daria Nabokova
Produced by: Elena Kuznetsova
Supported by: Kirillin, Paraplyus*v, Moscow Film School, IP Borolyuk