Review: Unholy 'Mole (2019)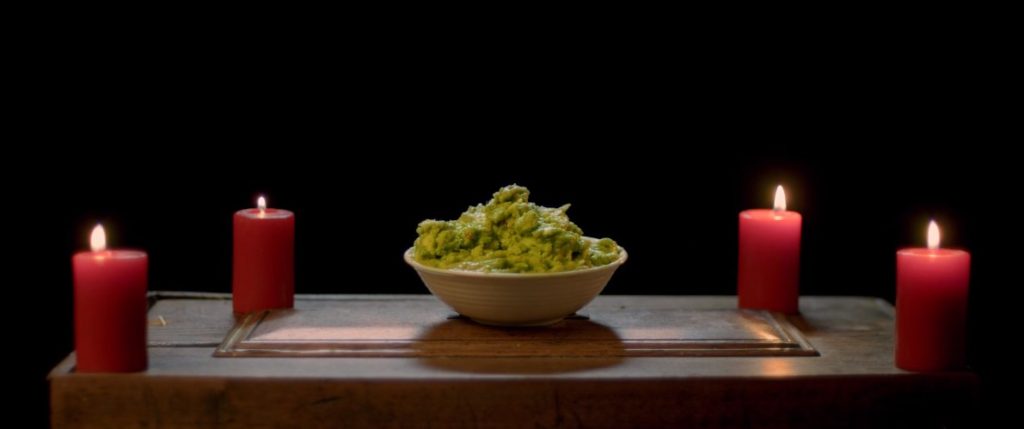 Cravings for a certain type of food can be tricky, but how about taking it to an extreme? Can guacamole be enough of a motivation for a desperate husband and a father to be (R.D. Mower) to sell the soul of his unborn son to the animated devil (voiced by Ray Wise!) so his wife (Rachel Leigh Moore) would serve him the aforementioned dish on regular basis? Things go extremely wrong in David Bornstein's Unholy 'Mole, a short horror comedy shown at a number of festival, with HÖFF (Little Nightmares sidebar) being the latest.
Trash cinema is the name of the game here, so acting is overly expressive, and so is the voice-over narration, while the visual effects and the animation look deliberately cheap. Paired with a single location consisting of a kitchen and a living-room and decent craft values, especially regarding the Rafael Gomez' camerawork and Trevor Davies' precise editing, Unholy 'Mole is a bite-sized piece of genre movie fun that works even in those moments when it approaches dangerously close to the gross-out territory.

The director David Bornstein is a seasoned production assistant on a number of television projects and the auteur of shorts in different genres and contexts, from straight-up horrors like Of Blood (2012) and Melody (2014) that ended up in a compilation / anthology movie World of Death (2016), to comedies and dramas. It looks like that he got into a "food phase" of sorts, since his previous film Perfect Breakfast (2018) is centred around a pair of eggs. Will he continue walking along those lines after Unholy 'Mole? Time will tell and one can hope. It suits him.
---
Original title: Unholy 'Mole
Year: 2019
Runtime: 5′ 36"
Country: USA
Language: English
Directed by: David Bornstein
Written by: David Bornstein
Cast: R.D. Mower, Rachel Leigh Moore, Ray Wise (voice), Nadav Fisher (voice)
Cinematography by: Rafael Gomez
Editing by: Trevor Davies
Music by: Robert Clark Jewett
Sound design by: Gabriel Acosta
Production design by: Carolina Pedroza
Costume design by: Scott Fontaine
Makeup artist: Drishty Empire
Assistant director: Courtney Wold
Special effects by: Sioux Sinclair
Visual effects by: Bryan McAdams
Motion capture artist: Danyelle Leah Sims
Animation by: Tom Smith
Colourist: Courtney Feemster
Produced by: Heather DiPietro, Drishty Empire, William Grodnick, Carmen Grossman, John Grossman, Denis Leischow, Danielle Ochorch, Joe Smith
Production companies: Ghost Pepper Entertainment, MozzleStead, New York Production Services
Post-production: Out of the Blue, Starburns Industries