Review: Bos (2020)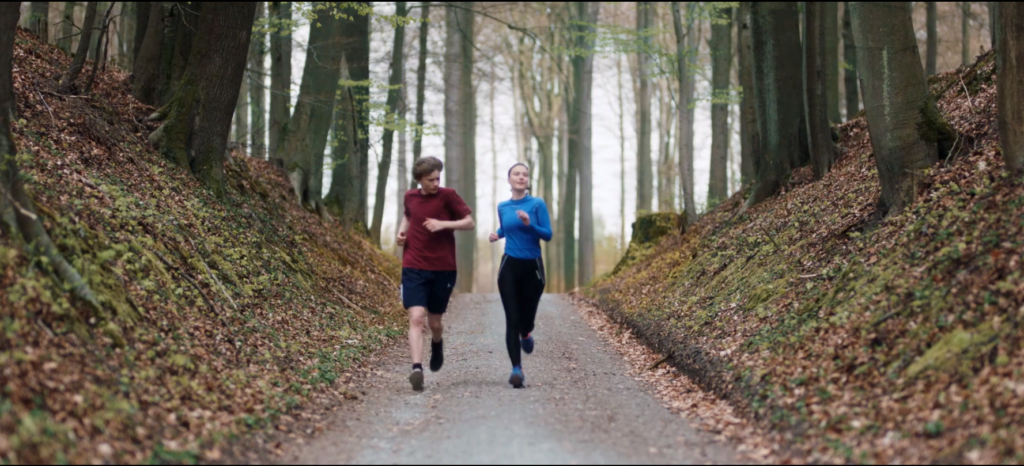 It's time to take the saying 'don't stray off the path' very seriously, according to the Belgian writter/ director Steffen Geypens, who turns a forest lit by a friendly autumn sun into a deadly trap.
In this short journey to a mysterious place that claims its victims, nothing seems that threatening. The only warning is given through the gradually building eery bubbly sounds and the vibrating, scratchy noise rising from the forest's greenery. Apart form that, there isn't a sign of any living creature around – not an insect or a squirrel is to be seen. Until, the other type of creatures show up.
A young couple comes to the forest for their apparently first jog together. Their race is charged with magnetic attraction. Obviously freshly in love, the air surrounding them is still full with innocent flirtation and shyness. When they stray away from the main forest path, there is a brief moment of closeness which gets abruptly interrupted by the boy's unexplainable disappearance.
The love dance continues in the depths of the forest, and it's a wonderful moment of hope that things will turn to the better. Except that the way back to the surface isn't as easy as believed.
Geypens plays with one-dimensional understanding of the universe and our perception of what is above and what below the ground. Connection between human beings and the nature is put to the test. Are we in control of anything? Do we understand the mechanisms of the world we live in? Or is someone or something else in charge of everything, including our own destinies?
In this barely 10 minutes long experimental genre film, the collaboration between the sound department, the cinematographer Jens Vanysacker and the visual effects artists wraps up the story penned by the director into a successfull, if not overly hair-raising genre piece.
We caught up with Bos at the Slash Film Festival, where it competed in the short film selection.
---
Country: Belgium
No dialogues
Runtime: 10′
Written/ Directed/ Produced by: Steffen Geypens
Co-produced by: Bruno Ianna, Hendrik Vreys
Cinematographer: Jens Vanysacker
Sound: Thomas Vertongen
Editor: Maarten Janssens
Music: Lode Vlaeminck
Colour grading: Frank Temmerman
VFX: Sofie Favere, Kris Janssens
Cast: Mona Lahousse, Brecht Dael