Review: The Shift (2020)
Orizzonti Corti Competition, 77th Venice Film festival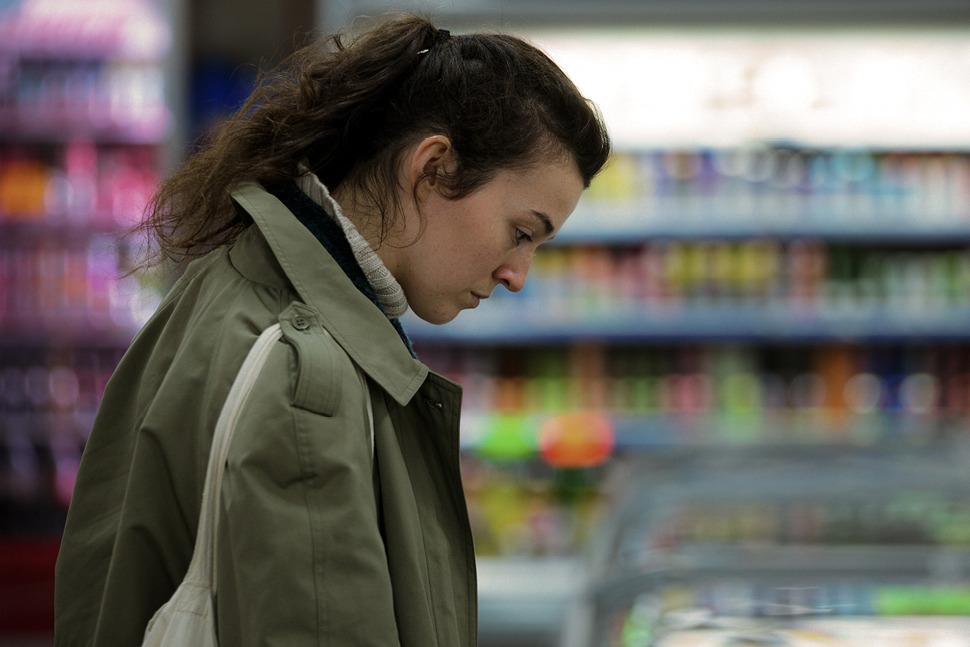 What starts as a simple walk to the supermarket ends in a heartbreaking contemporary tale of human, work-related drama. This transition follows a pattern of unpredictable mood swings, triggered by seemlesly tiny, but significant events.
As the film opens, thirthysomething Anna (Anna Russell-Martin) doesn't appear burdened by any worries. All along her short journey to the city, she is cheerfully talking to her dog. That mood slightly shifts inside of the supermarket when Anna starts browsing shelves for groceries she can afford to buy.
When the Portuguese, Scotland-based director Laura Carreira started working on her film that was commissioned as part of the SFTN New Shorts 2019/2020 programme, Covid-19 wasn't even a topic. Something else was though – vulnerability of agency workers dependent on that one call that secures them a job. The so called "Swedish Derogation" (referred to as 'pay between assignments' contracts) might be abolished as of April 6th, but it's still too soon to tell how much of a difference new laws make.
Carreira doesn't show anything we don't know, but the way she does it stays in one's memory. Anna Russell-Martin mirrors the desperation of a woman at the brink of poverty with such virtuosity that she makes us forget it's not a documentary we are watching. The cinematographer Karl Kürten stays up close, focusing on her gaze, nervous tics and shy movements. When one phonecall makes things even worse, we are already aware of Anna's situation, just not to which extent her life depends on the agency. The words coming out of her mouth are spoken mantra-like in an emotinal state of blended fear and desperation. She has lost a shift. There is no work.
The Shift gains additional weight in the aftermath of lockdown which had impacted countries across the globe. Businesses went bankrupt, people lost their jobs, and there was a global shift on the work market – what used to be condsidered a "secure" job, suddenly proved not as secure. Without work, we become invisible as individuals and our whole existence is analysed through numbers only. And those numbers have a little symbol attached to them, telling us our geographical coordinates.
It is a simple, but important story from the real life, told in just seven minutes. The film screened in the Orizzonti Corti competition of the 77th Venice Film Festival.
---
Country: UK
Language: English
Runtime: 7 minutes
Production company: MTP
Producers: Maeve McMahon, Mhairi Valentine, Laura Carreira
Written & Directed by: Laura Carreira
Director of Photography: Karl Kürten
Editor: Florian Nonnenmacher
Production designer: Kara Ramsay
Sound Recordist: David McKeitch
Sound Designer: John Cobban
Costume Design: Kirsty Halliday & Stuart Truesdale (I'll Be Your Mirror)
Colourist: Zé Maria Abreu Santos
Main Cast: Anna Russell-Martin