Review: Swimmer (2020)
Uppsala Short Film Festival
National Competition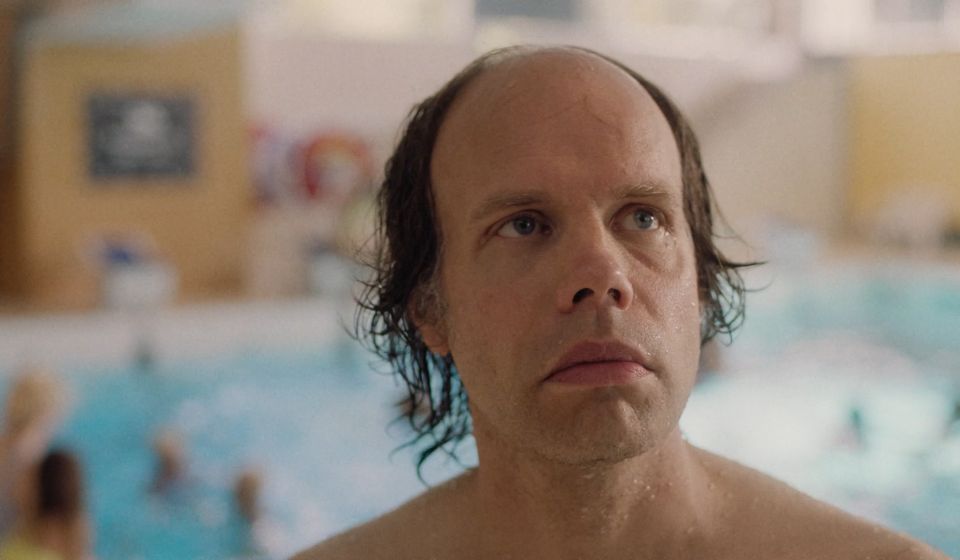 An ordinary, busy day at the swimming pool is interrupted by the unexpected visit of a couple of police officers willing to investigate the owner of a green Volvo parked outside in Jonatan Eltzer's based-on-true-events short comedy Swimmer. The film competed at Uppsala International Short Film Festival and was screened in the final slot of the national competition.
The man in question, Ola (Pontus Liedberg) seems socially awkward at best and mentally deranged at worst. He simply refuses to come out of the swimming pool and come with the officers Berit (Tove Wiréen) and Steffan (Victor Iván), while they cannot simply jump into it in order to apprehend him. The rest of the visitors are ordered to get out, they are not happy about it, but Ola is still stubborn. The battle of the wits and willpower goes on and on.
The trick is that the "civilized" police officers cannot act on their impulses and must not endanger the person of interest (Ola is the suspect in a hit and run incident that occurred earlier) in any case, so they have to negotiate with- or outsmart him. But Ola's urge for freedom is stronger than anything they have in their arsenal.
Swimmer is a proper Scandinavian deadpan comedy that feeds on the absurdity of the situation and the imperfection of the rules. Sure there is a simple solution, but the dramaturgy dictates that it can be revealed only later on. The acting is the key, as it is the case with comedy, and Liedberg's fine balance of an ordinary nobody and the caricature of a crazy person works fine, especially with the limited time and space for a proper character development. Wiréen and Iván have less work to do, but their police officers are actually quite life-like, tired and only partially motivated for the nonsense they have to deal with at their work.
The production values of the film are great. Eltzer manages to squeeze a couple of fantastic underwater shots in the film, while the saturated warm colours steer the mood in the positive direction. The use of the music also amplifies the comedic effect, making Swimmer quite a fun short film.
---
Original title: Badaren
Year: 2020
Runtime: 13'
Country: Sweden
Language: Swedish
Directed by: Jonatan Eltzer
Written by: Jonatan Eltzer
Cast: Pontus Liedberg, Tove Wiréen, Victor Iván
Cinematography by: Nea Asphall
Editing by: Robert Krantz
Sound design by: Patrik Strömdahl
Sound by: Robert Wiesel
Visual effects by: Hampus Lindén
Colourist: Martin Steinberg
Assistant director: Emma Pal Brunzell
Produced by: Isabella Rodriguez
Production company: French Quarter Film
Co-production companies: SVT, Film i Väst
Supported by: Svenska Filminstitutet, Konstnärsnämnden