IFFR review: Sunsets, Everyday (2020)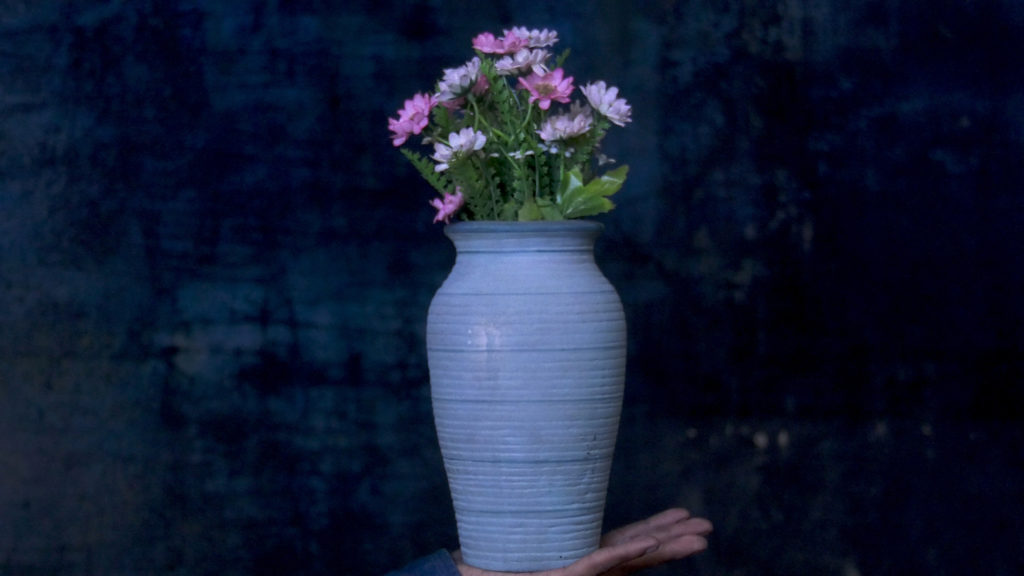 Basir Mahmood's short Sunsets, Everyday was commissioned and produced by Fondazione In Between Art Film (the production company founded by Beatrice Bulgari) for the project Mascarilla 19 – Codes of Domestic Violence (Mascarilla 19 is a code word used by Spanish women experiencing domestic violence to report being abused).
The film has gone through an interesting development- and execution process. The commissioned artist commmissioned a film team in Punjab's capital Lahore to shoot a film about the repetitivness of domestic violence, in recreating the scene following his instructions and women's descriptions of their injuries.
Knowing that the best possible way to get rid of taboos is to not to play in their favor, the director applied the codes of visibility versus invisibility, acceptance versus denial. Women are snippets of themselves. They are reduced to an eyebrow, a pearl of sweat, a lock of hair, a stubby leg, a hand nervously striking the table surface, to chiped nail-polish or their barely visible bruises and cuts; that sadly being the essence of domestic abuse – all the invisible bruises and cuts. Even when they are not covered, when anyone can see them, they stay invisible. Domestic abuse gets moped away, and we see a man regularly mopping the wooden floor of the scene of violence.
The objects found in almost every household are being presented like museum objects. They are silent witnesses of beatings, and sometimes its tools.
The camera lens brushes past women, blurring the bodies and the faces. A silhouette of a woman lying on the floor appears for a couple of seconds, the camera showing her – trembling in fear. Or is it sorrow? Both?
Men, on the other hand are omnipresent in the film. They are in one piece. They move around. We see them boiling water for tea, talking or shouting, eating ripe bananas. And then, there are women, fragmented as their destinies. The cinematographer Mani Boss makes sure we notice the difference between the stability of the picture showing a world of male tranquility and the trembling world of fear that victims of abuse live in.
Sunsets, Everyday screens in the Ammond Tiger Short Competition of IFFR.
---
Country: Italy
Year: 2020
Runtime: 15′
DCP
No dialogues
Producer: Leonardo Bigazzi
Production Company: Fondazione In Between Art Film
Written/ Directed by: Basir Mahmood
Cinematography: Mani Boss
Editor: Basir Mahmood
Cast: Naila Bhatti, Shehar Bano, Aisha Khalil
Sale: Basir Mahmood