Review: One Hundred Steps (2021)
Berlinale Shorts Competition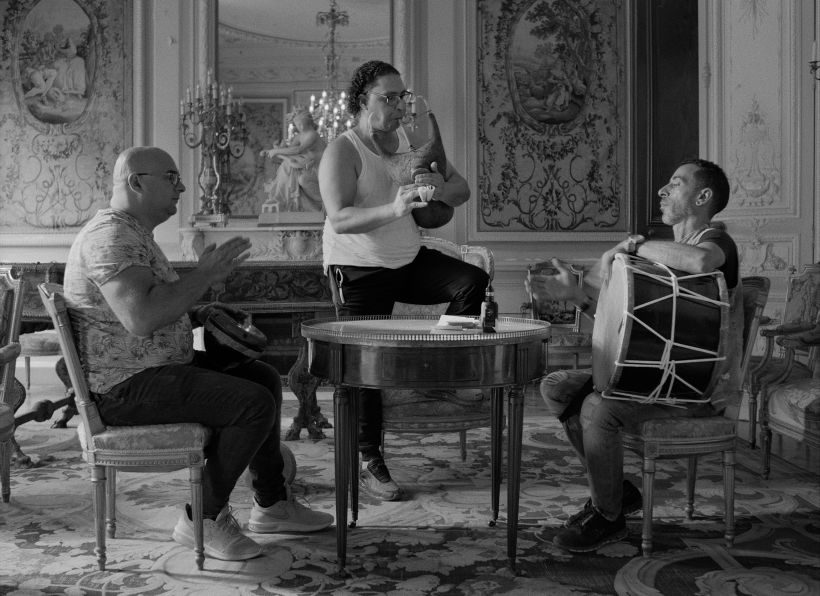 From the colonial, Eurocentric and hegemonic point of view, the technology, the culture and everything considered to represent the way of life are being exported from the dominant civilization(s) to the less developed ones. The truth is, however, that the culture itself is more universal and travels more freely and fluidly, regardless of codes what "belongs" to which civilization. In the 80s, the Irish filmmaker Bob Quinn tried and managed to deconstruct the standard narrative by finding a connection between the North African and the Irish culture.
Quinn's work Atlantean is the starting point of Bárbara Wagner's and Benjamin de Burca's eighth joined short film One Hundred Steps and is also referenced directly in it at one point, being the only part in analogue and in colour in otherwise digitally shot black and white film. One Hundred Steps had its world premiere at Berlinale Shorts.
It consists of two mirrored parts, each set in a formerly privately owned luxurious property turned into a museum in two different countries. First of the two takes place in a countryside manor in the south of Ireland built by English barons who later rose to the status of earls. It starts as an old fiction feature, with a man and his daughter arriving late for the guided tour, even building a bit of tension when the young girl wanders off to do some sightseeing on her own. When the tour is over, the songs are being sang in Gaelic and the step-dance is being performed.
The second part of the film takes us to the south of France, to Marseilles and to a bourgeois urban palace in the centre of the city. The mechanics of the plot is similar, a woman comes late to the guided tour and the music, both instrumental and a capella ensues, drawing the parallels between the different cultural heritages, from the Arabic to the Occitan to the Celtic and eventually to modern French and English.
Wagner and de Burca prove their point here in a seemingly effortless and highly elegant fashion, blurring the lines between the documentary and the fiction filmmaking in a proper artistic essay. The camerawork in the shades of grey handled by Pedro Sotero and Joana Luz is simply marvellous, especially during the perfectly controlled steadicam shots taking us from one "action" to another, while the precise editing Daniela De Lamare suits the purpose perfectly. Brilliantly exhibited, One Hundred Steps takes it point across easily.
---
Runtime: 31' 17''
Country: Germany, France
Languages: English, Gaelic, French, Occitan, Arabic
Directed by: Bárbara Wagner, Benjamin de Burca
Written by: Bárbara Wagner, Benjamin de Burca, Pedro Sotero, Joana Luz, Daniela De Lamare
Cinematography by: Pedro Sotero, Joana Luz
Editing by: Daniela De Lamare
Sound design by: Gábor Ripli
Colourist: Sergi Sanchez
Produced by: MichelBalagué, Bárbara Wagner, Benjamin de Burca
Production companies: Volte, Volte Films
Commissioned by: Manifesta 13 Marseilles, Visual Centre for Contemporary Art Carlow
Supported by: Arts Council of Ireland, Bundesregierung für Kultur und Medien, Medienboard Berlin Brandenburg, V-A-C Foundation, Ammodo
Sales by: Volte