GSFF review: Consumed (2020)
Scottish Competition 1: House of Mirrors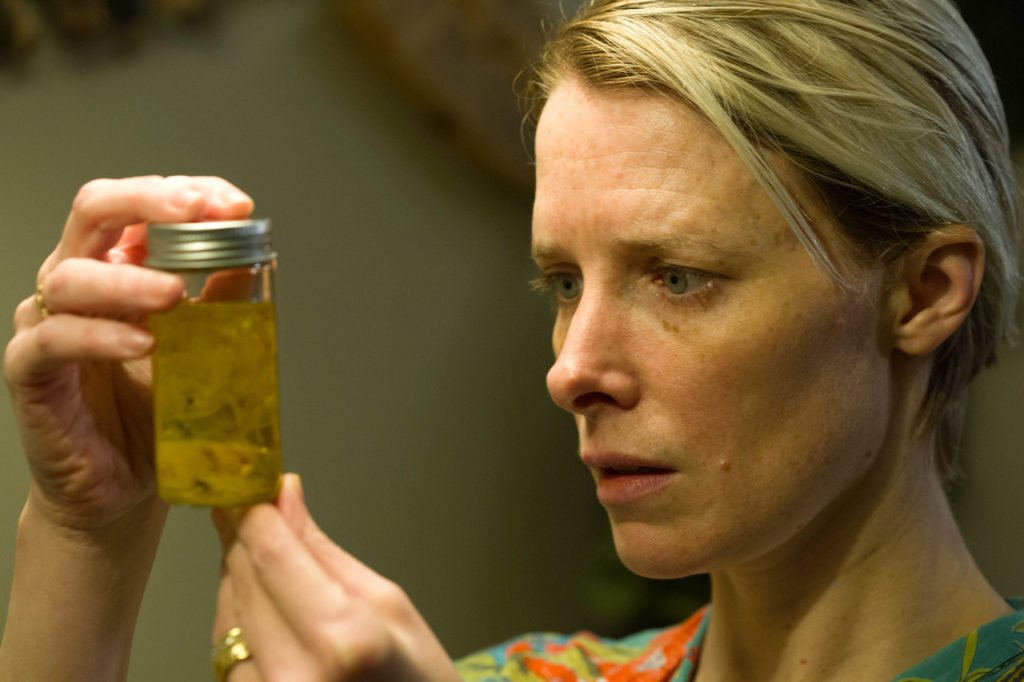 Consumed is a debut short by Karen Lamond based on Sian Hughes' short story Can You Eat the Wind, adapted to screenplay by the first time writer Simone Pereira Hind, known for her impressive career as a casting director. It is a great collaboration, and the film manages to simultaniously touch on a couple of tabooos: miscarriage, the impact it has on the psyche of a woman that goes through it, but also on another sensitive topic of wanting to have one's own offspring, instead of taking the role of a guest parent. To skip on deepening on emotions in a clichéd way, Lamond seizes for finely dosed genre elements, too subtle to stray away from a full-blooded drama.
It is somehow still considered shamefull for a woman to admit she puts her own desire in front of given circumstances – rejecting the inherited parenthood is something almost monstrous. Even if the acceptance and love for the partner's child is there, one is a guest in that projected family picture, in which a woman should be over the moon over the extra luggage. Fay (played by Shauna Macdonald) is perfectly fine with that construct until the moment she loses her unborn child. A routine check up shows that she didn't exactly lose her pregnancy but that the baby's heart stopped beating, and the procedure that follows is as cold as many that come from doctors that need to act and react fast, without getting personally involved with the emotional state of their patients.

The fetus needs to go, swiftly, at home, without a surgical procedure. 'Flushed down a toilet', according to Fay's husband's Tom (Emun Elliott) clumsy words. He is the one who will fail to grasp the failure of his own support, or the extent of his wife's pain.
What Fay experiences is the situation uncountable women go through – the presumption that a miscarriage is somehow 'normal' and that it just 'happens'. She is told to go on as usual and 'try again'. Just like so to speak, going to buy another lottery ticket because next time 'you might win'. Alone in her grief, she is left with another moral dilemma to solve, or rather – with a heart problem to cope with.
What will she do?
Consumed is a film about trauma that people reject to hear about. It is too 'common', because it 'happens every day'. One should wipe their tears and continue like nothing happened. Fay refuses to do exactly that.
Simon Hawken's camera is close to Fay. She is naked in her vulnerability, and accessible in sharing her hurt. Hawken dances around the story with a zest of a boxer that is about to win his title. He is literally in the story, alert, compationate, intimate, and Shauna Macdonald's performance is dank, sincere and unforgettable.
---
Country: UK
Language: English
Year: 2020
Duration: 15′
Directed by: Karen Lamond
Written by: Simone Pereira Hind
Produced by: Penny Davies
Executive Producers: Carolynne Sinclair Kidd, Holly Daniel, Sean Greenhorn
Cinematographer: Simon Hawken
Production Designer: Alice Cousins
Editor: Gigi Cone Welsh
Composer/ Sound Designer: Philip Pinsky
Casting Director: Simone Pereira Hind
Sound Recordist: Jonathon McLoone
Gaffer: Stewart Torley
Costume Designer: Kathryn Weaving
Make Up Designer: Madeleine Drewell
DIT: Christy Kail
Vocals: Karen Matheson
Colourist: Ben Mullen
Online Editor: Gordon Miller
Postproduction House: Serious Facilities
Project Coordinator: Arlen Barke
Cast: Shauna Macdonald, Emun Elliott, Carys Sinclair, Shonagh Price