Review: Monte Bravo (2020)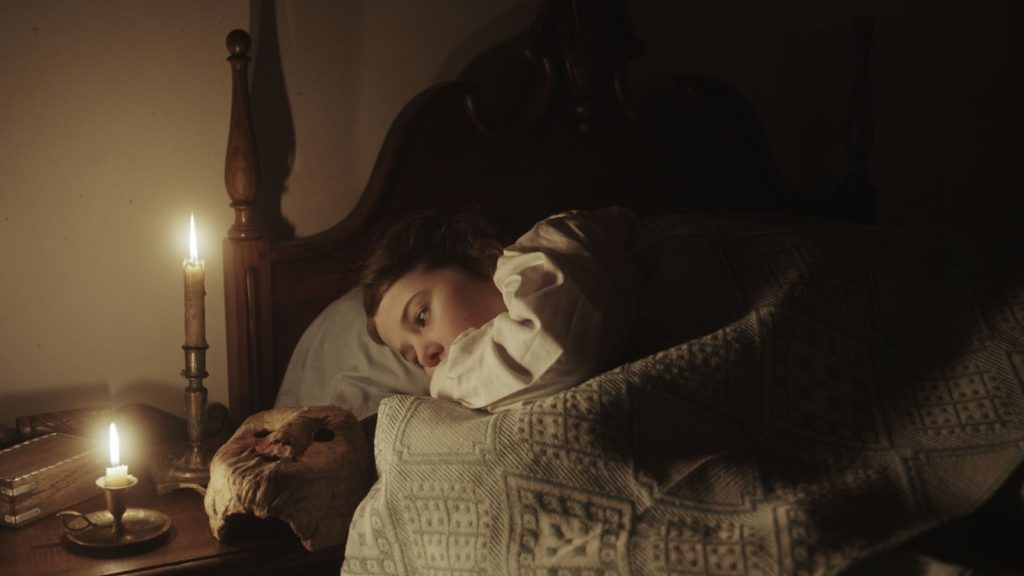 ---
For the fairy folks thou need'st fear not,
They dance 'neath the moon on yon green spot.
Should the screech-owl cry from yonder marsh
Say a prayer, nor heed its voice so harsh.
Whate'er thou seest, be not afraid,
But clasp the child," the faither said.

From the Poem "The Warewolf" by Anne S. Bushby, 19th century
---
What happened to the pet chicken Little Ball? Was it turned into a stew, or did a mythical creature really come to claim his life from the depths of the wood? Whatever happened to the little fellow, all that is left outside its wooden henhouse is a big red stain, and a handful of blood-sprinkled feathers.
According to Paula's grandmother, one warewolf ("a wolf without a snout") has been wandering ("on his two feet") the Galician woods since the end of the Civil War, feeding on farmers' calves, leaving only the bones. But the shameless creature wouldn't mind snacking on a chicken or two if the possibility presented itself. With this simple little truth, the curious case of Little Ball's dissapearance is closed for the adults, but not for the children who can't accept the loss of their feathered friend. All the tales that Paula (Paula Vazquez Corral) and Pablo (Pablo Balado Rey) have heard- and took half-heartedly before, suddenly start making sense, and their imagination calls a real monster to life to revenge their friend's death.
It's a very personal project for the director Noelia Mª Muino Gonzalez who shot her genre-esque period drama Monte Bravo in her home village in the Spanish province of Galicia, with all-amateur cast from the region. For her, another detail bore even more relevance than simply retnurning home – including an actor with Down Syndrome to play Paula's brother, as part of her self-referential narrative; the film is essentially a story about her childhood and her relationship to her older sibling, even if it's set in a completely different time, right after the Civil War. The urge to transfer her own experience into a film came from the realisation that others rarely get in contact with people with disabilities, and that their perception of things might be completely wrong.

For exactly that reason, Monte Bravo isn't a film about people with dissabilities, it's a film that includes them. Paul and Paula are inseparable. They share everything.
After Little Ball's dissapearance, and impacted by grandma's stories, the children believe to see a warewolf during the game of hide-and-seek in the wood. But, is it something or someone else: an animal, a costumed man, an optical illusion or the wood spirit? The fantastic, the magical is brought closer by the terracotta of the photography and its enchanting softness. DoP Lorena M. Duran's sensitivity for children's specific momentum coalesce with Noelia Mª Muino Gonzalez' vision of the everyday normality of a close-knit family. The camera paces in the same rythm as the siblings, and when everything is still – it zooms on childrens' faces to search for the reflection of their thoughts.
Monte Bravo has just had its Northamerican premiere in the Live-Action competition of SIFF. The project was produced within the Film Directing Master program at New York University.
---
Country: Spain
Language: Galician, Spanish
Year: 2020
Running time: 14′
Producer: Noelia Muino
Original Language Title: Woodland
Written/ Directed by: Noelia Mª Muino Gonzalez
Cinematographer: Lorena M. Duran
Editor: Noelia Mª Muino Gonzalez
Boom Operator/ Sound Editor: Oscar Nieto
Sound Editor/ Sound Mixer: Javier Pato
Music: Mike Brun
Cast: Paula Vazquez Corral, Pablo Balado Rey, Isabel Figueira Salgueiros, Maria del Carmen Sanjurjo Manteiga