Review: Penalty Shot (2021)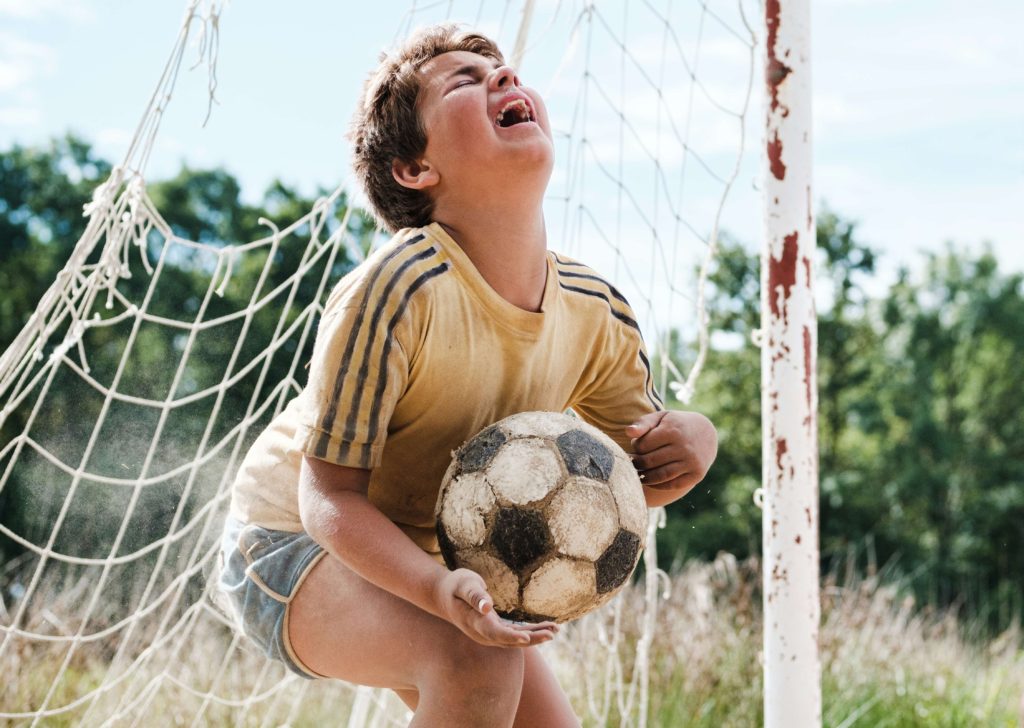 Childhood is usually associated with nice, idyllic memories of playtime and carelessness, but those memories can be false and romanticised. Childhood is the time of life when a person has to face informal hierarchy while growing up, and transferring from one "class" to another is neither smooth nor gradual. Rites of passage have to be passed, and they sometimes tend to be cruel.
In his short fiction film Penalty Shot, based on a passage from the novel Black Mother Earth by Kristijan Novak (who also co-wrote the script), the Slovenian filmmaker speaks about that with considerable bravery to enter the tricky field of elevated emotional register. The film premiered at Locarno and it competes right now at Sarajevo.
The year is 1990, the last pre-war year in Yugoslavia. The time is a long summer day. The place is a sun-scorched field somewhere in Međimurje region of today's Croatia. Two kids, Franjo dit Franc and Matija, are playing and replaying the football game between Yugoslavia and Argentina from the World Cup in Italy, especially its dramatic penalty shot ending. Matija is a big fan of Maradona, while Franjo's idol is the Yugoslav goalkeeper Tomislav Ivković. Despite the differences in "taste", they are good friends.
The arrival of the older moped-riding guys in their late teens, drives the rift between the two boys. Franc wants to be accepted by them, so he agrees to "play" their goalkeeper, and listens to their promises completely unaware that they are making fun of him and using him as a punching bag, not just metaphorically. The warnings Matija tries to send, while Mario, the leader of the teen gang repeats the question "Are you one of ours" that sounds sinister in every context, especially knowing the epilogue of the country that almost got to the World Cup semi-finals, just put Franc in more and more distress. When things get physical, literally, it might be already too late for Franc, but Matija will learn a lesson that life is not fair and that there is no justice in the world of grown-ups.
In Penalty Shot, Biček demonstrates both his courage and elegance in the filmmaking approach. He is not afraid to jump into the high emotional register which would, if not handled properly, end up way over the top. The reason why that does not happen is the smart directing, precise editing and wonderful camerawork that contrasts the ugliness of the world of humans with the beauty of the nature and summer weather.
Penalty Shot also works because of the attention to details of the particular place and the particular time, and due to the perfect casting of non-professionals and their natural acting under Biček's close supervision. It is a brilliant, devastating short film.
---
Original title: Kazneni udarac
Year: 2021
Runtime: 15'
Countries: Slovenia, Croatia
Languages: Croatian
Directed by: Rok Biček
Written by: Rok Biček, Kristijan Novak
Cast: Gabrijel Dolenec, David Ivanović, Karlo Žganec, David Šafarić, Jakov Feher, Simon Hepreger, Radovan Kočila
Cinematography by: Fabio Stoll
Editing by: Rok Biček, Ana Štulina
Sound by: Julij Zornik, Miha Rudolf
Production design by: Ivan Veljača
Costume design by: Ana Savić Gecan
Make-up by: Mojca Gorogranc Petruševska
Colourist: Emil Svetlik
Assistant director: René Gallo
Produced by: Rok Biček, Danijel Pek, Katarina Prpić
Production companies: Antitalent produkcija, Cvinger Film
Supported by: Croatian Audiovisual Centre (HAVC), Slovenian Film Centre (SFC), City of Zagreb