Review: Steakhouse (2021)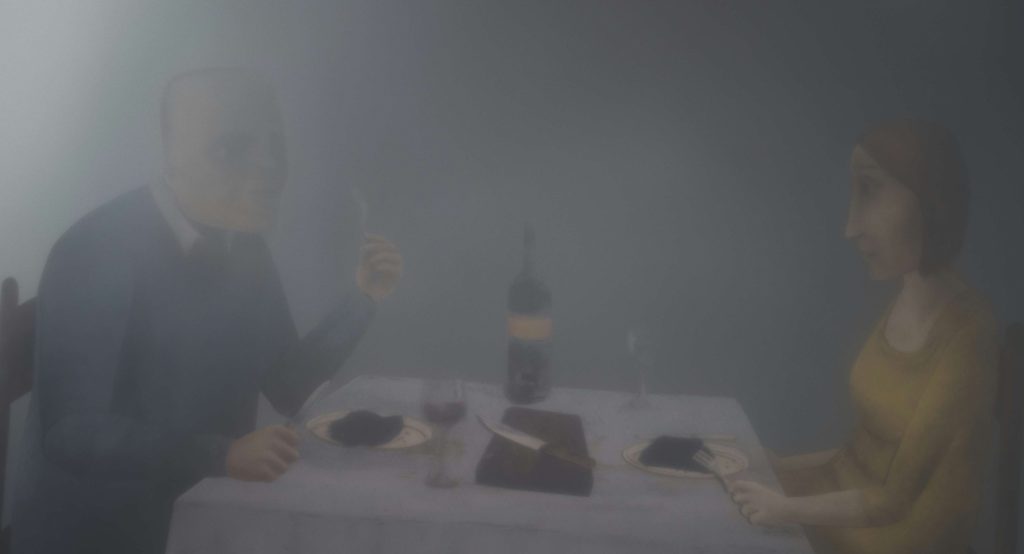 Think of animation as enhanced reality of sorts in which the filmmaker can deal with a real, serious topic, but with an edge to it. For instance, the topics of marriage, aggression (in more passive, manipulative and verbal way), abuse and the way to deal with it are not usually seen as an ideal material for animated short, but Steakhouse by Špela Čadež is a mature, wonderfully executed animated short for adult audiences. After its premiere at Locarno, we caught it at Sarajevo.
The steak has been marinated for days. Franc is hungry. Liza is late from work due to her surprise birthday party thrown by her colleagues. He overcooks the steak on purpose. Once she is at home, she has to deal both with the damage and his anger. While the smoke eventually clears out, the years long resentments do not.
Steakhouse is a very deliberate piece of cinema on every level, textual, contextual, artistic and technical. Starting from the characters' names after one of the most iconic Slovenian and Yugoslav pop-song couples, through the sparse, carefully placed dialogue in the script written by Gregor Zorc to the artistic vision and execution. The film carries a bitter pill to swallow, but in a lovely packaging of water colour-looking multilayer drawing, spiced up by careful sound design and perfectly fitting musical choices that paint an emotional landscape on their own.
Steakhouse is a potent, sure-handed film about suffering and standing ground that does not hold back any punches.
---
Runtime: 9' 30''
Countries: Slovenia, Germany, France
Language: Slovenian
Directed by: Špela Čadež
Written by: Gregor Zorc
Voice cast: Maruša Majer, Marko Mandić
Animated by: Zarja Menart
Editing by: Iva Kraljević
Music by: Tomaž Grom
Sound design by: Johanna Wienert
Sound by: Simon Bastian
Colourist: Teo Rižnar
Produced by: Tina Smrekar, Špela Čadež
Production companies: Finta Film, Fabian & Fred, RTV Slovenia, Miyu Productions
Supported by: Slovenian Film Centre, Filmförderung Hamburg Schleswig-Holstein, Pictanovo – Région Haut de France, Re-Act, FFA – German Federal Film Board, ZDF/Arte
Distribution by: Miyu Distribution, Kurzfilm Agentur Hamburg