Hallelujah: Leonard Cohen, a Journey, a Song
Venezia 78
Out of Competition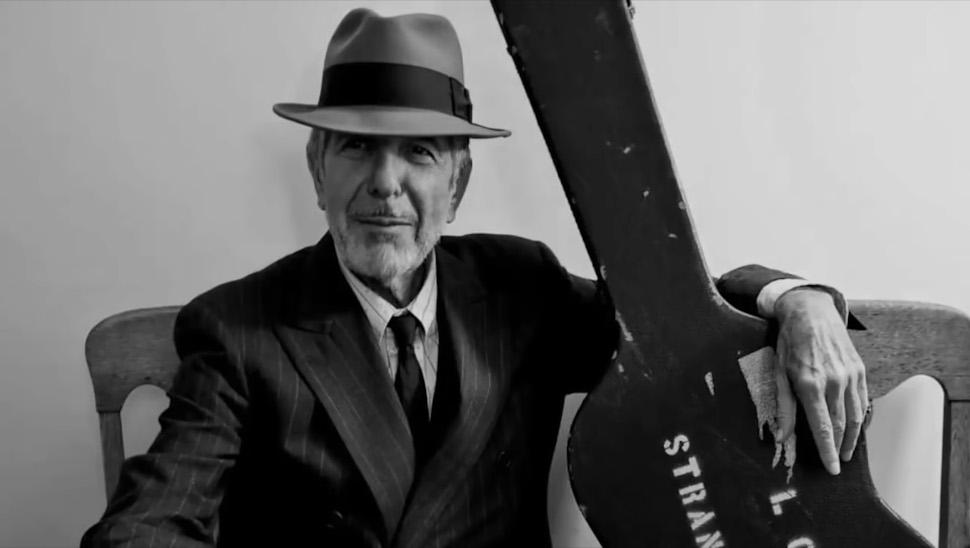 They say there was a secret chord that David played and then Leonard played and then Bob Dyland played and then John Cale played and then Jeff Buckley played and then Rufus Wainwright and Shrek played and then half of the participants X-Factor played until the Lord got pretty cheesed off with hearing it everywhere and even the guy who wrote it and was being kept in zen prayer beads with the royalties was vocal about how perhaps they should play it a little less. I mean the chords are C Am C. They're not exactly a great secret. So the question I found myself pondering at the beginning of Daniel Geller and Dayna Goldfine's feature length documentary Hallelujah: Leonard Cohen, a Journey, a Song is how many times can we hear that particular tune and how much can act as a keystone in talking about the Canadian poet and novelist turned singer-songwriter? 

The first third of the film is essentially a biographical portrait of Cohen and benefits – as all documentaries about him do – from his endlessly quotable way of speaking. The man has an almost Paddington Bear-like imperturbability and his thoughts roll out of his mouth like ready pearls dipped in honey. Who else could talk about putting a crisis of faith: "I put my doubts before mercy"? Or insist on the importance of "gluing yourself to prayer"? Part of his supreme confidence comes from the fact he entered the game without the baby- fat of Bob Dylan growing up in public. Harking from a wealthy Jewish family, he was already in his thirties when he braved the stage and was already a published poet and novelist. Despite an early bout of nerves, his charisma won over and he had the uncanny ability of creating a pact with audiences that saw the rowdiest hush to participate in the holy quiet that he created. Part of his genius was in his ability to hover between the secular and the holy: or, as Larry 'Ratso' Sloman would have it, all his songs were "One part God: one part the woman he slept with the night before."

Hallelujah expressed exactly this ambivalence, at once erotic and holy, the crack from whence the light comes in. Whence? That's the influence of Cohen right there. The writing of the song was a hardfought sweaty years long process. Hundreds of verses were written out and played with, substituted and discarded and even once it was recorded live versions morphed as Cohen's relationship to God changed. It would change again as one of the directors of Shrek discarded "the naughty bits" in preparing it for a family friendly film. This journey of the song – largely independent of Cohen himself – occupies the middle section of the film and although this represents the raison d'etre of the film is also the weakest part. It feels like a sad admission of our culture that Leonard Cohen's legacy will to a large degree be secured/erased by one song because Simon Cowell liked it. There's something silly and slightly embarrassing about the repetitions and how everyone pours an icky dollop of self-serious soulfulness into their renditions. Listening once more to Cohen perform as the film rounds off his life, it becomes painfully apparent that his is the best version simply because the smartness of the wit underwrites the aspiration, the play of sincerity and irony without which it just becomes another hymn. A further irony is that his record company thought so little of the song – and the album Various Positions on which it featured – that they refused to release it in the US.

Ultimately the film succeeds in reclaiming the song and the context in which it was written. It feels designed to introduce people to a world of serious thought that created a popular sensation. As such I hope it works as a kind of entry drug to the hard stuff that is Cohen's discography, his poetry and even his novels.
---
Country: USA
Language: English
Runtime: 115′
Directed by: Daniel Geller, Dayna Goldfine
Production: Geller/Goldfine Productions (Daniel Geller, Dayna Goldfine)
Cinematographer: Daniel Geller
Main cast: Leonard Cohen, Brandi Carlile, Eric Church, Judy Collins, Dominique Issermann, John Lissauer, Sharon Robinson, Larry "Ratso" Sloman, Rufus Wainwright, Hal Willner
Editors: Dayna Goldfine, Bill Weber, Daniel Geller
Music: John Lissauer