Sarajevo review: Atonal Glow (2021)
Sarajevo Film Festival
Documetary Film Competition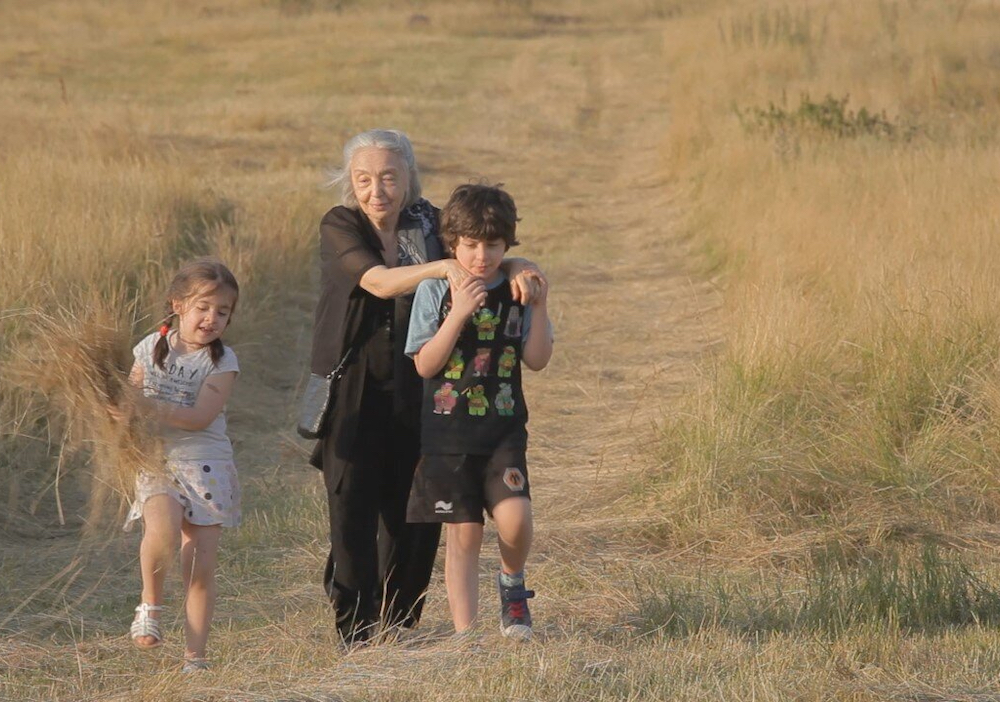 When the primary school kids scribble on walls, they don't usually write down a name of a theatre director (Krzysztof Warlikowski). You also don't expect to see them play a funny version of a Bolshoi balet performance with their younger siblings. For the 10-year-old Georgian music prodigy Tsotne Zedginidze, everything related to the classical music and theatre is exciting, and an inseparable part of his life.
In Alexander Koridze's documentary Atonal Glow, we do not only get to see a portrait of Tsotne as an already established star, but also his other, boyish side during the beaming 67 minutes of the film's runtime. The boy is sometimes also behind the camera, letting his curious spirit to explore the moments he finds exciting even such that involve a video game he's currently into.
We can grasp his talent by listening to his compositions (all music in the film is his, except Shostakovich's concert), by watching him during the rehearsals or the creative process which involves joyful pacing around the flat of his maternal grandmother Nino Mamradze, a former soloist of Georgian State Philharmonic, a researcher and a famous music pedagogue, now Tsotne's legal guardian and piano teacher. The film's title describes the type of music he is creating inspired by some of the greatest atonal composers of the 20th and 21st century. One could say that stranger things happened than a 10-year-old finding Karlheinz Stockhausen inspiring, but I dare you to name them.
Tsotne Zedginidze is more than often being compared to Mozart. Music experts are quoted saying that someone like him is born once in a century. Bestowed with talent, he is not only a brilliant pianist, but also a composer who started writing his own music at the age of five. The boy is befriended with the famous Georgian conductor/ composer Nikoloz Rachveli who often has the honour to be the first to hear Tsotne's new compositions. He has already met Martha Argerich and has performed a small concert to Daniel Barenboim in Berlin. All of this and much more is shown in Koridze's documentary.
Private video footage and the boy's videos shot on the cell phone stand in contrast with Koridze's sober, yet gentle eye. In one of the videos, Tsotne is slipping into a role of a horror movie killer, in another he is building a detective story surrounding a tea kettle. These are the rare moments he is allowing himself to be a child, not counting his warm relationship with the baby sister Niniko who sometimes drags him into her own fantasy world.
There are other situations in his professional life that clearly show the burden of a great talent on the fragile shoulders of a child. When passion gets forced in the corner of excellence, the child wakes up. This is also the case in the battle for the legal custody between the siblings' grandmother and their father, a man both children fear.
Alexander Koridze's wonderful portrait of one of the most fascinating figures on the current classical music scene was screened in the Documentary film competition of Sarajevo Film Festival, where we cought up with it. Atonal Glow is a devastatingly beautiful film which raises the question if the childhood can be sacrificied on the altar of talent without crushing a young soul.
---
Original Title: Atonaluri gabrzkineba
Country: Georgia
Language: Georgian, English
Year: 2022
Runtime: 67′
Directed by: Alexander Koridze
Cinematographer: Alexander Koridze
Camera in Berlin: Lizi Mamradze
Assistant: Valerian Kalandadze
Sound: Niko Tarielashvili
Sound Design: George Gvarjaladze
Editing: Alexander Koridze
Colour Correction: Niko Tarielashvili
Music: Tsotne Zedginidze
Dmitri Shostakovich's Piano Concerto No.2
performed by
Georgian National Philharmonic Orchestra