VIENNAFAIR u novom ruhu
Bečki sajam umetnosti VIENNAFAIR (20-23. Septembar) prolazi kroz nekoliko promena u svojoj osmoj godini postojanja. Ruski finansijeri, nova (takođe uglavnom ruska) uprava i novi naziv (dodavanjem The New Contemporary) neke su od zvaničnioh transformacija koje sa sobom automatski donose snažniju potrebu da se od VIENNAFAIR-a napravi sajam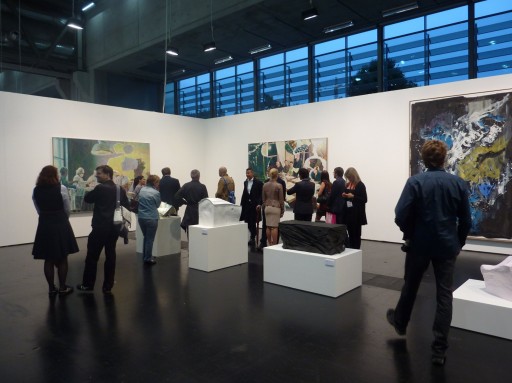 od većeg internacionalnog značaja. Dosadašnje umetničke direktore sajma Georga Schölhammera i Hedwig Saxenhuber su smenile dve karizmatične mlade kustoskinje – Christina Steinbrecher i Vita Zaman u koje se ulažu velika očekivanja u ostvarenju sna da će se VIENNAFAIR The New Contemporary vremenom uzdići u rang jednog Art Basela. Ove godine na sajmu izlažu 122 galerije iz 26 zemalja. Za sada je teško predvideti u kom smeru će se VIENNAFAIR The New Contemporary zaista razviti, sem što je od njegovog ovogodišnjeg otvaranja očigledna pojačana orijentacija ka investitorima i kolekcionarima putem nezanemarljivo velikog broja VIP programskih sadržaja – uglavnom u svrhe umrežavanja i direktne prodaje umetničkih dela.
Nekoliko pozitivnih promena čini ovogodišnji VIENNAFAIR atraktivnijim no prethodnih godina. Pre svega, odlikuju ga jasnija struktura i bolje kuratirani projekti vezani za umetničku ponudu iz zemalja Istočne- i Jugoistočne Evrope. Na programu se svakodnevno nalaze podijumske diskusije, vođene ture kroz mnogobrojne izložbe u Beču, naučne tribine, live performansi i info štandovi različitih kulturnih institucija, organizacija i grupa. Izdvajam dva projekta DIYALOG: umetnost iz Turske sa trideset i šest umetničkih pozicija (čiji je glavni sponzor naftaški koncern OMV) osmišljen kao umetnička platforma za šest odabranih istanbulskih galerija: Rampa, Rodeo, galeri Nev Istanbul, Mars i The Empire Project. Kao kurator ovog projekta se potpisuje istoričarka umetnosti Nazli Gürlek.
Vienna Quintett kuratiran od strane umetničkih direktorki VIENNAFAIR-a je program koji predstavlja umetnost iz pet post-sovjetskih država: Azerbejdžana, Belorusije, Gruzije, Kazahstana i Ukrajine, a koji je nastao u tesnoj saradnji sa galerijama, ekspertima i kulturnim institucijama tih zemalja.
Ove godine je na inicijativu kustoskog dvojca Steinbrecher-Zeman, prvi put pokrenut blog koji svakodnevno informiše o dešavanjima u izložbenoj hali VIENNAFAIR-a, ali i o manifestacijama i kulturnim zbivanjima u gradu koja imaju direktne veze sa sajmom.
Paralelno sa VIENNAFAIR-om teče Parkfair – festival avangardne, nekomercijalne umetnosti koji su prošle godine osnovali i na noge postavili umetnici VATNC (Visible Audible Tangible Network Cloud-a – Iv Toshain i Matthias Makowsky. U okviru ovogodišnjeg programa nazvanog ARTE NOAH, četrdeset i devet umetnika se tokom pet dana festivala kroz specifične intervencije, instalacije ili putem multimedijalne umetnosti i performansa bavi istraživanjem teme "Sudnji dan 2012". Rame uz rame sa mladim i još uvek neafrimisanim umetnicima na parkfair-u izlažu Gelatin, Eva Schlögl, Sigi Hofer, Heimo Zobernig i nedavno preminuli Franz West. Neki od izazova umetnicima su pitanja koja se tiču budućnosti čovečanstva: da li je ekološka katastrofa nužan put da čoveč počne da preispituje svoj odnos prema životnoj okolini i koja je sudbina naše planete?
(tekst je u skraćenoj verziji objavljen u dnevnom listu Politika)