The Tyrolian State Prize for Art 2013 went to Peter Kolger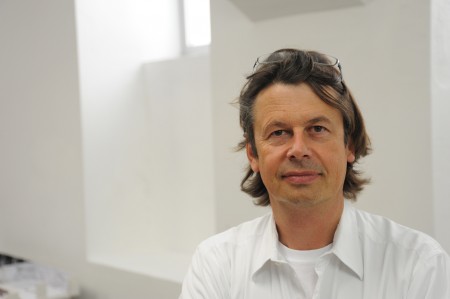 Peter Kogler is one of Austria's most prominent artists whose works are exhibited at important international museums and galleries, but also twice at the documenta in Kassel (1992 and 1997) and at the Biennale in Venice (1995). Kogler taught at the Academy of Fine Arts in Vienna from 1997 to 2007. Since 2008 he holds a professorship in graphic design at the Academy of Fine Arts in Munich.
The Tyrolian State Award for Art of 14.000€ is given annually since 1984 in recognition of outstanding artistic achievements in the fields of music, architecture, literature, and visual and performing arts. The artists are awarded either for their life work or outstanding individual performances. Last year's laureate was Tyrolian architect Horst Parson.
"Kogler finds metaphors for the individual and his social positioning in arrangements that he liberates as modern ornament. He portrays the image of an engineered and technologically devout community, which is linked up and trapped in the net of a structure made from the superimposition of different archetypes. He describes the world as a sequence of technical upheavals, whose "magical channels" increasingly affect our lives, while he stresses a central theme through his labyrinth by repeating patterns of his own artistic oeuvre in a self-reflexive way in order to transcend them" (source: Contemporary Art Daily)