"Nude men" go to Musée d'Orsay (September 24th '13 – January 2nd '14)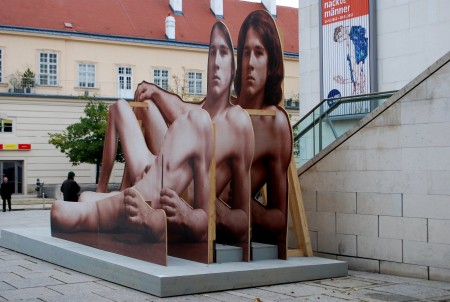 "Nude men (from 1800 until today)" attracted thousands of visitors to the Leopold Museum in Museums Quartier, as well as a considerable amount of interest internationally, from Canada to China and South America to Asia. In the art metropolis of Paris, people from the Musée d'Orsay were aware of the Viennese exhibition.
When asked about the appeal of the exhibition, Director of the Leopold Museum, Tobias G. Natter, insisted from the beginning that it was long overdue.
Musée d'Orsay adopts the concept of Leopold Museum
Musée d'Orsay is one of the largest museums in France, home of iconic Impressionists and magnet to visitors with approximately 3.5 million tickets sold per year. After intensive negotiations, Musée d' Orsay has adopted the concept of Leopold Museum and now presents the exhibition entitled "Masculin / Masculin-L'Homme nu dans l' art de 1800 à nos jours ". Thobias Natter describes the Musée d' Orsay as an ideal partner, "The acquisition of the "nude men" by one of Europe's most important museums acknowledges our work in the Leopold Museum. We could not have wished for a more ideal partner as a second exhibition, than the Musée d' Orsay. From the Danube to the Seine, that does not happen very often."
The director of d'Orsay Cogeval and Thobias Natter are lead curators
The French Minister of Culture Aurélie Filipetti will open the show on September 23rd. The leading curatorial position fell on Guy Cogeval and the "spin doctor" Tobias G. Natter, while the rest of the curatorial team consists of Ulrich Pohlmann, a photo expert from the Munich City Museum, and d'Orsay curators Ophélie Ferlier (sculpture) and Xavier Rey (painting).
Schiele , Moser, Gerstl , Kolig from Leopold Collection in Paris
Unlike in Vienna, much of the exhibits in Paris originate from French museums. Indispensable frm the exhibition Masculin / Masculin were major works by Egon Schiele, Richard Gerstl , Koloman Moser and Anton Kolig, from the Leopold Collection.
The French version of the show's title refers to the acclaimed exhibition "Masculin / Feminin" (1995/96 in Centre Pompidou in Paris) which caused a public discussion on the topic of gender issues. The exhibition "en collaboration avec le Leopold Museum de Vienne " opens on September 24th 2013 and runs through January 2nd 2014.
A catalogue accompanies the exhibition at Flammarion . The "Nude men " catalogue was published by Hirmer last year.