Review: The Men Who Wait (2021)
This article was originally published on Asian Movie Pulse
Berlinale Shorts Competition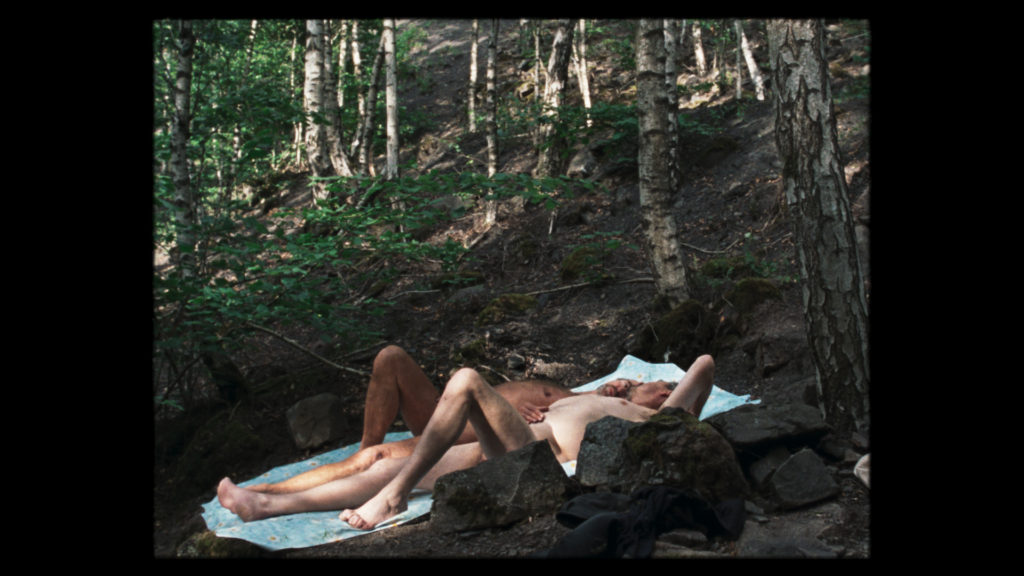 Truong Minh Quy's Berlinale Shorts contender The Men Who Wait is a film about men seeking sexual contact on a slag heap that once belonged to a coal mine. The place where, once upon a time, generations of miners broke their backs underground is now covered by birch wood, with a river running under its slope. Men are cruising, waiting for the opportunity to meet the other, longing for those brief moments of pleasure somewhere in the shade of trees. An occasional jogger runs by, and hellos are exchanged.
A man is patiently waiting for someone to show up. It's a windy day, and the forest is alive with sounds. Adding to the impressive impact the granular 16mm image leaves on the viewer, the sound design adds a bit of extra magic to "The Men Who Wait". Lustful whispers and grunting blend with the rustling of trees and the swishing wind. A curious witness of the sexual act that unfolds at the foot of the slope also leaves an acoustic trace behind, sliding downhill sitting on one of his water containers. He is – unlike the two other men, not a guest here. The forest is his home. He has a deep connection to the soil, also to its dirty, mercilessly staining black colour. The exchange whispers.
When sex is over, the bodies of two elderly lovers rest on a daisy pattern fabric. A one sided conversation is 'lead' below the crown of tree branches, but the magic of copulation is gone and their paths part.
The film was shot in June 2020, on the locations in North of France (Raismes) and Belgium (La Louvière), on 16mm with the breath-taking photography handled by Son Doan, who also worked as cinematographer on Truong Minh Quy's critically acclaimed feature "The Tree House" (that premiered in Locarno's Concorso Cineasti del presente in 2019). It's important to mention that "The Men Who Wait" was edited on a Moviola cutting machine which allowed film editors Truong Minh Quy & Nicolas Graux to view the film while editing.
Both locations are a part of a long history of "forbidden" sexual practices in the mining areas, dating from the times when heterosexuality was the only acceptable thing. Many men were hiding their true identities, seeking pleasure in the protective vastness of the surrounding greenery.
---
Original Title: Les Attendants
Country: France/ Singapoore
Year: 2021
Runtime: 14′ 42"
Format: 16mm
Written/ Directed by: Truong Minh Quy
Produced by: Francois Bonenfant
Co-produced by: Xiao Dong Guo – Levo Films
Co-Producer: John Badalu
Cinematographer: Son Doan
Sound: Valentine Gelin, Yannick Delmaire
Editors: Nicolas Graux, Truong Minh Quy
Cast: Gérard Thomas, Jean-Francois Geneste, Souleymane Sanogo