Doc Alliance announces 2021 selection, introduces Short Film Award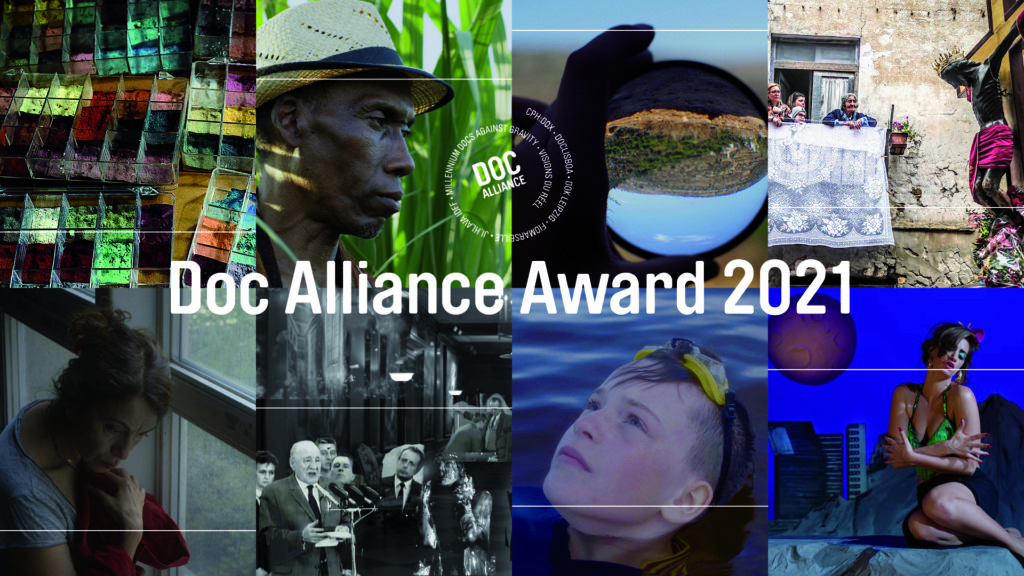 Doc Alliance, a network of 7 seven prominent European documentary film festivals – CPH:DOX (Denmark), Doclisboa (Portugal), DOK Leipzig (Germany), FIDMarseille (France), Ji.hlava IDFF (Czech Republic), Millennium Docs Against Gravity (Poland) and Visions du Réel (Switzerland), has announced its selection for 2021. Each festival has nominated one feature length film, and for the first time this year – following the same principle, short films (up to 30′ runtime).
A jury of seven international film critics selected by the members of Doc Alliance will decide about the Doc Alliance Award – Best Feature Film and Doc Alliance Award – Best Short Film. Jury members are Kristoffer Hegnsvad, Vasco Câmara, Carolin Weidner, Sandra Onana, Pavel Sladký, Ola Salwa and Simone Späni. Both prizes are endowed with 8.000€ for the directors. The winners will be announced in Cannes on 13 July during the Doc Day Lunch at the Marché du Film, as part of Cannes Docs, the Marché's documentary-focused industry program.
A number of nominated films will be available to watch on the Alliance's online documentary platform DAfilms.com from July 5 – 18, 2021.
Feature Film Selection
Doc Alliance Award nominees:
Gabi, Between Ages 8 and 13
Engeli Broberg
Sweden / Denmark, 79 min
Nominated by CPH:DOX
Native Rock (Pedra Pàtria)
Macià Florit Campins
Spain, 76 min
Nominated by Doclisboa
The Blunder of Love
Rocco Di Mento
Germany, 84 min
Nominated by DOK Leipzig
Zaho Zay
Maéva Ranaïvojaona, Georg Tiller
Austria / France / Madagascar, 78 min
Nominated by FIDMarseille
Traces of a Landscape (Jan Jedlička: Stopy krajiny)
Petr Záruba
Czech Republic / Italy, 67 min
Nominated by Ji.hlava IDFF
A Black Jesus
Luca Lucchesi
Germany, 92 min
Nominated by Millenium Docs Against Gravity FF

Looking for Horses
Stefan Pavlović
Netherlands / Bosnia and Herzegovina / France, 88 min
Nominated by Visions du réel

Short Film Selection
Doc Alliance Award nominees:

Summer Night by the Beach (Sommernatt ved stranden)
Kirsten Astrup, Maria Bordorff
Denmark, 26 min
Nominated by CPH:DOX
Terraforming (Terraformar)
Ricardo Moreira
Portugal, 12 min
Nominated by Doclisboa
Bibi Must Go (Elefantin)
Marie Zrenner, Johanna Seggelke
Germany, 29 min
Nominated by DOK Leipzig
The Sun and the Looking Glass – for one easily forgets but the tree remembers
Milena Desse
Palestine / Belgium, 23 min
Nominated by FIDMarseille
Baroque Femina (Nr.7-11) (Barokk Femina (Nr.7-11))
Péter Lichter
Hungary, 16 min
Nominated by Ji.hlava IDFF
Bless you! (Pozdrawiam)
Tatiana Chistova, Maciej Hamela
Poland / Russia, 30 min
Nominated by Millennium Docs Against Gravity FF

The Stillness Syndrome (Síndrome de los quietos)
León Siminiani
Colombia / Spain, 30 min
Nominated by Visions du réel