Locarno review: Air Hostess-737 (2022)
Pardi di Domani
International Competition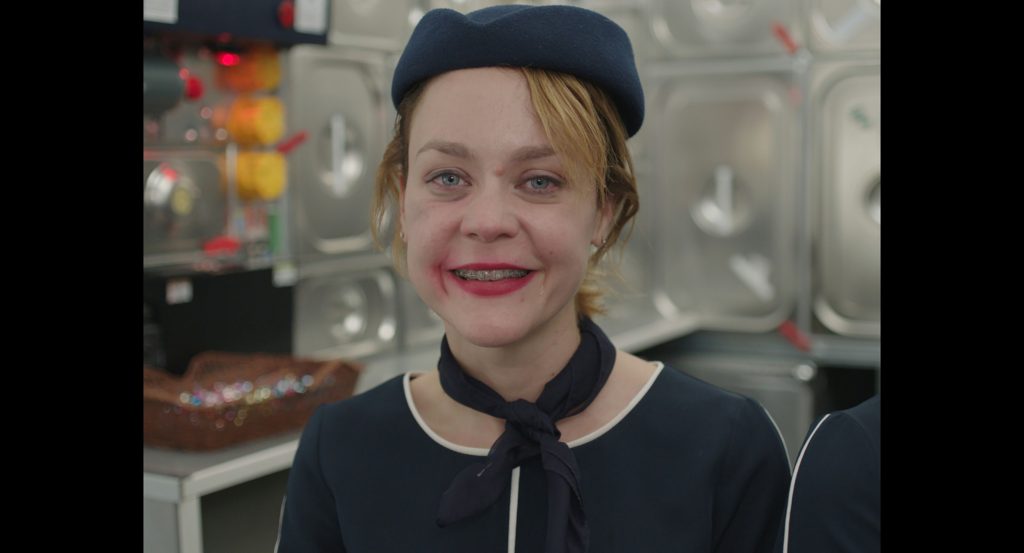 When you work in service, the world expects you to tolerate any impossible behaviour and put away your personal problems. You should leave the troubles at home, forget about the sorrow, and make sure that some giant baby gets their milk correctly tempered for the capuccino before they throw tantrum in a crowded coffee shop. Now, maybe an air hostess (unless she works on luxury jets) isn't expected to deal with such triffles because the best coffee you can get on a plane is something most of us wouldn't call coffee at all, but she is nevertheless supposed to bear and grin despite of how difficult a passager might be, and make sure everyone 'enjoys their flight'.
Vanina (Lena Papligoura) is almost completely in that role, except that she can't shake off the annoyance (and pain) by the newly tightened braces that, at least she thinks, make even children laugh in her face. The plane is barely up in the air, and her mood is already dangerously low.
Soon enough, it will show that braces are just a secondary problem, because Vanina has to deal with another kind of pain, as she is transporting a special kind of cargo back home. The crew is aware of that, but the harder they try to support her both emotionally and work-wise, the stronger her distress gets. At the back of the plane, there is a dead body of Vanina's mother who rejected her already as a newborn, and they never got a chance to reconcile while the woman was still alive.
Traditionally good in storyline suspense building, the Greek director Thanasis Neofotistos is back on the festival scene with his dramedy AirHostess-737, which screenes in Locarno's Pardi di Domani international competition program. The film has Neofotistos' recognizable signature regarding the successfull blend of comedy and drama, the maximum use of narrow space to build tension, and excellent dialogues. AirHostess-737 is the final chapter of director's triology about a journey with one central figure immersed in their own subconscious in a limited space.
Lefteris Sampson's light, upbeat original score is reminiscent of the music from the 1960s American TV comedy classics, more Hugo Montenegro than Randy Newman by its ability to lift the mood just for a notch before and after it gets sunk deep into the abyss of despare by the sound department which plays with humming vocals and swooshing sounds, scratching on the nerve endings.
AirHostess-737 was shot as a long take shot on the airplane set built from the scratch. Yannis Fotou's lense doesn't drop focus from Papligoura's face, just indicating the presence of others. We do catch a glimpse of passengers more as a part of the setting than anything else, with the back of their haeads beeing occasionally visible. Although the voices by other protagonists are heard, it is just the main character we trully oberve from the first to the final scene of the film, shaping it into a potent form of melodrama.
The film has participated in European Short Pitch WIP 2022 before its world premiere in Locarno, with high prospects of a long journey to diverse international film festivals.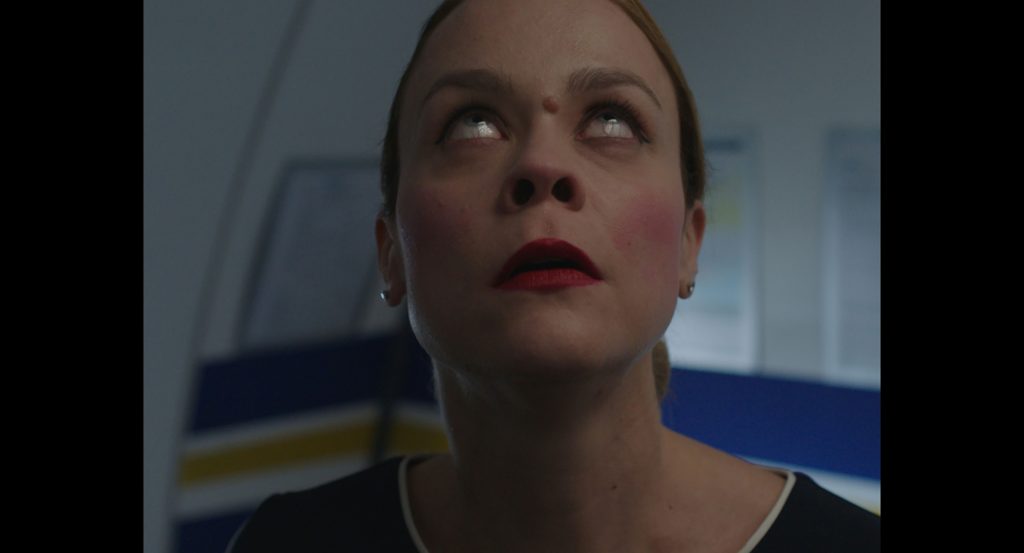 ---
Country: Greece
Language: Greek, English
Runtime: 16′
Year: 2022
Directed by: Thanasis Neofotistos
Written by: Thanasis Neofotistos & Grigoris Skarakis
Cinematographer: Yannis Fotou
Production: Argonauts Productions S.A.
Co-Production: COSMOTE TV, Atalante Productions S.A.
Producers: Ioanna Bolomyti, Dimitris Tsakaleas
Executive Producer: Panos Papahadzis
Editor: Panos Angelopoulos
Original Music: Lefteris Samson
Art Director: Eva Gaitanidou
Sound Recordist: Alexis Koukias-Pantelis
Sound Designer|Sound Mixer: Stelios Koupetoris
Make-up Artist|Hair: Olga Kombogianni
Cast: Lena Papaligoura; Konstantina Koutsonasiou, Haris Alexiou, Giannis Moustakas, Thodoris Vournas, Eleni Mofeta, Giouli Pezepoulou
Colourist|VFX| Titles Design: Panos Angelopoulos
Sound Studio: Tone Studio
International Sales: Radiator ip sales